Herramientas para tutoriales
Pack your message in a diagram and share it with the world
Chrome: capturas de pantalla con edición y cambio de resolución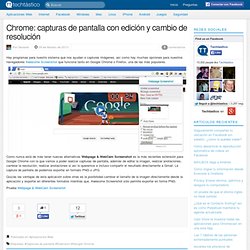 Hay programas para nuestro sistema que nos ayudan a capturas imágenes, así como hay muchas opciones para nuestros navegadores Awesome Screenshot que funciona tanto en Google Chrome o Firefox, una de las más populares. Como nunca está de más tener nuevas alternativas Webpage & WebCam Screenshot es la más recientes extensión para Google Chrome con la que vamos a poder realizar capturas de pantalla, además de editar la imagen, realizar anotaciones, cambiar la resolución, realizar anotaciones si así lo queremos e incluso compartir el resultado directamente a Gmail. La captura de pantalla de podemos exportar en formato PNG o JPG. Quizás las ventajas de esta aplicación sobre otras es la posibilidad cambiar el tamaño de la imagen directamente desde la aplicación y exportar en diferentes formatos mientras que, Awesome Screenshot sólo permite exportar en forma PNG. Prueba Webpage & WebCam Screenshot
Organiza reuniones virtuales y pasa las notas a Evernote
Para muchos profesionales, las reuniones son algo que forma parte de nuestro día a día pero cuando tenemos que desplazarnos a la sede de un cliente (ya sea en nuestra ciudad o en otra) perdemos tiempo en los desplazamientos además de incurrir en gastos de transporte o, incluso, alojamiento. En el actual contexto económico, son muchas las empresas que están recurriendo a las reuniones virtuales para ganar en productividad (evitando perder tiempo en desplazamientos) y ahorrar algo de dinero. En este sentido, en la red podemos encontrar un buen número de servicios con los que realizar reuniones virtuales, ya sea mediante videoconferencias (como Skype, LiveMinutes o alguna otra alternativa ) o audio-conferencias de voz (usando servicios como Überconference ).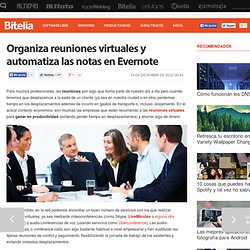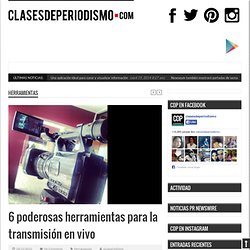 Gracias a herramientas de streaming o transmisión en vivo , e l periodista puede montar un pequeño estudio de grabación en cualquier parte para brindar información de última hora, por ejemplo. Los reporteros apresurados por enviar la noticia a su medio también pueden encontrar la solución reportando todo desde el smartphone . Elegimos algunas que debes tener presente siempre para poder informar antes que el resto: [<a href="//storify.com/cdperiodismo/6-herramientas-de-transmision-de-video-en-vivo" target="_blank">View the story "6 herramientas de transmisión de video en vivo" on Storify</a>] Escribe: @cdperiodismo Lee todos sus post
6 poderosas herramientas para la transmisión en vivo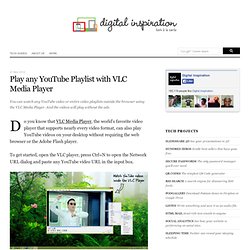 You can watch any YouTube video or entire video playlists outside the browser using the VLC Media Player. And the videos will play without the ads. Do you know that VLC Media Player , the world's favorite video player that supports nearly every video format, can also play YouTube videos on your desktop without requiring the web browser or the Adobe Flash player.
How to Play YouTube Videos and Playlists in VLC Media Player
Webinar software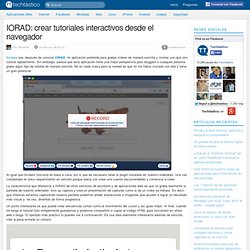 IORAD: crear tutoriales interactivos desde el navegador
Screenr era, después de conocer IORAD , mi aplicación preferida para grabar vídeos de manera sencilla y montar uno que otro tutorial rápidamente. Sin embargo, parece que esta aplicación tiene una mejor perspectiva para bloggers o cualquier persona grabe algún tipo de tutorial de manera sencilla. No es nada nueva pero la verdad es que no me había cruzado con ella y tiene un gran potencial.
Para decirlo brevemente, la herramienta de screencasting es la opción más adecuada y mejor si quieres cómo hacer algo en el ordenador. Gracias a los avances de la tecnología, ahora puedes audio, y hacer mucho más con estas herramientas screencasting. Revísalo por tí mismo y elige la herramienta más adecuada para tus proyectos. Basado en la web Screenr del registrador de la pantalla hace que sea muy fácil crear y compartir sus grabaciones de pantalla en la web. Screencast-O-Matic es la grabadora de pantalla original para el registro en línea con un solo clic desde el explorador de Windows o Mac sin instalar nada y de forma gratuita!
8 herramientas gratis para hacer Video tutoriales | Cofre Tecnologico
Engancha con AirPlay en el aula: Proyectar y grabar la pantalla del iPad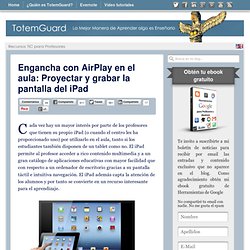 Cada vez hay un mayor interés por parte de los profesores que tienen su propio iPad (o cuando el centro les ha proporcionado uno) por utilizarlo en el aula, tanto si los estudiantes también disponen de un tablet como no. El iPad permite al profesor acceder a rico contenido multimedia y a un gran catálogo de aplicaciones educativas con mayor facilidad que con respecto a un ordenador de escritorio gracias a su pantalla táctil e intuitiva navegación. El iPad además capta la atención de los alumnos y por tanto se convierte en un recurso interesante para el aprendizaje. Sin embargo técnicamente el uso del iPad en el aula presenta al profesor con tres necesidades, que en mi experiencia desconocen cómo solucionar con la tecnología disponible:
VideoScribe.tv | aplicaciones iPhone de Entretenimiento | por Sparkol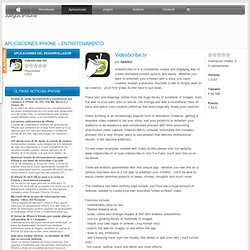 por Sparkol VideoScribe.tv is a completely unique and engaging way to create animated content quickly and easily. Whether you want to entertain your children with a story you have created, explain a process, illustrate a talk or simply want to be creative - you'll find Video Scribe hard to put down. Place text and drawings (either from the huge library of hundreds of images, from the web or your own) onto a canvas, set timings and add a soundtrack; then sit back and watch your creation unfold as the hand magically draws your creation. Video Scribing is an increasingly popular form of animation, however, getting a bespoke video created to tell your story, sell your products or entertain your audience is an expensive and complicated process with time consuming stop-motion video capture. VideoScribe.tv uniquely automates this complex process into a very simple, easy to use product that delivers professional results. It will become addictive.
25 Tools That Take Tutoring To a New Level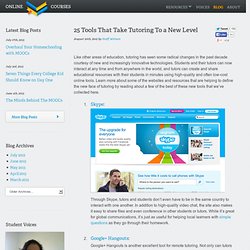 Like other areas of education, tutoring has seen some radical changes in the past decade courtesy of new and increasingly innovative technologies. Students and their tutors can now interact at any time and from anywhere in the world, and tutors can create and share educational resources with their students in minutes using high-quality and often low-cost online tools. Learn more about some of the websites and resources that are helping to define the new face of tutoring by reading about a few of the best of these new tools that we've collected here.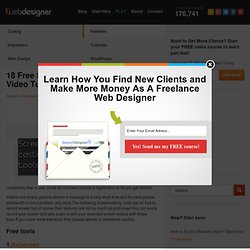 Screencasting is a better and great way to showcase a procedure, to teach,demonstrate a service or to create video tutorials without having to write a content or an article. Screencasting tools are available both as desktop applications (Free and commercial) and web-based services.
ActivePresenter is a solution for making interactive screencasts, rapidly authoring and maintaining interactive e-learning content:
Here are 5 free screen recording software that can create compact, high quality movies of your desktop for tutorials, demos and presentations. 1. uTipu uTipu is a thin free screen recording software that grabs your onscreen action. uTipu comes along with a default youtube uploader. You will have to register with uTipu to use this free screen recorder . You can record your entire screen or just a small portion of it. It follows your cursor and there is a yellow translucent circle highlighting your cursor.
5 Best Free Screen Recording Software
Whether it is a "how-to on using a web application" or "describing the steps of creating a Photoshop effect", words are sometimes not enough. With the help of screencasts (screen recording) , it can be possible to better describe/demonstrate a computer-related product or service. And, it spreads faster as anyone can easily embed the video (if supported) to any website.