Wikis
Digitalstorytelling. If you are interested in booking me (Wesley Fryer) for a presentation or workshop (either face-to-face or over video) please visit my Speaking page on www.speedofcreativity.org/speaking.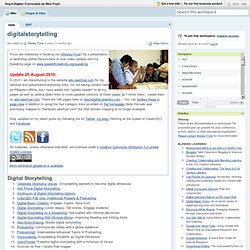 In 2010 I am transitioning to the website wiki.wesfryer.com for my handout and presentation/workshop links. I'm not taking content here on PBworks offline, but I have added this "update header" to all my pages as well as adding direct links to more updated versions of these pages as I mirror them / create them on wiki.wesfryer.com. There are 146 pages here on teachdigital.pbworks.com. - You can browse these in page view in addition to using the four category links provided on the homepage. TeachingICTK12 - DIGITAL STORYTELLING. Cc licensed ( BY SA ) flickr photo by law_keven: Digital storytelling is a short usually a first-person narrative created by combining a combination of audio files, such as voice, music or other sound effects with still or moving images.What is a digital story?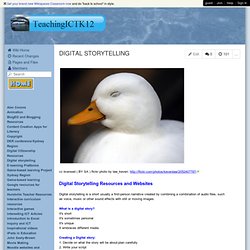 It's short It's sometimes personal It's unique It embraces different mediaCreating a Digital story: 1. Decide on what the story will be about-plan carefully 2. Write your script 3. Find images/video/music 4. Add images/photos 5. Tools - Digital Storytelling in the Classroom. Michelleproject / FrontPage.
Purpose Statement: The Dear Michelle project is committed to giving our future leaders a voice in the nation's public conversation.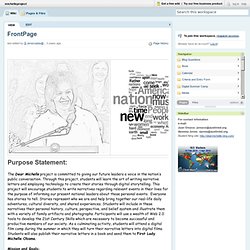 Through this project, students will learn the art of writing narrative letters and employing technology to create their stories through digital storytelling. This project will encourage students to write narratives regarding relevant events in their lives for the purpose of informing our present national leaders about those personal events. Amanda Final Cut - Ann Richards School Dear Michelle Project. CogDogRoo - StoryTools. 50 Web 2.0 Ways to Tell a Story (return) Note!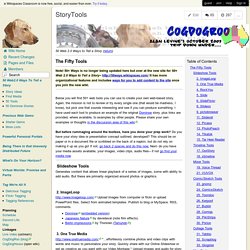 50+ Ways is no longer being updated here but over at the new site for 50+ Web 2.0 Ways to Tell a Story-- It has more organizational features and includes ways for you to add content to the site once you join the new wiki. Digitalstorytelling4everyone - home. Digital Storytelling - Yavapai & Mohave County TIS.
Home | Digitales. Grazing for Digital Natives - digitalstorytelling. For more digital storytelling tools and student-created samples, check out my DigiStory 2.0 page, Alan Levin's 50+ Ways to Tell a Story and Wesley Fryer's Mapping Media to the Curriculum.Dr.
Lodge McCammon's FIZZ Paper Slide Videos Online Resources and Research. Digital Storytelling 2.0 What's Next. JOL>Collections>Digital Storytelling 2.0: What's next In 2009 and beyond, being a learner means being connected, and that means understanding how to develop connections face to face, as well as through online networks.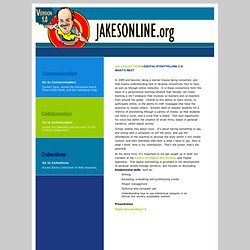 It is these connections form the basis of a personalized learning network that literally can make learning a 24/7 endeavor that involves co-learners and co-teachers from around the globe. Central to this ability to learn online, to participate online, is the ability to craft messages that have the potential to impact others. Dstory_ice.
---