Textures and patterns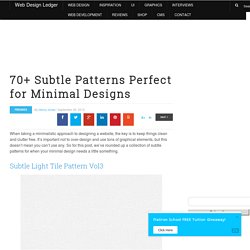 When taking a minimalistic approach to designing a website, the key is to keep things clean and clutter free. It's important not to over-design and use tons of graphical elements, but this doesn't mean you can't use any. So for this post, we've rounded up a collection of subtle patterns for when your minimal design needs a little something. Subtle Light Tile Pattern Vol3 Subtle Light Tile Pattern vol1 Subtle Light Tile Pattern Vol2
70+ Subtle Patterns Perfect for Minimal Designs | Freebies
As you've probably figured out, I love designing with texture. I also love sharing textures here on WDL. When done properly, a texture used as a background can add depth and set the over all mood for a web design. Here are over 80 textures that have all been released in just the past couple of months and can be very useful for making backgrounds. These are all beautiful as they are, but for truly unique results, I encourage you to use these as foundations for your own creations.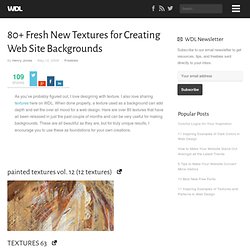 80+ Fresh New Textures for Creating Web Site Backgrounds | Freebies
Since here at WDL we believe it is our duty to keep our readers up to date with freebies and useful resources, we decided to gather a new round of free textures to spice up your library and give your designs a whole new look. From paper and wood to walls and paint, here are 25 new free textures for your delight. Source: Abduzeedo's TTT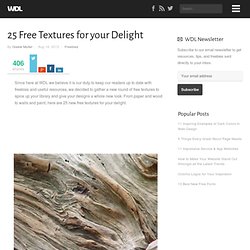 25 Free Textures for your Delight | Freebies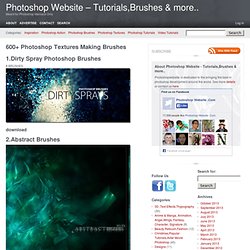 600+ Photoshop Textures Making Brushes
download Download 10 brushes Download 19 brushes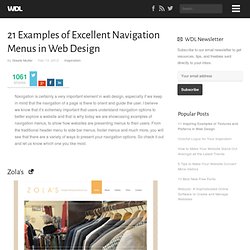 Navigation is certainly a very important element in web design, especially if we keep in mind that the navigation of a page is there to orient and guide the user. I believe we know that it's extremely important that users understand navigation options to better explore a website and that is why today we are showcasing examples of navigation menus, to show how websites are presenting menus to their users. From the traditional header menu to side bar menus, footer menus and much more, you will see that there are a variety of ways to present your navigation options. So check it out and let us know which one you like most. Zola's Undercurrent
21 Examples of Excellent Navigation Menus in Web Design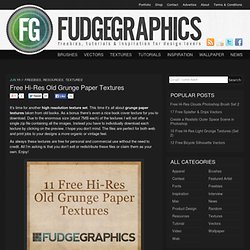 It's time for another . This time it's all about taken from old books. As a bonus there's even a nice book cover texture for you to download. Due to the enormous size (about 7MB each) of the textures I will not offer a single zip file containing all the images. Instead you have to individually download each texture by clicking on the preview.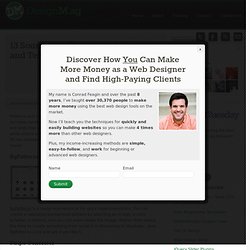 Get the FlatPix UI Kit for only $7 - Learn More or Buy Now Patterns and textures are becoming a bigger part of web design, and an increase number of resources are available for freebies in this area. Some are tools that will help you to quickly create your own background pattern, while others are sources of stock textures that can be used in your own work. Of the available options for finding textures, these are the best that I have found.
13 Sources for Background Patterns and Textures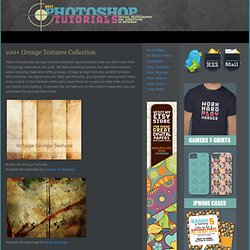 This is the ultimate grunge textures collection (just because I said so) with more than 100 grungy textures in one post. We have individual texture and also some texture packs including black and white grunge, vintage grunge textures, scratch textures, dirty textures, old paper textures, flaky wall textures, grunge paint textures and many more. Credit to the talented artists who made these for us and do read their terms of use before downloading.
100+ Grunge Textures Collection
Using paper backgrounds is quite common these days. Paper is a not only used to write but it can be also useful as a texture in doing some web design or graphic projects as well. In fact you can see some websites on the web applying more paper concept now a days and come up with a neat and grungy results. Looking for some High Quality Paper Textures? Here I compiled 200+ High Quality Paper Textures for everyone to Grab for FREE.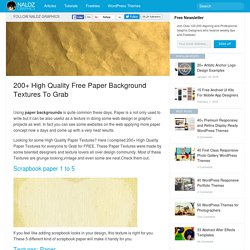 Old Paper Textures & Backgrounds - Very Vintage Retro Grunge | Vintage Retro Grunge
The amazing collection of 160 Free Old Paper Textures in the gallery below are from the deviantART site. Many of the artists who contribute these textures have "usage rules" ~ which, for the most part, just means that they'd like you to give credit or leave a comment on their dA page, if you use them. Most of you already know how this works, but if you're new to deviantART , well…it's an amazing community of very talented & generous artists, as you can see!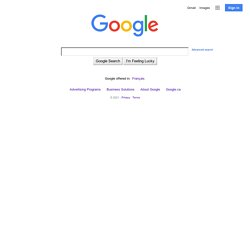 All designs take root in the same precept: what you see is what you get. In this sense, there are two equally important paths of conveying a message to the audience. This is why designers go to great lengths to secure both gorgeous design, and attractive content. It's necessary to find and use exquisite fonts for the information to reach people effectively through text. Deciding on the perfect font is one thing, and getting it is a whole other story.
Today's web treat is a free combo pack of large (740px * 740px) seamless Grungy Vertical Stripes textures in .jpg format as well as a corresponding Photoshop tileable pattern (.pat) set. Click thumbnails below to view the fullsize versions and download individually, or download the complete zip below. Included Images Included in the zip Full size versions of all the thumbs shown above Photoshop .pat pattern set of all images shown above
Grungy Stripes Photoshop Patterns Part 2
Seeing as this blog is all about giving, I thought it would be terribly inappropriate of me to not post some textures on Thanksgiving. I've got a set of grunge pattern textures that I whipped up in Photoshop just for you guys. If you like them let me know and I'll make a bigger set with a little more variety (houndstooth, polka dots, etc.). Have a good holiday everyone! Click on the textures below to download the high-res version or download them all in a zip file at the bottom of the post. Enjoy!
7 Subtle Grunge Pattern Textures
Ultimate Grunge Toolbox for Web Designers
Grunge websites are a common web design style that can add emotion and depth of character to a website. Some of the most common elements include dirty textures, torn edges, aged paper, and handwritten text. Often, the color palette of grunge includes muted colors that are mostly neutrals.