After Effects
VIDEO COPILOT | After Effects Tutorials, Plug-ins and Stock Footage for Post Production Professionals. Training. Official Training Videos These tutorials cover most functionality of all plug-ins in the Trapcode Suite.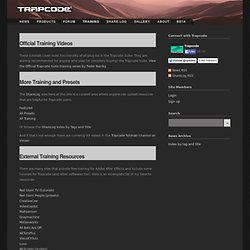 They are warmly recommended for anyone who uses (or considers buying) the Trapcode Suite. View the Official Trapcode Suite training series by Peder Norrby. More Training and Presets. How to Animate Text In After Effects. Adobe After Effects Tutorials. AE Basics Extras: Butterfly Wing Text Animation Play VideoIn the first part of this two part AE Basics Extra tutorial, Andrew Devis starts to show how to create a butterfly wing with text.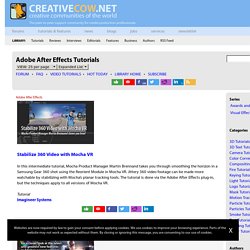 The purpose of these tutorials is to give additional hints and tips for text animation in After Effects. Items covered in this tutorial include, using the pen tool, paths, copying mask paths to shape layers, text along a path and path option, 3D layers, animation of a wing, loopOut expression and viewing your composition in a different viewer. In the second part of this tutorial Andrew will go on to complete the animated butterfly in 3D and show how to have it fly around your screen. Aetuts+ | Adobe After Effects tutorials from beginner to advanced. After Effects | Il Bloggatore - Part 5. HDV-Shop è una raccolta di Video Full HD 1080 da scaricare gratis per i nostri progetti di video editing.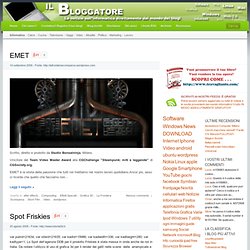 Per chi come me a volte ha l'esigenza di creare dei video ha necessariamente bisogno di elementi video come effetti, sfondi, texture In questa raccolta potremo trovare degli elementi video gratuiti da scaricare liberamente e usare per i nostri progetti. Per ora possiamo trovare le seguenti categorie: ...Leggi il seguito » Leviathan Studios | Digital Effects Specialists | 604:215:1159. Globi e scie luminose con After Effects ma senza Trapcode. Tutorial3d.it - Motiongraphic,motiondesign & 3d.
---