Fondamentaux / principes / réferences clés
Soirée débat autour du thèmede la Création Digitale à l'heure des Réseaux Sociaux. Le 4 avril 2013 à 18h30 au Cinéma Mac Mahon,5 avenue Mac Mahon, 75017 Paris > Inscrivez-vous dès maintenant t Les sphères de la Communication ont connu une succession de 3 révolutions majeures ces 10 dernières années.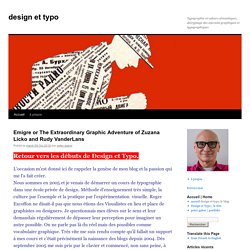 l.php?u=http%3A%2F%2Fwww.typographe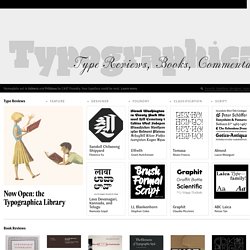 Colophon Typographica is a review of typefaces and type books, with occasional commentary on fonts and typographic design. Edited by Stephen Coles and designed by Chris Hamamoto. Founded in 2002 by Joshua Lurie-Terrell.
TypoWiki
Welcome to the Typophile Wiki, a user-created encyclopedia of all things type and design-related. Users create and edit Wiki entries with the aim of becoming a collaborative, useful, balanced and relevant resource. To reference a wiki entry from a forum post or review anywhere within Typophile, simply wrap the name of the wiki entry within double brackets, like this: [[typography]]. Your published post will automatically format the Wiki link. To get started, try accessing one of the Indices or select a recently edited wiki entry from the right. Do not cut and paste from another site.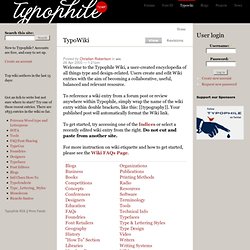 Manuel de typographie par Geoffrey Dorne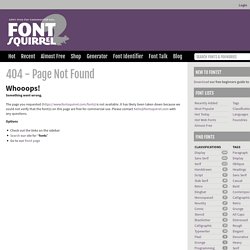 This license can also be found at this permalink: http://www.fontsquirrel.com/license/GoodDog ———————————————————————————————————— Fonthead Design End User License Agreement———————————————————————————————————— By downloading and/or installing Fonthead Design fonts ("software") you agree to the following user license terms: 1) Grant of License: The purchase of this software grants to you ("user") as licensee, the non-exclusive right to use and display the software at a single home or business location on a maximum of 5 CPUs.