Prompts/Creativity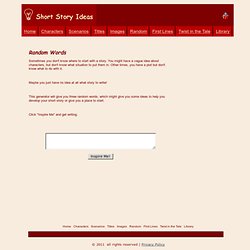 Random Words Sometimes you don't know where to start with a story. You might have a vague idea about characters, but don't know what situation to put them in. Other times, you have a plot but don't know what to do with it.
Short Story Ideas - Random
One of the best ways to break through writer's block or stretch your writing skills is to pick a story starter and just start writing. Suggestions on how to use each generator are included with the generator. Caveat: There's always a temptation to keep looking for the "perfect" idea, but then you need to ask yourself...are you really just trying to avoid writing? Problem: You can't get a story started Solution: Archetype's Plot Scenario Generator What it is: This generator provides you with the event that gets the story rolling and a secondary conflict to keep you going! Problem: Your characters lack depth Solution: Archetype's Character Generator
The Almost Totally Random Writing Exercise Generator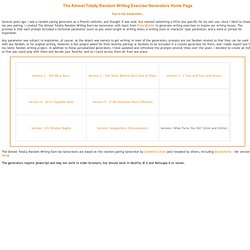 You're the Inspiration...
Writing : Creative Writing & Blogging Prompts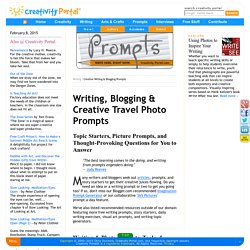 Creativity Questionnaires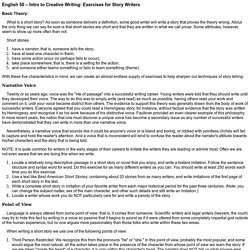 English 50 – Intro to Creative Writing: Exercises for Story Writers
Creative Writing Prompts | Creative Writing Prompts for Sci-Fi &Fantasy...
That page has been removed.
The Almost Totally Random Writing Exercise Generator
The Majency Oracle is a 169-card deck of original prompts or "matches" to spark the imagination of writers, poets, or any creative individual that needs inspiration. The deck is designed to be printed on any color printer, on standard 3×5 index cards. It features a variety of color schemes and background images to create a unique experience each time a card is drawn. Each card contains a single phrase designed to prod the creative mind down a path of its own. It might be a snippet of dialogue that suggests an overheard conversation; it might be a fragment of a description of a visual scene, one that could lend itself to a depiction in paint or prose.
The Majency Oracle | JamesBickers.com