Prompts/Creativity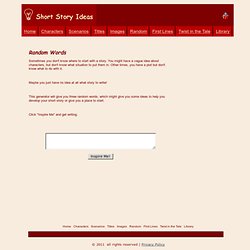 Random Words Sometimes you don't know where to start with a story. You might have a vague idea about characters, but don't know what situation to put them in. Other times, you have a plot but don't know what to do with it.
One of the best ways to break through writer's block or stretch your writing skills is to pick a story starter and just start writing. Suggestions on how to use each generator are included with the generator. Caveat: There's always a temptation to keep looking for the "perfect" idea, but then you need to ask yourself...are you really just trying to avoid writing? Problem: You can't get a story started Solution: Archetype's Plot Scenario Generator What it is: This generator provides you with the event that gets the story rolling and a secondary conflict to keep you going! Problem: Your characters lack depth Solution: Archetype's Character Generator
The Almost Totally Random Writing Exercise Generator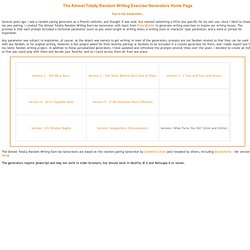 You're the Inspiration... Several years ago, I saw a random paring generator on a friend's website, and thought it was neat, but wanted something a little less specific for my own use, since I liked to choose my own pairing. I created The Almost Totally Random Writing Exercise Generator, with input from ElmyraEmilie to generate writing exercises to inspire our writing muses. The premise is that each prompt included a technical parameter (such as pov, word length or writing time), a writing style or character type parameter, and a word or phrase for inspiration. Any parameter was subject to inspiration, of course, as the object was merely to get writing.
Writing : Creative Writing & Blogging Prompts Topic Starters, Picture Prompts, and Thought-Provoking Questions for You to Answer "The best learning comes in the doing, and writing from prompts engenders doing.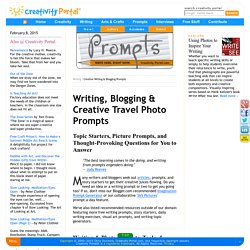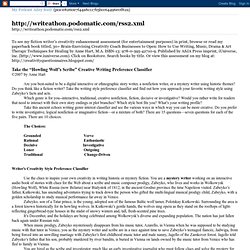 Dog Writers Association of Americahttp://www.dwaa.org/ Training Beginners in the Business of Writing and the Writing of BusinessAlexander Communications, Business Writing Seminars Provides on-site, customized seminars in business writing skills. The seminars are practical and tailored especially for employee needs. Yvonne Alexander founded Alexander Communications, a San Francisco-based company, in 1986 to help her clients increase profits and persuasiveness by developing effective writing skills. Trainers will travel to your training site.http://www.alexcommunications.com/ The Business Writing CenterOnline, Instructor-Led Business Writing Courses Business Writing Workshopsat Company Sites.
Creativity Questionnaires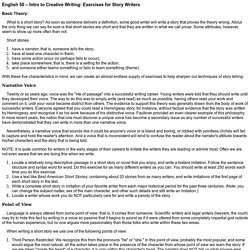 English 50 – Intro to Creative Writing: Exercises for Story Writers Basic Theory: What is a short story? As soon as someone delivers a definition, some good writer will write a story that proves the theory wrong. About the only thing we can say for sure is that short stories are short and that they are written in what we call prose.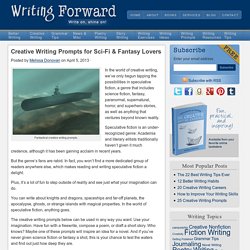 Fantastical creative writing prompts. In the world of creative writing, we've only begun tapping the possibilities in speculative fiction, a genre that includes science fiction, fantasy, paranormal, supernatural, horror, and superhero stories, as well as anything that ventures beyond known reality. Speculative fiction is an under-recognized genre: Academia and literary elitists traditionally haven't given it much credence, although it has been gaining acclaim in recent years. But the genre's fans are rabid. In fact, you won't find a more dedicated group of readers anywhere else, which makes reading and writing speculative fiction a delight. Plus, it's a lot of fun to step outside of reality and see just what your imagination can do.
The Almost Totally Random Writing Exercise Generator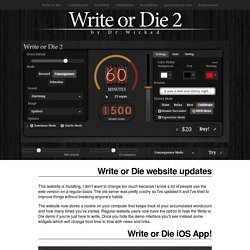 Introducing Write or Die 2 Write or Die is an application for Windows, Mac and Linux which aims to eliminate writer's block by providing consequences for procrastination and, new to this version, rewards for accomplishment. Historically Write or Die has specialized in being the stick in the carrot/stick motivation continuum, but it's time to experiment with encouragement. Please play with the user interface, check out what new options are available, then read this quick intro. I hope you enjoy the new features. Visual Stimulus
The Majency Oracle is a 169-card deck of original prompts or "matches" to spark the imagination of writers, poets, or any creative individual that needs inspiration. The deck is designed to be printed on any color printer, on standard 3×5 index cards. It features a variety of color schemes and background images to create a unique experience each time a card is drawn. Each card contains a single phrase designed to prod the creative mind down a path of its own. It might be a snippet of dialogue that suggests an overheard conversation; it might be a fragment of a description of a visual scene, one that could lend itself to a depiction in paint or prose.
The Majency Oracle | JamesBickers.com