Collective Intelligence
The Internet bug known as Heartbleed was introduced to the world on New Year's Eve in December 2011. Now, one of the people involved is sharing his side of the story. Programmer Robin Seggelmann says he wrote the code for the part of OpenSSL that led to Heartbleed. But it was an accident. He submitted the code to the OpenSSL project and other members reviewed it. Seggelmann later added another piece of code for a new feature, which the members then added.
The Programmer Behind Heartbleed Speaks Out: It Was an Accident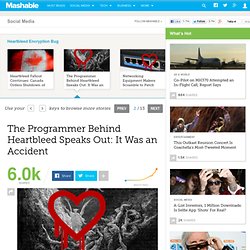 Who Really Suffers When You Don't Share Your Ideas at Work
Worried that someone at work might be stealing your good ideas? Relax. It doesn't happen as often as you think. A study in the current issue of the Academy of Management Journal discovered employees have nothing to gain from hiding their insights from co-workers, and just end up hurting themselves by doing so.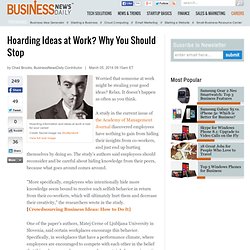 ▶ Peter Senge - Navigating Webs of Interdependence
Forrester: Top Technology Trends for 2014 And Beyond
i 3 Votes Next up in this transformation series is the seventh enabler: Collective Intelligence.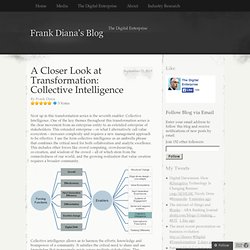 A Closer Look at Transformation: Collective Intelligence | Frank Diana's Blog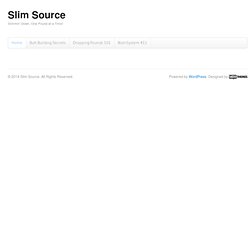 CIEL –
Collective intelligence is an emergent property of people and groups engaged in shared pursuits. Therefore, the resulting structures and the shape of aggregated knowledge cannot be predicted. This Collective Intelligence Enhancement Lab is a socio-technical platform, your platform; it will become what you will make of it. For example, SIG chairs can convene interactive, virtual sessions to follow up on the session at the ISSS conference, or Evolutionary Learning Labs around the world can connect with each other and share experiences. Let us know what you'd like to use it for and we'll help make it happen. Fill in your own profile and find/invite your colleagues.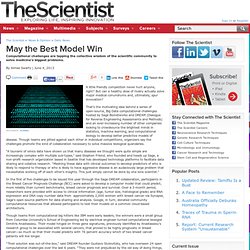 May the Best Model Win
WIKIMEDIA, W.REBELA little friendly competition never hurt anyone, right? But can a healthy dose of rivalry actually solve major medical conundrums and, ultimately, spur innovation? That's the motivating idea behind a series of open-source, Big Data computational challenges hosted by Sage Bionetworks and DREAM (Dialogue for Reverse Engineering Assessments and Methods) and an ever-increasing number of other companies looking to crowdsource the brightest minds in statistics, machine learning, and computational biology to develop better predictive models of disease. Though teams are pitted against each other in individual competitions, organizers say the challenges promote the kind of collaboration necessary to solve massive biological quandaries.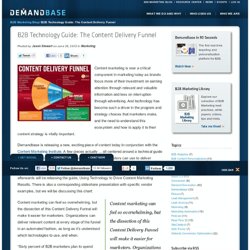 Posted by Jason Stewart on June 26, 2012 in Marketing Content marketing is now a critical component in marketing today as brands focus more of their investment on earning attention through relevant and valuable information and less on interruption through advertising. And technology has become such a driver in the program and strategy choices that marketers make, and the need to understand this ecosystem and how to apply it to their content strategy is vitally important. Demandbase is releasing a new, exciting piece of content today in conjunction with the Content Marketing Institute .
B2B Technology Guide: The Content Delivery Funnel :: Demandbase :: B2B Marketing, Account-Based Targeting and Personalization Platform
New presentation: Wisdom Networks crowd create the Network Society - imaginedpm - Gmail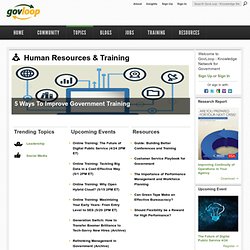 Human Resources & Training
Loading recent job postings... The Human Resources Council A partnership between private companies and the government GovLoop community who are focused on researching, collaborating and improving human resources processes and services. Human Resources HR folks need space too. Please have fun.
Welcome to Knowledge Exchange - Knowledge Exchange
Social movements and protests are erupting – from the Arab uprisings (with yet unforeseen outcomes) to Occupy and Anonymous Groups. According to Manuel Castells (University Professor and Wallis Annenberg Chair of Communication Technology and Society at the University of Southern California, Los Angeles as well as Emeritus Professor of Sociology at Berkeley (California) '... one thing they share in common: they are all interwoven inextricably with the creation of autonomous communication networks supported by the Internet and wireless communications.' This site is for health and social care profssionals who are interested in developing meaningful service user and carer invovlement within health and social care training. Membership let's you develop a professional profile.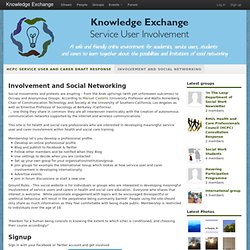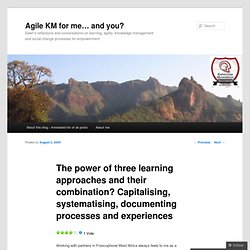 Working with partners in Francophone West Africa always feels to me as a refreshing experience – except perhaps in a meteorological sense. It puts the concepts, approaches and tools we play with from my IRC base in the Netherlands in stark contrast with the local reality on the technological, conceptual and linguistic side of things. As such it invites me to explore my own mental models again and to ponder about different linguistic traditions of learning and knowledge management (1).
The power of three learning approaches and their combination? Capitalising, systematising, documenting processes and experiences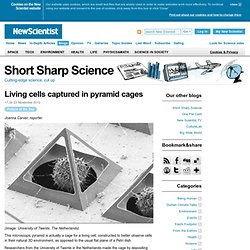 Joanna Carver, reporter (Image: University of Twente, The Netherlands) This microscopic pyramid is actually a cage for a living cell, constructed to better observe cells in their natural 3D environment, as opposed to the usual flat plane of a Petri dish. Researchers from the University of Twente in the Netherlands made the cage by depositing nitrides over silicon pits. When most of the material is peeled away, a small amount of material remains in the corners to create a pyramid. Because the pyramids have holes in the sides and are close together, the cells can interact for the most part as they naturally do.
Short Sharp Science: Living cells captured in pyramid cages
Collective Wisdom Initiative home page
During the month of June of the year 1812, at the border between Russia and Poland, a group of men begin a singular march. It is the Grande Armée of Napoleon Bonaparte. Their goal is to invade Russia — a task for which 422,000 men have been summoned.
Mapping Science
Blog
30 May 2009 Web 3.0 will be about semantic web, personalization (e.g. iGoogle), intelligent search and behavioral advertising among other things. couch mode print story
What is Web 3.0? Semantic Web & other Web 3.0 Concepts Explained in Plain English
MINDSPACE Behavioural Economics
Update: Professor Cass Sunstein, co-author of Nudge: Improving Decisions about Health, Wealth, and Happiness, will speak at the Institute for Government on 22 March 2013. Background New insights from science and behaviour change could lead to significantly improved outcomes, and at a lower cost, than the way many conventional policy tools are used. MINDSPACE: Influencing behaviour through public policy was published by the Institute for Government and the Cabinet Office on 2 March 2010.
default::search::index
July 2012
Looking at this Datameer infographic, posted by GigaOm's Derrick Harris: Who's connected to whom in Hadoop world, I was trying to remember if I had ever seen such a neat, balanced ecosystem map. With 20 years in the software industry, I have seen my share of vendor ecosystems, and more often than not, participated into them as a partner, since I have always worked for small(er) vendors. Some ISV partner programs were really good (Powersoft's CODE partner immediately comes to mind), some were designed to pretend as if partners mattered – for example when time came to sell sponsorships to an annual conference. All these partner programs had one common point: they were host-vendor-centric: they were designed to revolve around the primary vendor, for which complementary technology was available. The typical graphical representation would be concentric circles, with the primary vendor in the center.
What role does management play in the agile world of self-organizing teams? What is the function of managers in this new world? What does an agile organization need from its management team? Where should the agile manager focus their efforts for greatest benefit?
The Manager's Role in Agile
An interview with Don Tapscott - McKinsey Quarterly - Organization - Strategic Organization
cci.mit.edu
blogofcollectiveintelligence.com
Program in Open Innovation (formerly Center for Open Innovation)
Staying in Touch
Dr. Quantum Visits Flatland - Free Science Videos and Lectures
Content-Based VLE Designs Improve Learning Efficiency in Constructivist Statistics Education
Kristo Ivanov
Man charged with rape, murder of Jill Meagher
The One Startup That Should Strike Fear In The Heart Of Every Journalist