Maps-Stats-Graphs
US of the Environment. India's Population Grows To 1.21 Billion. Chipmaker Advanced Micro Devices Inc. said Thursday after the markets closed that its first quarter loss narrowed from last year, helped by strong revenue growth in its graphics and visual solutions business.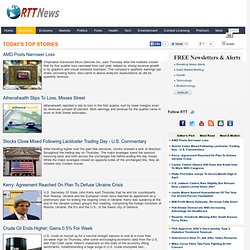 The company's quarterly earnings per share, excluding items, also came in above analysts' expectations as did its quarterly revenue. athenahealth reported a slip to loss in the first quarter, hurt by lower margins even as revenues jumped 30 percent. Both earnings and revenue for the quarter came in short of Wall Street estimates. After trending higher over the past few sessions, stocks showed a lack of direction throughout the trading day on Thursday.
Time zones: About time. How To Have A Rational Discussion. Visualizing The Cost of Urban Water. World map of HAPPINESS by Country. Global arms exports: Present arms. Mobile By The Numbers [INFOGRPAHIC] Mobile is a rapidly developing sector.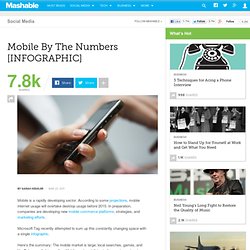 According to some projections, mobile internet usage will overtake desktop usage before 2015. In preparation, companies are developing new mobile commerce platforms, strategies, and marketing efforts. Microsoft Tag recently attempted to sum up this constantly changing space with a single infographic. World Water Day Slideshow: Everything You Need to Know About H2O. Chart: Why $4-Per-Gallon Gas Is Damn Cheap. Inspired by Cord's thought-provoking post on the per gallon prices of various liquids, and by Sarah Palin's ill-informed Facebook rant on the "$4-Per-Gallon President," I decided to take a closer look at gasoline prices around the world.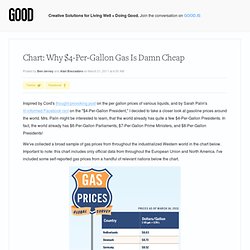 Mrs. Palin might be interested to learn, that the world already has quite a few $4-Per-Gallon Presidents. In fact, the world already has $6-Per-Gallon Parliaments, $7-Per-Gallon Prime Ministers, and $8-Per-Gallon Presidents! We've collected a broad sample of gas prices from throughout the industrialized Western world in the chart below. Important to note: this chart includes only official data from throughout the European Union and North America. Nation's GDP as US States. Way back in 2007, I found this obscure chart from The York Group on a Norwegian blog, posted previously as Countries GDP as US States.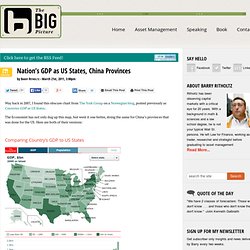 The Economist has not only dug up this map, but went it one better, doing the same for China's provinces that was done for the US. Here are both of their versions: Comparing Country's GDP to US States. World's nuclear reactors location. Nuclear power plants have only a few decades of working life before they have to be shut down – so how big is the problem?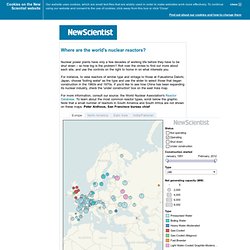 Roll over the circles to find out more about each site, and use the controls on the right to home in on what interests you. For instance, to view reactors of similar type and vintage to those at Fukushima Daiichi, Japan, choose 'boiling water' as the type and use the slider to select those that began construction in the 1960s and 1970s. If you'd like to see how China has been expanding its nuclear industry, check the 'under construction' box on the east Asia map. For more information, consult our source: the World Nuclear Association's Reactor Database. To learn about the most common reactor types, scroll below the graphic. Nuclear power: The nuclear family. Defence budgets: Military ranking. Inequality- How Rich is the SuperRich. Want more charts like these?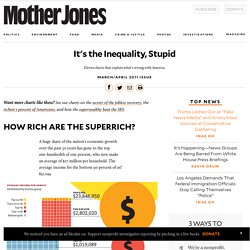 See our charts on the secrets of the jobless recovery, the richest 1 percent of Americans, and how the superwealthy beat the IRS. How Rich Are the Superrich? Women In The World. Best of FlowingData – 2/2011. February was a good month.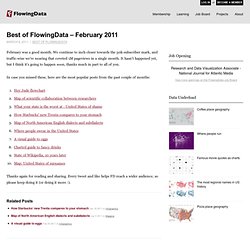 We continue to inch closer towards the 50k-subscriber mark, and traffic-wise we're nearing that coveted 1M pageviews in a single month. It hasn't happened yet, but I think it's going to happen soon, thanks much in part to all of you. In case you missed these, here are the most popular posts from the past couple of months: Thanks again for reading and sharing. Every tweet and like helps FD reach a wider audience, so please keep doing it (or doing it more :). 2010 US Census News & Data. The 12 States of America. World Development Indicators (subset) - Google Public Data Explorer. Our changing world in cartograms. In this series of interactive cartograms, FedEx shows our changing world (and I guess, how they are changing with it) through a variety of worldwide demographics such as access to mobile Web, growth, and happiness.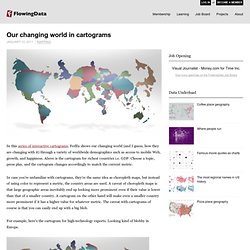 Above is the cartogram for richest countries i.e. GDP. Choose a topic, press play, and the cartogram changes accordingly to match the current metric. 200 Countries, 200 Years, 4 Minutes. Hans Rosling explains a very common misunderstanding about the world: That saving the poor children leads to overpopulation.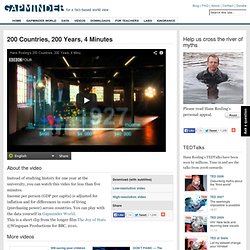 Not only is it not right, it's the other way around! The world might not be as bad as you might believe! Don't Panic – is a one-hour long documentary produced by Wingspan Productions and broadcasted on BBC on the 7th of November 2013. World Health & Wealth Graph. Economic Freedom of the World.
GDP. CO2 Emmissions- Interactive Map. Oil. Urban Population. Internet Users. Population Distribution. SHOW®- Interactive Maps. BroadBand.
---