Searchengine Land
Debra Mastaler mentioned the YouTube keyword tool again recently, and I don't think I've been this excited about keywords in, well… ever. I confess to only now realizing how much of a help it can be. Never mind the awesome fact that you can get keywords and easily import them into Google AdWords for your PPC campaigns. What's really fantastic for me is that you can generate the truly random and crazy search terms that help you find those hidden gems on the Internet — the sites that might not yet be inundated with link requests or spammed up with paid links.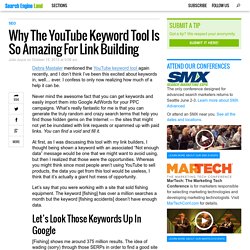 Why The YouTube Keyword Tool Is So Amazing For Link Building
Responsive Design Alone Is Not Mobile SEO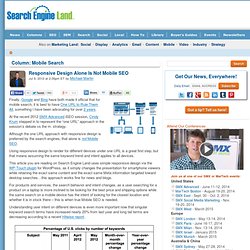 Finally, Google and Bing have both made it official that for mobile search, it is best to have One URL to Rule Them All , something I have been advocating for over 2 years .
Who would have thought that two seemingly innocent zoo animals could cause such an uproar in the SEO industry?
How Pandas & Penguins Change Your Link Building Strategy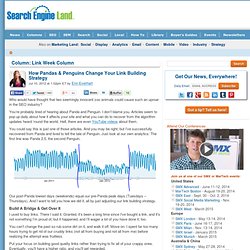 Over the next several months, I plan to use my column here at Link Week to lay out a link building blueprint you can use as a guide in your linking efforts. We'll start with foundational tactics and some of the side opportunities they offer, and keep going into the more detailed "advanced" techniques toward the end. If you follow the blueprint and implement what we cover, by the end of the series you should have a nice collection of links.
A Link Building Blueprint: The Foundation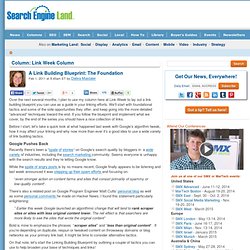 A Link Building Blueprint: Utility Linking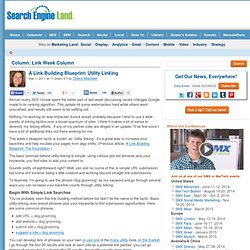 Almost every SEO I know spent the better part of last week discussing recent changes Google made to its ranking algorithm. This update hit some webmasters hard while others went unscathed, and results still seem to be settling out. Nothing I'm working on was impacted (knock wood) probably because I tend to use a wide variety of linking tactics over a broad spectrum of sites.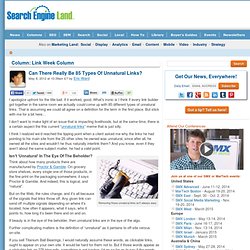 I apologize upfront for the title bait.
Can There Really Be 85 Types Of Unnatural Links?
For ages, Google has encouraged people to build links in order to rank well.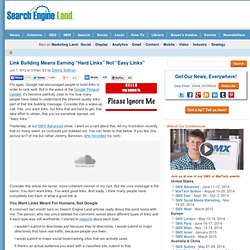 Link Building Means Earning "Hard Links" Not "Easy Links"
Google instant caused a near freak out within the SEO world, but oddly there has not been a peep about Google instant and link building.
How To Use Google Instant As A Powerful Link Building X-Ray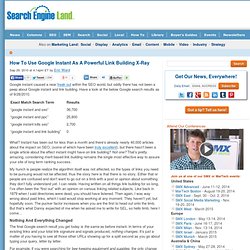 17 Types of Link Spam to Avoid