General Blogs
Energy Outlook
Although fuel cell cars have perpetually seemed to be the technology of tomorrow, carmakers' persistence with them could still pay off, as a dividend from shale gas.Significant obstacles remain, including inadequate hydrogen infrastructure and competition from greatly improved vehicle batteries. However, the race is far from over. As I was working off my reading backlog, I ran across an article in the Washington Post's "Capitol Business" edition on "Are We Ready for Hydrogen Cars?"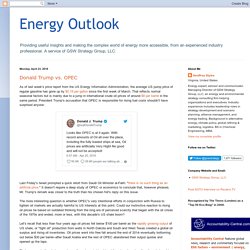 TreeHugger
An energy policy, climate change, and alternative energy community
Biobutanol (C4H10O) or butyl alcohol is a second generation biofuel that can be produced from biomass and can be used either as an industrial chemical or as a transportation fuel. Biobutanol can run in any gasoline engine with no modifications and, like ethanol, has a higher octane rating than normal gasoline. It has the additional advantages that it has a higher energy density than ethanol, can be transferred in our existing pipelines, and can be used as an additive in either gasoline or diesel fuel. Like ethanol, biobutanol is fermented by microorganisms from sugars, which are broken down from raw feedstocks and mixed with water.
The Energy Blog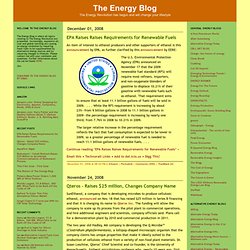 MetaEfficient | The Guide To Efficient Living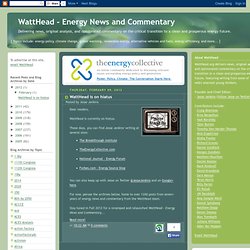 WattHead - Energy News and Commentary
Over at the National Journal's Energy forum, my Breakthrough Institute colleague Alex Trembath and I have a new submission to their ongoing discussion asking "How Can Washington Green America's Economy?" Here's the full text... Before discussing the best way to green the economy, it's important to note that the U.S. economy has been greening steadily over the past three years.
Renewable Energy News & Cleantech News (#1 Source) — CleanTechnica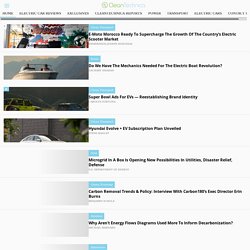 Climate Change Years of Living Dangerously — What It Is, Who's In It, & What It's All About Published on April 20th, 2014 | by Sandy Dechert Originally published on CleanTechnica sister site Planetsave. Caution: Now Entering The "Years Of Living Dangerously" (via Planetsave) Last week something rare and extraordinarily positive occurred on American television. Fortunately, through YouTube and 350.org, the rest of ...
After Gutenberg - Just another pretty face
Corporate website design on its own doesn't reveal much about a company except how much it's willing to spend on marketing. However, the timing of website designs and redesigns can tell you quite a bit. For example, if a new company goes live from Day 1 on the Internet with a flashy, slick, clearly expensive corporate site, it's more than likely smoke and mirrors hiding a lot of nothing.
Clean Break
the Watt | Energy discussion for an efficient world
The latest from the National Wildlife Federation has to rank among the most absurd global warming reports I have encountered. And, after 30 years of encountering all sorts of wacky warming hype, this is saying a lot. This NWF doozey is entitled "Mascot Madness: How Climate Change is Hurting School Spirit" and was timed so as to try to take advantage of the pre-coverage of the upcoming March Madness—the popular annual NCAA college basketball tournament. Apparently linking climate change to negative impacts on sports is a new green tactic. The NWF's premise is that human-caused global warming is threatening the natural version of school mascots, and, in some cases, causing them to be dissociated from the region that includes the university that they represent, presumably dampening "school spirit."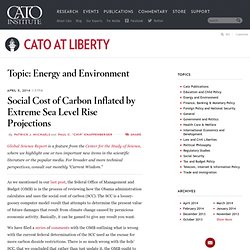 Energy and Environment
Breaking Business News, Headlines, Stories and Video