Twitter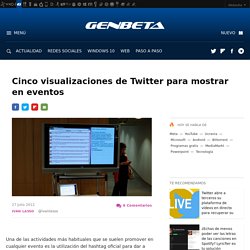 Una de las actividades más habituales que se suelen promover en cualquier evento es la utilización del hashtag oficial para dar a conocer por Twitter las actividades que se realizan. Si estáis preparando uno, ya sea un congreso de cualquier tipo o una fiesta en una discoteca, revisad la siguiente lista de sitios que nos permiten visualizar lo que se publica en Twitter de manera perfecta para ser exhibirlo en una pantalla grande . Todos son gratuitos y se actualizan en tiempo real. Visible Tweets, visualizaciones a gran tamaño
Cinco visualizaciones de Twitter para mostrar en eventos
mooteus12
Twissues - Backup your tweets and search through your Twitter timeline
Tweets Images Appearance Create Words People
Fountains
Nov 25 2011 Advertisement Social media icons are integrated into every major website design today. They are frequently displayed prominently in sidebars and headers in order to promote such things as RSS feeds, Facebook fan pages and Twitter profiles. They are cropping up all over, creating a near endless demand for these resources.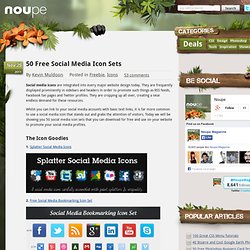 50 Free Social Media Icon Sets
Qué es Twitter y cómo ha evolucionado- Infografía | Qué es Twitter | ¿Qué es Twitter?
Fresh and Exceptional Twitter Bird Design Icons
Designers Don't seem to get tired of designed new twitter birds each day. Bloggers don't seem to be complaining about it either, they keep changing their twitter Icons again and again. And Twitter users don't seem to be tired from tweeting either, Looks like the entire world is happy and so are we presenting a Roundup of Fresh and Exceptional Twitter Bird Design Icons . You might've seen Twitter Birds, a lot of them before. So We dont want to recycle the old Icons and show them in a new list again and again. Here are some Fresh and Gorgeous Twitter Bird Icons handpicked from various resources.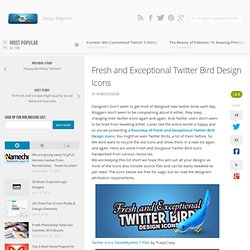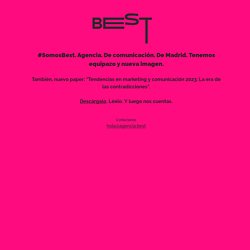 Redes Sociales , Tutoriales Probablemente alguna vez hayas celebrado un evento apoyándote en los medios sociales, bien para crear expectación y masa crítica, o bien para retransmitir lo acontecido en tiempo real. En esto del tiempo real, Twitter es el rey y el uso de esta plataforma como herramienta para desarrollar este backchannel está ya muy extendido.
Tweetdoc: cómo hacer un backup de los tweets relacionados con un hashtag | Medios Sociales
Visible Tweets – Twitter Visualisations. Now with added prettiness!
TwitTRENDS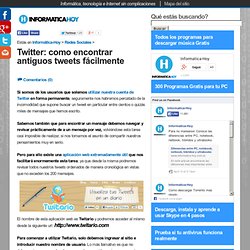 Comentarios (0) Si somos de los usuarios que solemos utilizar nuestra cuenta de Twitter en forma permanente , seguramente nos habremos percatado de la incomodidad que supone buscar un tweet en particular entre cientos o quizás miles de mensajes que hemos escrito. Sabemos también que para encontrar un mensaje debemos navegar y revisar prácticamente de a un mensaje por vez, volviéndose esta tarea casi imposible de realizar, si nos tomamos el asunto de compartir nuestros pensamientos muy en serio.
Twitter como encontrar antiguos tweets facilmente
Siete Aplicaciones y herramientas útiles para Hashtag en Twitter | Audiencia Electronica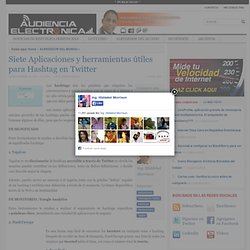 Los hashtags son las palabras que etiquetan las conversaciones y que se escriben con un signo de # delante y no sólo sirven para etiquetar conversaciones en Twitter sino que son útiles para organizar la información. con tantas aplicaciones diseñadas para ayudarte a sacar el máximo provecho de tus hashtags puedes caer en una confusión, por lo cual aquí te listamos algunas de ellas, para que les saques el mayor provecho: Estas herramientas te ayudan a descifrar las muchas veces complicada superposición de significados hashtags. 1.