Nanotech
Asylum Research announces Scanning Microwave Impedance Microscopy (sMIM), an atomic force microscopy (AFM) technique that enables nanoscale mapping of permittivity and conductivity. Continue Reading » UNL and Stanford teams have collaborated to create transparent thin-film semiconductor films, improving on the standard methods for creating these devices to match the performance of some silicon technologies.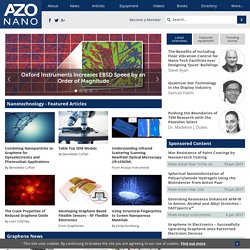 A to Z Nanotechnology | Nanotechnology News, Articles, Directory and more
17th Foresight Conference: "The Integration Conference" February 7-9, 2014 Crowne Plaza Cabana Hotel, Palo Alto Silicon Valley, California, USA The Integration Conference will bring together over 20 speakers to present their research and vision within the realm of groundbreaking atomic- and molecular-scale science and engineering with application across a wide range of advanced technologies, including materials, electronics, energy conversion, biotechnology and more. Events will include presentation of the annual Foresight Institute Feynman Prize, one of the most prestigious awards in nanoscale science and technology. Integration: The development and proliferation of nanotechnology through its applications in diverse fields are dependent upon the successful integration of nano-engineered devices and materials ("nanosystems") into more complex micro- and macro-systems.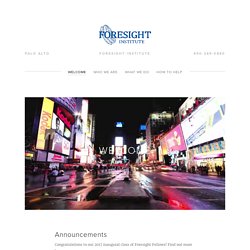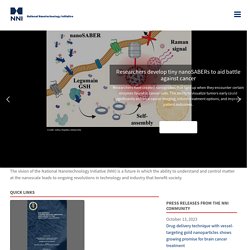 Dr. Whitman, currently the Deputy Director of the Center for Nanoscale Science and Technology (CNST) at the National Institute of Standards and Technology, will lead the NNCO until a new Director is in place. Agriculture Sec. Tom Vilsack announced a public private-partnership to rapidly advance the development of the first U.S. commercial facility producing cellulosic nanomaterial, a wood fiber broken down to the nanoscale.
Prior to adjourning for the Memorial Say recess, the Senate, on 05/24/2012, by a vote of 96-1, passed S. 3187, the "Food and Drug Administration Safety and Innovation Act", " To amend the Federal Food, Drug, and Cosmetic Act to revise and extend the user-fee programs for prescription drugs and medical devices, to establish user-fee programs for generic drugs and biosimilars, and for other purposes", after previously adopting an amendment in the nature of a substitute- an amendment in the nature of a substitute strips all of the language of a bill following the enacting clause and replaces it with new language - offered by Senator Tom Harkin (D-Iowa). Included as part of the language of the amendment was Title XI - Other Provisions, Subtitle C- Misc. Provisions, Section 1133, "Nanotechnology Regulatory Science Program": SEC. 1133.
Nanotechnology Lawyer & Attorney : Porter Wright Morris & Arthur : Nanotechnology Law Report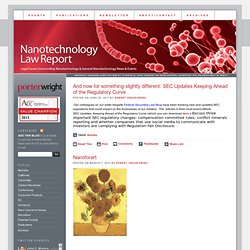 Nano & Cleantech Blog : Nanotechnology Lawyers & Attorneys : Foley & Lardner Law Firm : Clean Technology, Green Energy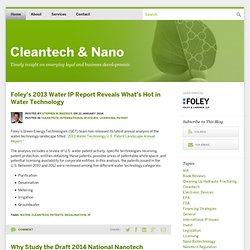 China announced its boldest plan in 30 years to overhaul a multitude of economic and social policies, with the release of "The Decision on Major Issues Concerning Comprehensively Deepening Reforms" on November 15, 2013. Within this 21,000-word economic roadmap, one announcement caught my attention: We will strengthen the utilization and protection of intellectual property rights, improve mechanisms for encouraging technological innovation, and explore ways to establish an intellectual property court. Although a general deadline of 2020 is set by the Chinese government for achieving "decisive results" of the sweeping changes laid out in this comprehensive economic roadmap, it is believed that the establishment of the intellectual property court will occur well before that. The introduction of such specialized court, which could be similar to the Federal Circuit in the US, is expected to significantly improve the enforcement of intellectual property rights in China.
Principles for the Oversight of Nanotechnologies and Nanomaterials
The undersigned , a broad coalition of civil society, public interest, environmental and labor organizations concerned about various aspects of nanotechnology's human health, environmental, social, ethical, and other impacts, submit the following Declaration, Principles for the Oversight of Nanotechnologies and Nanomaterials. See full brochure as a pdf Kriterien zur Kontrolle von Nanotechnologien und Nanomaterialien Principios para la supervisión de nanotecnologías y nanomateriales Principes de surveillance des nanotechnologies et nanomatériaux