The Digital Classroom
20 Must-Have Educational Resources For All Teachers. Edudemic often features posts providing a list of top resources for a particular category.
Recently, the site gettingsmart.com posted the names of the LAUNCHedu finalists chosen by the SXSWedu® Conference, offering even more resources for the Edudemic staff to consider! On March 7, 2012, they will choose winners after a full day of presentations by the finalists. There are so many sites and programs on the Internet already, but this competition just goes to show that the need for educational resources is still great. Necessity is the mother of invention, they say. The cliche works because it is true. A day in the future – the vision and the story | A Day Made of Glass 2 is Corning's expanded vision for the future of glass technologies.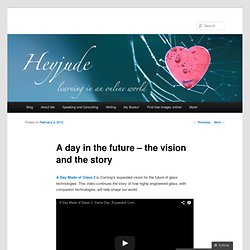 This video continues the story of how highly engineered glass, with companion technologies, will help shape our world. A Day Made of Glass 2: Unpacked, allows us to take a journey with the narrator for details on these technologies, answers to our questions, and to learn about what's possible — and what's not — in the near future. Love the vision and the possibilities for our schools! Meanwhile, great advertising! TeachersFirst: The web resource by teachers, for teachers. School of One – Home | Reimagining the classroom to meet the needs of every student.
Supplementing Textbooks with Student Constructed Knowledge Bases. Orig­i­nally posted on iPads in Edu­ca­tion Ning net­work site Authored by Sam Gliksman, Twitter: @samgliksman We're just a few weeks removed from a major Apple announce­ment regard­ing the release of a new eText­books ini­tia­tive.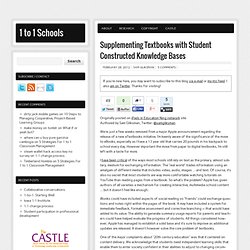 I'm keenly aware of the sig­nif­i­cance of the move to eBooks, espe­cially as I have a 13 year old that car­ries 20 pounds in his back­pack to school every day. How­ever impor­tant the move from paper to dig­i­tal text­books, I'm still left with a taste for more. I have been crit­i­cal of the ways most schools still rely on text as the pri­mary, almost soli­tary, medium for exchang­ing infor­ma­tion. The "real world" trades infor­ma­tion using an amal­gam of dif­fer­ent media that includes video, audio, images … and text. ANNOTEXTING - Amherst, NY. Cell Phones as Teaching Tools: 26 Places You'll Find Resources and Lesson Plans. Pages - Menu This Blog Linked From Here Sites to Follow.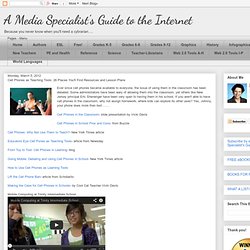 iPad As.... Moving to a Networked School Community using ISTE Standards, Australian Curriculum and an Edublogs platform. It's been a busy year.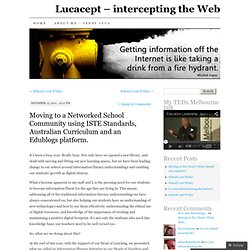 Really busy. Not only have we opened a new library, and dealt with moving and fitting out new learning spaces, but we have been leading change in our school around information fluency understandings and enabling our students' growth as digital citizens. What's become apparent to my staff and I, is the pressing need for our students to become information fluent for the age they are living in. Move Over Three R's, Here Come the Three C's.
- 10 Tech Skills Every Student Should Have. 0 Comments January 31, 2012 By: David Andrade Jan 31 Written by: 1/31/2012 11:39 AM.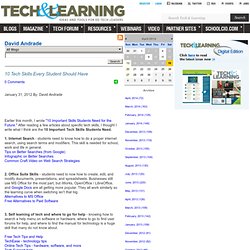 10 Important Skills Students need for the Future. The future.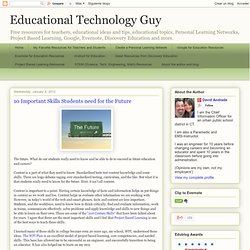 What do our students really need to know and be able to do to succeed in future education and careers? Content is a part of what they need to know. Standardized tests test content knowledge and some skills. The 100 Best Web 2.0 Classroom Tools Chosen By You. The Wordle of this list!
(Click image to enlarge) One of the most popular posts on Edudemic in 2010 was The 35 Best Web 2.0 Classroom Tools Chosen By You and I felt it might be time for an update to that list for 2011. In order to put together a list of the best Web 2.0 classroom tools, I polled my Twitter followers, Facebook fans (are they still called fans? Likes?)
---