Traveling
(Upodate: I just found out that the original email address AND the updated address I gave yesterday were BOTH WRONG. The correct address for submissions is TheItCrowd@retort.tv Sorry for the confusion. The people responsible will be killed.) (Update No 2: If you're using a mobile phone, you should be watching it in portrait mode.) Heeeeeelleeeo! (Hello)
Why, That\'s Delightful!
Vanishing Point: How to disappear in America without a trace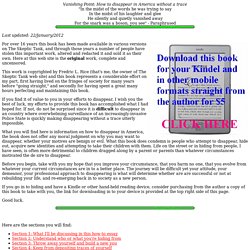 Where there's water, life is possible. True, it may be very difficult and very hard to live, depending, but anyone who's driven, hiked, or camped in the American South West will have noticed that cities and ranches crop up where there's surface water or where there's been a well dug. Within the state of California, Nevada, Arizona, Utah, New Mexico, and Colorado, there are deserts, mesas, mountains, and forests where normally people never or rarely visit; not-so-secret places where there's water, access to a road within a day's hike, and where a fairly rugged individual may hide while remaining basically healthy, marginally well fed, and reasonably sane. In this section I'll look at two such environments, neither of which I would recommend, but one of which I'd suggest is a reasonable way to live in basic health while either on the run, hiding out from the law, old girl friends, the draft for an illegal war, putative wives and such.
Participate in Creating a Better World, One Couch At A Time
WWOOF - World Wide Opportunities on Organic Farms
- Living Bueno - How to Live Anywhere in the World for Free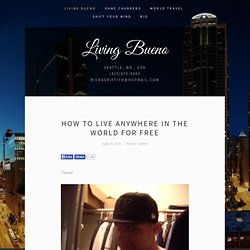 Skeptical Face Travel for free? This dudes crazy right? Today is part two of what I am calling the "Knowledgeable Nomads" series, in which I will be teaching my readers how they can travel the world while ballooning their savings accounts rather than draining them dry. In the first part of this series I discussed general topics such as how to figure out what you want, devising your own getaway plan, quitting your job, creating a mobile income and taking the leap. All of these topics will be expanded on in upcoming posts, however today I will be covering a more specific topic, instructing my fellow nomadic souls on how they to can travel the world for FREE.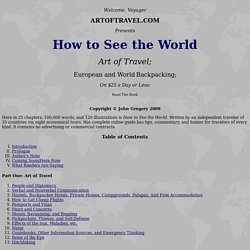 Welcome, Voyager Presents How to See the WorldArt of Travel;European and World Backpacking;On $25 a Day or Less;Read This BookCopyright © John Gregory 2009 Here in 25 chapters, 100,000 words, and 120 illustrations is How to See the World.
How to See the World: Art of Travel; European and World Backpacking; On $25 a Day or Less
Fairytale Destinations
(Photo: Norman B. Leventhal Map Center) Chris Guillebeau travels the world and writes for a small army of remarkable people at The Art of Non-Conformity blog. He is a master of clever air travel (among other things), and this is a guest post on perfecting one of the rare gems that can truly change your life: Round-the-World (RTW) tickets. Enter Chris…
How to Buy a Round-the-World Plane Ticket (That Kicks Ass)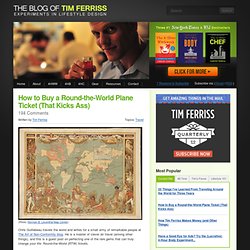 BUG - the Backpackers' Ultimate Guide with hostel reviews and budget travel destination guides