Food
Servings: 4-6 Ingredients: 2 shallots, minced (about 2 tablespoons) 1 clove garlic, minced Kosher salt and ground black pepper Juice of 2 lemons 1/2 cup (4 ounces) extra virgin olive oil plus 1 tablespoon for shrimp 1/2 cup grape tomatoes, halved 1 cup freshly cooked or canned white beans, such as cannellini 1 cup (about 4 ounces) Wisconsin Parmesan cheese, cut in small dice 1/4 cup fresh dill, chopped 1 pound large shrimp, peeled and deveined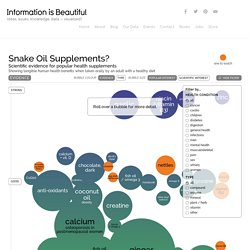 This image is a "balloon race". The higher a bubble, the greater the evidence for its effectiveness. But the supplements are only effective for the conditions listed inside the bubble . You might also see multiple bubbles for certain supps. These is because some supps affect a range of conditions, but the evidence quality varies from condition to condition. For example, there's strong evidence that Green Tea is good for cholesterol levels.
Prepare an Egg There's certainly no shortage of ways to cook this ultimate breakfast staple and they're all listed here. Boil 'em, scramble 'em, you name it. Go ahead, reinvent breakfast with these famous egg recipes and egg cooking tips. Eat Your Spinach Spinach is full of vitamins, minerals and other nutrients the body needs to thrive. It also happens to be low in calories. In many ways, it's the perfect food.
Salt: Essential to Life - But What About High Blood Pressure?
All living creatures must have salt to survive. Mother Nature dictates, however, that balance is essential in all living things. As is often the case in our modern world, violating this natural principle by getting too much of a good thing is costing us our lives! "There must be something sacred in salt: It is in our tears, and in the ocean." Kahlil Gibran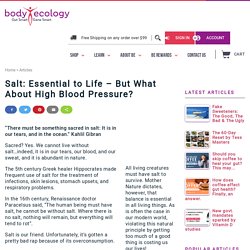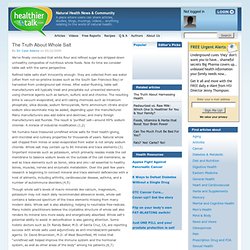 Natural Whole Salt vs. Refined Chemical Salts
We've finally concluded that white flour and refined sugar are stripped-down unhealthy composites of nutritious whole foods. Now its time we consider table salt with the same perspective. Refined table salts start innocently enough: they are collected from sea water (often from not-so-pristine locales such as the South San Francisco Bay) or harvested from underground salt mines. After water-flushing, table salt manufacturers will typically treat and precipitate out unwanted elements using chemical agents such as barium, sulfuric acid and chlorine. The resulting brine is vacuum-evaporated, and anti-caking chemicals such as tricalcium phosphate, silica dioxide, sodium ferrocyanide, ferric ammonium citrate and/or sodium silico-aluminate may be added, depending upon the manufacturer.
By Michael Pollan The New York Times Magazine , October 12, 2008 Dear Mr. President-Elect, It may surprise you to learn that among the issues that will occupy much of your time in the coming years is one you barely mentioned during the campaign: food. Food policy is not something American presidents have had to give much thought to, at least since the Nixon administration–the last time high food prices presented a serious political peril. Since then, federal policies to promote maximum production of the commodity crops (corn, soybeans, wheat and rice) from which most of our supermarket foods are derived have succeeded impressively in keeping prices low and food more or less off the national political agenda.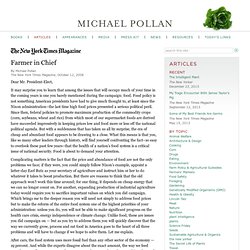 Farmer in Chief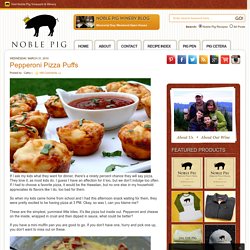 If I ask my kids what they want for dinner, there's a ninety percent chance they will say pizza. They love it, as most kids do. I guess I have an affection for it too, but we don't indulge too often. If I had to choose a favorite pizza, it would be the Hawaiian, but no one else in my household appreciates its flavors like I do, too bad for them.
Agency Suggests Limits on Antibiotics in Animals Because of Rise of Drug-Resistant Bacteria Why do I need to register or sign in for WebMD to save? We will provide you with a dropdown of all your saved articles when you are registered and signed in.
FDA: Antibiotics in Livestock Affects Human Health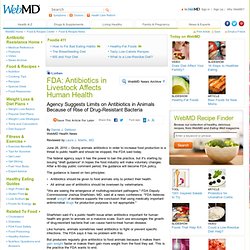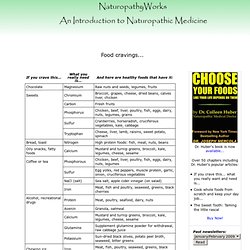 Home Email The information on this site is for educational purposes only. It is not intended to diagnose, treat or cure any diseases or illnesses. The statements on this website have not been evaluated by the Food and Drug Administration. If you have a medical condition, consult your naturopathic physician. Consult your naturopathic physician or other qualified health care professional before making changes in diet or lifestyle.
Healthy Meals Resource System: Chefs Move to Schools
No warranties This website is provided "as is" without any representations or warranties, express or implied. The Chefs Move to Schools initiative and its affiliates make no representations or warranties in relation to this website or the information and materials provided on this website. Without prejudice to the generality of the foregoing paragraph, the Chefs Move to Schools initiative does not warrant that:
Chefs Move to Schools : Healthy Meals Resource System
Chefs Move to School has a new website, www.chefsmovetoschools.org , complete with great resources and tools for chefs and schools to use in improving the way children interact with food, from the cafeteria to the classroom. The new website is for chefs and schools, allowing them to sign up for the program; access training, recipes and resources; and learn how chefs and schools across the country are partnering to create healthier school environments.
Getty Images Michelle Obama at a farmers' market near the White House, September 17, 2009 Food Made Visible It might sound odd to say this about something people deal with at least three times a day, but food in America has been more or less invisible, politically speaking, until very recently. At least until the early 1970s, when a bout of food price inflation and the appearance of books critical of industrial agriculture (by Wendell Berry, Francis Moore Lappé, and Barry Commoner, among others) threatened to propel the subject to the top of the national agenda, Americans have not had to think very hard about where their food comes from, or what it is doing to the planet, their bodies, and their society.
The Food Movement, Rising
Bean Soup with Pork Sopa de Frijoles Puerco This hearty soup could also be served as a stew. Just add hot tortillas and you have a whole meal. Soup 2 cups black beans 1 pound boneless pork, cut into 1 ½ -inch cubes 1 large onion, finely chopped 4 cloves garlic, chopped 2 tablespoons vegetable oil 1 fresh habanero chile, stem and seeds removed, chopped or substitute 2 fresh jalapeños or 2 serrano chiles 1 teaspoon dried epazote 3 tablespoons chopped fresh cilantro Maya Natural Sea Salt TM to taste Garnish
Fiery Foods and Barbecue SuperSite - White Gold: Rediscovering the Allure of Sea Salt - Page 4
Pure food obsession is latest eating disorder | Society | The Ob
Orthorexia nervosa sufferers like to focus on 'righteous' eating and have rigid rules about avoiding certain foods. Photograph: Getty Eating disorder charities are reporting a rise in the number of people suffering from a serious psychological condition characterised by an obsession with healthy eating. The condition, orthorexia nervosa, affects equal numbers of men and women, but sufferers tend to be aged over 30, middle-class and well-educated. The condition was named by a Californian doctor, Steven Bratman, in 1997, and is described as a "fixation on righteous eating". Until a few years ago, there were so few sufferers that doctors usually included them under the catch-all label of "Ednos" – eating disorders not otherwise recognised.
Specialty Food — Home