Global Digital Inclusion
Sending you to the largest global youth event this Summer! United Nations Information and Communication Technologies Task Force. The United Nations Information and Communication Technologies Task Force (UN ICT TF) was a multi-stakeholder initiative associated with the United Nations which is "intended to lend a truly global dimension to the multitude of efforts to bridge the global digital divide, foster digital opportunity and thus firmly put ICT at the service of development for all.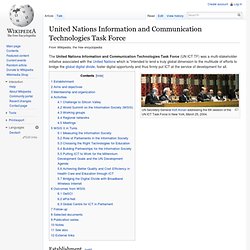 UN Secretary General Kofi Annan addressing the 6th session of the UN ICT Task Force in New York, March 25, 2004. Establishment[edit] The UN ICT Task Force was created by United Nations Secretary-General Kofi Annan in November 2001, acting upon a request by the United Nations Economic and Social Council (ECOSOC) dated July 11, 2000, with an initial term of mandate of three years (until the end of 2004). It followed in the footsteps of the World Economic Forum (WEF) Global Digital Divide Initiative (GDDI), and the Digital Opportunities Task Force (DOT Force), established in 2000 by the G8 at their annual summit in Okinawa, Japan. Massive "Computer Knowledge Society" Initiative in Georgia to Launch 300 New Centers - telecentre-europe. On May 11, 2012, the Ministry of Justice of Georgia launched the "Computer Knowledge Society Initiative" (კომპიუტერის ცოდნის გამავრცელებელი საზოგადოების, in Georgian, Google translate works nicely) to promote digital literacy and e-skills, with a focus on economic development.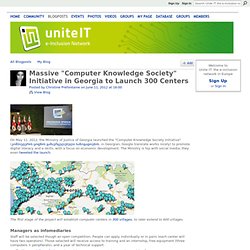 The Ministry is hip with social media; they even tweeted the launch. The first stage of the project will establish computer centers in 300 villages, to later extend to 600 villages. Managers as infomediaries Staff will be selected though an open competition. 100Best2012_List_3.8. The Global Impact Study | Does public access to information and communication technologies matter? Skillage - are you ready to get hired ? Stanford Social Innovation Review: Ideas for Socially Responsible Businesses.
Programs for Women and Girls. First Twitter map of Africa reveals a connected continent - SOCIAL NETWORKING. Internet Society (ISOC) Women's Access to Public Internet Centers in Transitional and Developing Countries. The Last Virtual Volunteering Guidebook available for purchase as a paperback & an ebook from Energize, Inc.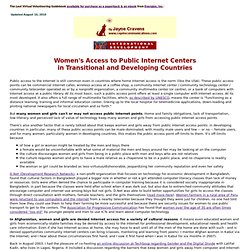 Updated August 10, 2010 Women's Access to Public Internet Centers in Transitional and Developing Countries Public access to the Internet is still common even in countries where home Internet access is the norm (like the USA). These public access points can be commercial Internet cafes, wireless access at a coffee shop, a community Internet center / community technology center / community telecenter operated as or by a nonprofit organization, a community multimedia center (or centre), or a bank of computers with Internet access at a public library. At its most basic, such a public access point offers at least a single computer with Internet access.
Telecentres are not "Sustainable": Get Over It! (These are notes for a talk to be given to an ITU sponsored workshop on Telecentre sustainability in Bangkok, May 23-25, 2011.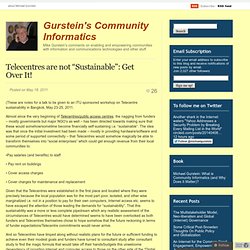 Almost since the very beginning of Telecentres/public access centres the nagging from funders – mostly governments but major NGO's as well – has been directed towards making sure that these would somehow/sometime become financially self-sustaining i.e. "sustainable". The idea was that once the initial investment had been made – mostly in providing hardware/software and some period of supported connectivity – that Telecentres would somehow magically be able to transform themselves into "social enterprises" which could get enough revenue from their local communities to: •Pay salaries (and benefits) to staff.
i4d: The first monthly magazine on ICT4D. TC-MENA - Online Community - Telecentre.org Foundation. The Telecentre Movement in the MENA RegionThere is a strong need to support the emergence of stronger telecentre networks in the Middle East and North Africa (MENA).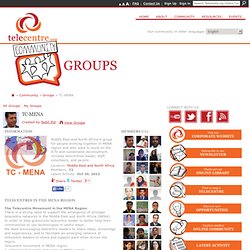 In order to help grassroots telecentre leader to better help their communities to use technologies in useful ways. We need encouraging telecentre leaders to share ideas, knowledge and experiences, and to facilitate an emerging network of telecentre leaders to share and support each other across the region. Telecentre movement in MENA region: 1- Stronger Telecentre networks in MENA region 2- Telecentre times in Arabic. 3- Local content development in Arabic. 4- Specialised training. 5- Service development and innovation. Libraries - Bill. We focus our efforts in four areas that we believe will have the greatest impact.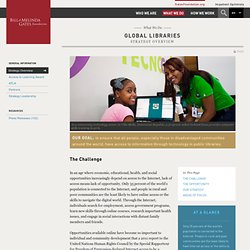 Technology Access in Libraries Our primary focus is on providing technology access in public libraries throughout entire countries—with a focus on developing and transitioning countries as well as a continued commitment to U.S. libraries. We provide multi-year support to countries with a high need for public access to information and a readiness to implement technology access in public libraries.
Our grants fund efforts to understand local technology needs, purchase equipment for libraries, train library staff, and help libraries build public support for long-term funding. High school students using computers at a public library in Constanta, Romania. PH International. NASSCOM Foundation - Welcome to the NASSCOM FOUNDATION. Intel easy steps. MSFT: Corporate Citizenship. Microsoft has an enduring commitment to working to fulfill our public responsibilities and to serving the needs of people in communities worldwide.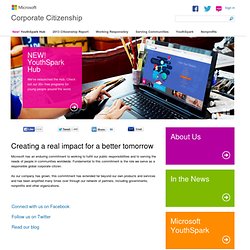 Fundamental to this commitment is the role we serve as a responsible global corporate citizen. As our company has grown, this commitment has extended far beyond our own products and services and has been amplified many times over through our network of partners, including governments, nonprofits and other organizations. MSFT UP Blogs. By Akhtar Badshah, senior director, Citizenship and Public Affairs If you knew how to code would you want to create the next hot social media app?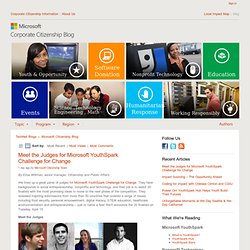 Or would you try to save the world? There's no reason you can't do both, but through our YouthSpark initiative, we're especially motivated to support students who aim to solve the world's toughest problems through technological innovations. Last week we co-sponsored a codeathon with Clinton Global Initiative University (CGIU) at Arizona State University. Imagine Cup 2011. Good to Know – Google. Centre for Development Informatics (The University of Manchester) Intel Computer Clubhouse Network. Telecentre.org. Telecentre Magazine. Telecentre Community. Redes de Conocimientos entre Telecentros.
Asia Pacific Telecentre network. Telecentre Wikibook. A collaborative project of the telecentre.org community Edited by Meddie Mayanja, Manuel Acevedo, Silvia Caicedo and Claire Buré (Wikified by Bangladesh Open Source Network with support from Partha Sarker) A Guidebook for Managing Telecentre Networks Front Cover.
Technology & Social Change Group. The Global Impact Study | Does public access to information and communication technologies matter? TechSoup - The Technology Place For Nonprofits ? TechSoup - FluidSurveys Webinar. Tsg-summit.wikispaces. I founded CompuMentor, which has evolved into TechSoup Global (TSG), in 1987 to explore some ideas I had formed about the potential of technologists, as individuals, to be social change agents.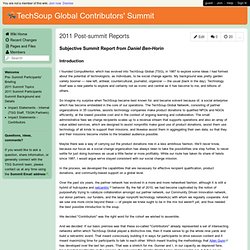 My background was pretty garden variety boomer — new left, antiwar, countercultural, journalist, organizer — the usual (back in the day). Technology itself was a new palette to explore and certainly not as iconic and central as it has become to me, and billions of others. So imagine my surprise when TechSoup became best known for, and became solvent because of, a social enterprise which has become embedded in the core of our operations. NetSquared, an initiative of TechSoupGlobal.org | remixing the web for social change.
---