programming
Get flash to fully experience Pearltrees
This section will demonstrate a couple of ways to use the results of a Hibernate query as the datasource of a report in JasperReports . When the Hibernate query returns a simple collection of objects, The JRBeanCollectionDataSource class in the JasperReports library will work fine. List cats = session.find( "from eg.Cat" ); Map parameters = new HashMap(); parameters.put( "Title" , "The Cat Report" ); InputStream reportStream = this.class.getResourceAsStream( "/the-cat-report.xml" ); JasperDesign jasperDesign = JasperManager.loadXmlDesign(reportStream); JasperReport jasperReport = JasperManager.compileReport(jasperDesign); JRBeanCollectionDataSource ds = new JRBeanCollectionDataSource(cats); JasperPrint jasperPrint = JasperManager.fillReport(jasperReport, parameters, ds); JasperManager.printReportToPdfFile(jasperPrint, "the-cat-report.pdf" );
JFreeChart is a free 100% Java chart library that makes it easy for developers to display professional quality charts in their applications. JFreeChart's extensive feature set includes: Latest News 1 Jan 2013 Happy New Year from the JFree team!
Solvent Why do I need screen scrapers? Piggy Bank needs web pages to embed information in a format that it can understand.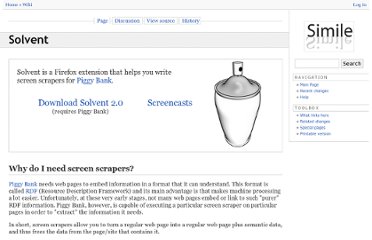 Copyright © 2001 Eric S. Raymond As editor of the Jargon File and author of a few other well-known documents of similar nature, I often get email requests from enthusiastic network newbies asking (in effect) "how can I learn to be a wizardly hacker?". Back in 1996 I noticed that there didn't seem to be any other FAQs or web documents that addressed this vital question, so I started this one.