Hypios
hypios
hypios boosts R&D through online competitions with tens of thousands of Solvers
Startups. What Startups Are Really Like. October 2009 (This essay is derived from a talk at the 2009 Startup School.)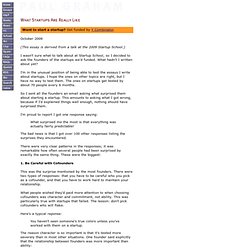 I wasn't sure what to talk about at Startup School, so I decided to ask the founders of the startups we'd funded. Business 2.0: What a VC wants to see in you - Jun. 5, 2006. Here is how you too can woo even the fussiest venture capitalists.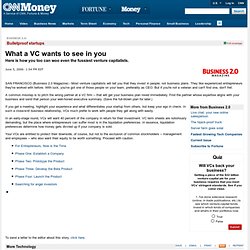 SAN FRANCISCO (Business 2.0 Magazine) - Most venture capitalists will tell you that they invest in people, not business plans. They like experienced entrepreneurs they've worked with before. The 18 Mistakes That Kill Startups. October 2006 In the Q & A period after a recent talk, someone asked what made startups fail.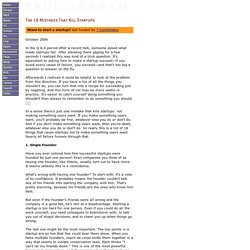 After standing there gaping for a few seconds I realized this was kind of a trick question. It's equivalent to asking how to make a startup succeed—if you avoid every cause of failure, you succeed—and that's too big a question to answer on the fly. Afterwards I realized it could be helpful to look at the problem from this direction. If you have a list of all the things you shouldn't do, you can turn that into a recipe for succeeding just by negating. On Startups by Dharmesh Shah.
How to Change the World. Amazon start selling the paperback edition of my latest book, APE: Author, Publisher, Entrepreneur.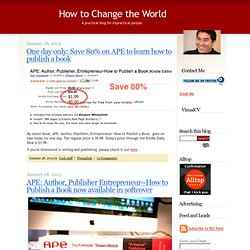 APE explains how to publish a book by breaking the process down into three stages: Author explains how to write a book. Publisher explains how to produce both ebooks and printed books.Entrepreneur explains how to market and sell your book with an emphasis on social media. You can order APE here: The Resource for Entrepreneurs.
Startup Library. Startup Library By Us How to Start a Startup.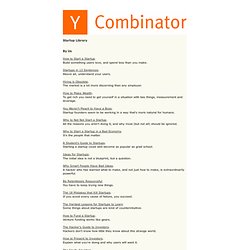 Build something users love, and spend less than you make. The Hardest Lessons for Startups to Learn. April 2006 (This essay is derived from a talk at the 2006 Startup School.)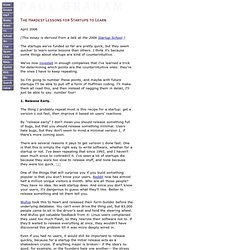 The startups we've funded so far are pretty quick, but they seem quicker to learn some lessons than others. I think it's because some things about startups are kind of counterintuitive. We've now invested in enough companies that I've learned a trick for determining which points are the counterintuitive ones: they're the ones I have to keep repeating. Phase three: Develop the beta product - May. 24, 2006. Now is the time to start hiring the staff that can help you perfect your company's product.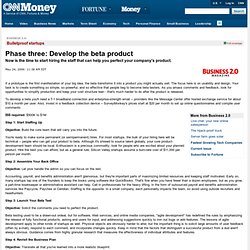 If a prototype is the first manifestation of your big idea, the beta transforms it into a product you might actually sell. The focus here is on usability and design. 36 Startup Tips: From Software Engineering to PR and More! This is a collection of startup tips covering software engineering, infrastructure, PR, conferences, legal and finance.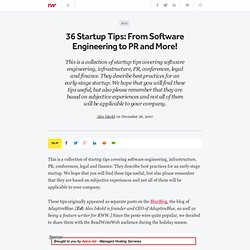 They describe best practices for an early-stage startup. We hope that you will find these tips useful, but also please remember that they are based on subjective experiences and not all of them will be applicable to your company. These tips originally appeared as separate posts on the BlueBlog, the blog of AdaptiveBlue. [Ed: Alex Iskold is founder and CEO of AdaptiveBlue, as well as being a feature writer for RWW.] Since the posts were quite popular, we decided to share them with the ReadWriteWeb audience during the holiday season. Writing a business plan - How to write a business plan - Submit. Writing a Business Plan At Sequoia we like business plans that present a lot of information in as few words as possible.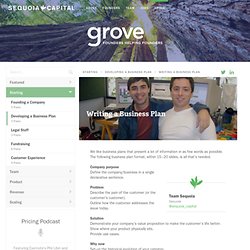 The following business plan format, within 15–20 slides, is all that's needed... read We like business plans that present a lot of information in as few words as possible. The following business plan format, within 15–20 slides, is all that's needed. Business 2.0: For entrepreneurs, now is the time - May. 24, 2006. New technologies are creating new business opportunities, and radically reducing costs for startups.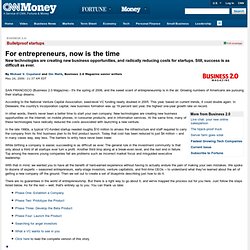 Still, success is as difficult as ever. SAN FRANCISCO (Business 2.0 Magazine) - It's the spring of 2006, and the sweet scent of entrepreneurship is in the air. Growing numbers of Americans are pursuing their startup dreams. Startup Ideas We'd Like to Fund. Startup Ideas We'd Like to Fund Paul Graham July 2008 When we read Y Combinator applications there are always ideas we're hoping to see. In the past we've never said publicly what they are. If we say we're looking for x, we'll get applications proposing x, certainly. StartupNation - Source for Small Business Advice, Help Starting. 101 Essential Freelancing Resources – FreelanceSwitch. Envato Studio is an online marketplace for freelance services focused on design and web-development. Services range from designing a logo to WordPress customization, and all service providers have been reviewed and recommended by our expert review team.
If you were a user of the FreelanceSwitch Job Board (as either a freelancer or client) we recommend you check out Envato Studio. Also check out the Envato Studio Blog. This is now home to some of the content published on FreelanceSwitch (including the Freelance Freedom Comic) as well as fresh content that may be of interest. How to Fund a Startup. November 2005 Venture funding works like gears. A typical startup goes through several rounds of funding, and at each round you want to take just enough money to reach the speed where you can shift into the next gear. Few startups get it quite right. Many are underfunded. A few are overfunded, which is like trying to start driving in third gear. Y Combinator. Apple's Mistake. November 2009 I don't think Apple realizes how badly the App Store approval process is broken.
Or rather, I don't think they realize how much it matters that it's broken. The way Apple runs the App Store has harmed their reputation with programmers more than anything else they've ever done. Their reputation with programmers used to be great. It used to be the most common complaint you heard about Apple was that their fans admired them too uncritically. Phase one: Establish a company - May. 24, 2006. Test your idea, build a team and get a business plan together. Your role as a spectator who merely watches as other adventurous souls launch their own startups is about to end.
The decisions you make at this early stage of the game will do much to shape the long-term destiny of your venture. The tools you'll need to make a go of it include a whiteboard for brainstorming, a cellphone with loads of minutes, a new credit card and some simple accounting software, like Intuit's QuickBooks. Most important, don't procrastinate. A Guide to Starting Your Business. Phase four: Launch the product - May. 24, 2006. How to Start a Startup. Kickstarter.
Business 2.0: Bulletproof Startup. Essays. Today | KillerStartups.com™ How to save money running a startup (17 really good tips) « The. Phase two: Prototype the product - May. 24, 2006. Business 2.0: Searching for angels - May. 24, 2006. CrunchBase, The Free Tech Company Database. Hacker News. Ten Rules for Web Startups. Five Founders. The Trouble with the Segway. Relentlessly Resourceful. How to Start a Startup. Persuade xor Discover. The List of N Things. Ramen Profitable. What Startups Are Really Like. Maker's Schedule, Manager's Schedule. The Founder Visa. What Kate Saw in Silicon Valley. A Local Revolution? Post-Medium Publishing. The Anatomy of Determination.
How to Disagree. Keep Your Identity Small. Lies We Tell Kids. The Pooled-Risk Company Management Company. After Credentials. Can You Buy a Silicon Valley? Maybe. Why to Start a Startup in a Bad Economy. A Fundraising Survival Guide. The High-Res Society. You Weren't Meant to Have a Boss. A New Venture Animal. Be Good. Cities and Ambition. How to Be an Angel Investor. Some Heroes. Could VC be a Casualty of the Recession? What I've Learned from Hacker News. Why There Aren't More Googles. Disconnecting Distraction. Why TV Lost. The Other Half of "Artists Ship" Startups in 13 Sentences.
Hypios in videos
For:nikola.milikic. MOAT. Behavior. Bookmarks. Stevejobs. SemanticWeb. Planning. OntologyEditor. Location-aware. Trustmetrics. Hp. HIBERNATE. Affect.
Various stuff. Thinking.
Pearltrees videos. Innovation. Help. Cool stuff. Dance video.
---
hypios Dec 9 2009

HYYYYYYYYYYPPPPPPPIIIIIIIIIOOOOOOSSSSSS
---