Hypermedia5420
david rapp
Instructional Mededia/Educational Technologyy App. State Univ
Techknowledge: Move over textbooks, students opt for apps, e-learning
Convincing parents is not an easy task.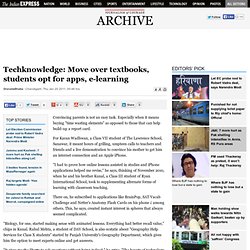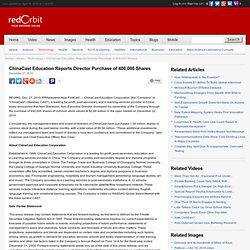 ChinaCast Education Reports Director Purchase of 400,000 Shares
December 27, 2010 BEIJING, Dec. 27, 2010 /PRNewswire-Asia-FirstCall/ — ChinaCast Education Corporation (the "Company" or "ChinaCast") (Nasdaq: CAST), a leading for-profit, post-secondary and e-learning services provider in China, today announced that Ned Sherwood, Non-Executive Director, increased his ownership of the Company through the purchase of 400,000 shares of common stock valued at $2.84 million in the open market on December 22, 2010. Cumulatively, the management team and board of directors of ChinaCast have purchased 1.34 million shares of common stock during the past twelve months, with a total value of $9.54 million.
Leerbeleving
Distance Education New Media Global Education
Why Do Girl Gamers Get So Little Respect?
cult-eff
Mobile Learning Institute
Summer Seminars and Institutes: School Teachers
Bullying, the New Epidemic - TheApple.com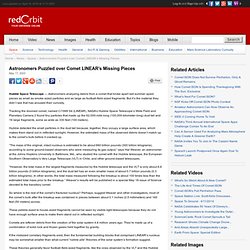 Hubble Space Telescope — Astronomers analyzing debris from a comet that broke apart last summer spied pieces as small as smoke-sized particles and as large as football-field-sized fragments. But it's the material they didn't see that has aroused their curiosity. Tracking the doomed comet, named C/1999 S4 (LINEAR), NASA's Hubble Space Telescope's Wide Field and Planetary Camera 2 found tiny particles that made up the 62,000-mile-long (100,000-kilometer-long) dust tail and 16 large fragments, some as wide as 330 feet (100 meters). Hubble detected the small particles in the dust tail because, together, they occupy a large surface area, which makes them stand out in reflected sunlight. However, the estimated mass of the observed debris doesn't match up to the comet's bulk before it cracked up.
Scientists Study Lowering Of Drinking Age - Science Videos
The Kennedy Center Alliance for Arts Network (KCAAEN) recognizes individuals, schools, and organizations that demonstrate outstanding support for the arts. Partnering with other national education organizations in the evaluation process and recognition events, KCAAEN recognition programs encourage outstanding work that makes the arts an essential part of a student's education. Kennedy Center Alliance for Arts Education Network and National School Boards Association Award Program (KCAAEN and NSBA Award)
Kennedy Center Alliance for Arts Education Network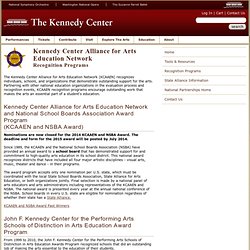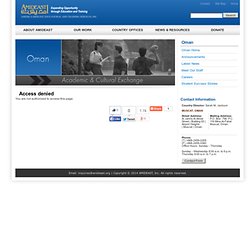 The Kennedy - Lugar Youth Exchange and Study (YES) Program in Oman | AMIDEAST
We are not currently accepting applications.
Hypermedia is as vast as the oceans are deep. It touches us each and every day.
Position Paper--Introduction (hypermedia5420)
The condition or experience that we know of as hypermedia can be favorabley compared to that of water.
hypermedia5420myintro (hypermedia5420)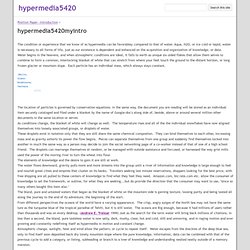 porcelina of the vast oceans live - smashing pumpkins
From Hyperlinks to Hyperwords.
Hypermedia Evolution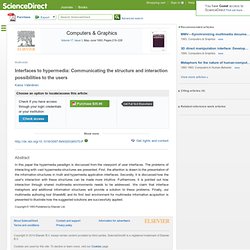 Computers & Graphics : Interfaces to hypermedia: Communicating t
In this paper the hypermedia paradigm is discussed from the viewpoint of user interfaces. The problems of interacting with vast hypermedia structures are presented. First, the attention is drawn to the presentation of the information structures in multi and hypermedia application interfaces.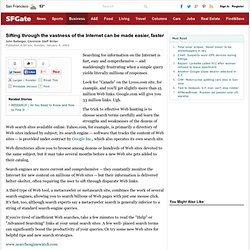 Sifting through the vastness of the Internet can be made easier,
Searching for information on the Internet is fast, easy and comprehensive -- and maddeningly frustrating when a simple query yields literally millions of responses. Look for "Canada" on the Lycos.com site, for example, and you'll get slightly more than 15 million Web links. Google.com will give you 33 million links. Ugh.
Top to bottom team work « TeacherParentLearningCommunity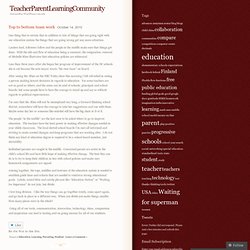 One thing that is certain that in addition to lots of things that are going right with our education system the things that are going wrong get way more attention. Leaders lead, followers follow and the people in the middle make sure that things get done. With the ebb and flow of education being a constant, the resignation, removal of Michelle Rhee illustrates that education policies are whimsical.
PrincessLeia (New Scientist) Michael Bove's group at the MIT Media Lab has recreated the famous holographic projection of Princess Leia from Star Wars by hacking the camera sensor from a Kinect gesture-recognition system for Microsoft's Xbox 360 and crunching data with standard graphics chips. The frame rate for their system has also jumped a factor of 30, from one frame every two seconds to an impressive 15 frames per second.
Kinect used to create holographic video of Princess Leia
JPL - Earth - Ocean Motion
The Vastness of the Internet - Longbored Surfer - Blog
I'm constantly amazed at what I find on the internet.
IE9 Blocks Malware, But Older Versions Are Vulnerable
A conceptual microwave-propelled lightcraft receives microwave beams from an array of microwave sources on the ground. (Kevin Parkin)
Beaming Rockets into Space
Mary Gallagher recently received an e-mail from the Metropolitan Tucson Convention & Visitors Bureau offering "hot deals." But there was a catch: In order to receive them, she had to follow Tucson's tourist authority on Twitter and friend it on Facebook. That didn't sit well with Gallagher, a travel writer, who said she receives enough deals each day. "How much Facebook and Twitter drivel could you spend each day reading?"
Are travelers overloaded by social media? - todaytravel - TODAYshow.com
Connect Pro Meeting Login
Shroff, R. & Deneen, C. (2011). Assessing Online Textual Feedback to Support Student Intrinsic Motivation Using a Collaborative Text-based Dialogue System: A Qualitative Study. International Journal on E-Learning, 10 (1), 87-104. Chesapeake, VA: AACE.
Assessing Online Textual Feedback to Support Student Intrinsic Motivation Using a Collaborative Text-based Dialogue System: A Qualitative Study
Hypermedia: In the classroom. (hypermediaintheclassroomgaston)
Hypermedia in the Classroom
First Experiences with OLPC in European Classrooms
Hypermedia in the classroom using Earth and space science CD-ROM
Microteaching with Digital Movie and
Evaluating Online Tutorials for University Faculty, Staff, and Students: The Contribution of Just-in-Time Online Resources to Learning and Performance
gadgets.tools
Converting fractions to decimals
netherlandsplayoffsoccer | Home
Top 25 Tech Fails of the Year: 3D TV -
Techknowledge: Move over textbooks, students opt for apps, e-learning
Google Ngram Viewer
Google Ngram Viewer
Google Ngram Viewer
Google Ngram Viewer
Woodhill Elementary students meet their South Korean penpals : Gaston Gazette
Using Web2.0 Tools in Education
10 internet technologies that educators should be informed about | Emerging Internet Technologies for Education
InterScience :: Session Cookies
Learning is more popular than teaching!
New Jersey/Texas LTP Collaboration
THE HYPERMEDIA CLASSROOM:
Techno Literacy - from hacking to writing in space by Adam Somla
Virginia textbook claims blacks fought for Confederacy - Education
Benefits of Student Authored Hypermedia, By Jamie Myers
Gates and Hewlett Foundations Focus on Online Learning
Distance education: Tips for success - by Kat Centeno
The 4 Phases of Learning in Leadership Education
Back to School
World of Teachcraft | Rockcliffe University Consortium
Education, health and transport hit hard by public service cuts
The Pedagogy of Propinquity
Hypermedia is.... (hypermedia5420)
hypermedia5420 Critical Issues (hypermedia5420)
Critical Issues: Hypermedia
An Error Occurred Setting Your User Cookie
Library Services | WWW Guide | Effective Searching Techniques
Waiting for "Super" Man « TeacherParentLearningCommunity
Test on Friday « TeacherParentLearningCommunity
Making a Difference Every Day « WoWKits Weblog