Good Stuff for Dinner
Cinnamon Roll Cake. I found this recipe at Life as a Lofthouse and couldn't wait to try it.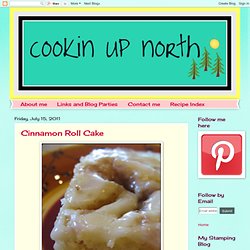 I finally got a chance to make it last week and it's all it's cracked up to be! I loved every bite...warm and delicious...just like a cinnamon roll! Cake: 3 c. flour 1/4 tsp.salt 1 c. sugar 4 tsp. baking powder 1 1/2 c. milk 2 eggs 2 tsp. vanilla 1/2 c. butter, melted. Baked Beef and Bean Chimichangas Recipe from Pillsbury. Easy Taco Melts Recipe from Pillsbury. The Crockin' Girls. Lime Jello Cottage Cheese Salad. 1 cucumber, peeled and chopped 1 onion, chopped (less if desired) 1 carrot, chopped 1 (6 oz.) pkg. lime Jello 1 c. boiling water 1 1/2 lbs. cottage cheese 1/2 c. mayonnaise 1 tbsp. lemon juice Chop vegetables in food processor.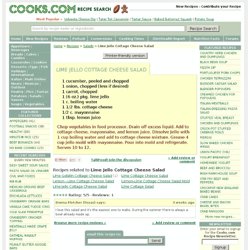 Drain off excess liquid. Add to cottage cheese, mayonnaise, and lemon juice. Dissolve Jello with 1 cup boiling water and add to cottage cheese mixture. Grease 4 cup Jello mold with mayonnaise. Classic Banana Cream Pie From Your Rectory. 1 (9 inch) baked and cooled pie crust 1 2/3 c. water 3 egg yolk, beaten 2 tbsp. butter Lemon juice from concentrate 3 tbsp. cornstarch 1 (14 oz.) can Eagle Brand sweetened condensed milk 3 med. bananas Whipped cream or Cool Whip In heavy saucepan, dissolve cornstarch in water; stir in milk and egg yolks and stir until thickened and bubbly.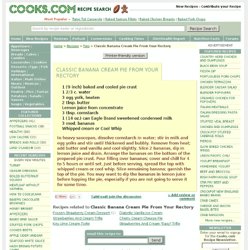 Remove from heat; add butter and vanilla and cool slightly. Three Many Cooks. The Best Seven-Layer Dip. Serves up to 12 This was the only dish I made for the pig roast.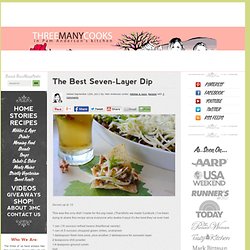 (Thankfully we made it potluck.) I've been dying to share this recipe since everyone who tastes it says it's the best they've ever had. Corn & Cheese Chowder. Last week, I whipped up three yummy soups, all perfect for Halloween night and all guaranteed to: 1.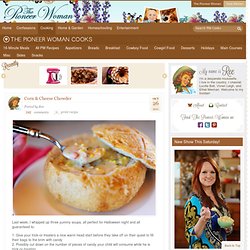 Give your trick-or-treaters a nice warm head start before they take off on their quest to fill their bags to the brim with candy 2. Possibly cut down on the number of pieces of candy your child will consume while he is trick-or-treating 3. I can't think of a third thing. Paula Deen Recipes. Tasty Kitchen: A Happy Recipe Community! Spanish Flan. Snickerdoodle Cheesecake Bites. In these fall months, I gravitate towards sweets with a kick of spice.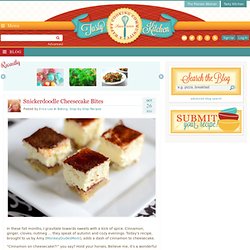 Cinnamon, ginger, cloves, nutmeg … they speak of autumn and cozy evenings. Today's recipe, brought to us by Amy (MonkeyDudesMom), adds a dash of cinnamon to cheesecake. Allrecipes.com - recipes, menus, meal ideas, food, and cooking tips.
---