EaD
GESTÃO PROFESSOR - Ferramenta essencial para a Actividade Escolar
GesTurma EXCEL i4, i5 e i9 [ Professores ]
Retirar OFERTAS: Agenda, Calendário, PAC e/ou Módulo CANTINA NOTA INFORMATIVA: O "GesTurma EXCEL" não mudou de nome nem morada e só poderá ser adquirido pelo e-mail gesturma@hotmail.com. Quando elaborei esta aplicação, antes de dar o nome, tive o cuidado de pesquisar na net para ver se já existia alguma com o nome pretendido. Só depois, quando não obtive resultados nas pesquisas é que "batizei" a aplicação. Posteriormente verifiquei que apareceram outras aplicações com nome igual o que poderá causar alguma confusão. Estou certo que as aplicacações existentes serão todas diferentes, apesar de no final servirem para o mesmo.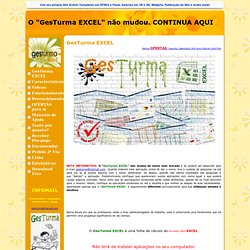 Associação Ensino Livre
da Blackboard - Início
In order to use the CourseSites by Blackboard application on this website, youmust consent to the use of cookies. Cookies are small functions placed on yourcomputer by the application that collect and store data that you input when youuse the software. Before proceeding further, you must consent to the collection,storage, and use of this data in accordance with the Blackboard Privacy Center,as described here:http://www.blackboard.com/privacy/.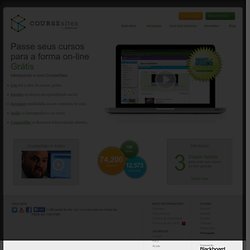 "I have only been using RCampus for a few weeks, but have found it to be AMAZING. The ease of set up, the calendar, the ease of copying assignments to different classes. I have found nothing that needs to be improved at this time." "RCampus/Classcentral is amazing! I just love how easy it is to use. The customer support is awesome too!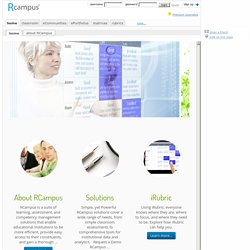 Online Collaborative Course Authoring-Mozilla Firefox
Welcome to your brand new blog at Edublogs . To get started, simply log in , edit or delete this post and check out all the other options available to you. Also, if not already, please consider becoming an Edublogs Pro User – you can easily create and manage additional blogs (which also get extra themes and mobile blogging – perfect for students!), a massive storage space of 10GB for files, images, and videos, and access great features such as wikis and forums and many additional 'Plugins'. And you get premium email support and over 130 extra cool themes too. Pro users are what keeps Edublogs running and providing free blogs for education, so give it a go today
Professor Humberto | Just another Edublogs.org site