Artsplastiques
Chine. James lee byars the art of writing. James Lee Byars. James Lee Byars (born April 10, 1932 in Detroit, Michigan – died May 23, 1997 in Cairo, Egypt[1]) was an artist specializing in installation sculpture and in performance art.[2] Byars' notable performance works include "The Death of James Lee Byars" and "The Perfect Smile".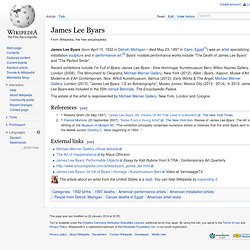 Recent exhibitions include I'm Full of Byars: James Lee Byars - Eine Hommage, Kunstmuseum Bern; Milton Keynes Gallery, London (2008); The Monument to Cleopatra, Michael Werner Gallery, New York (2012); Klein / Byars / Kapoor, Musee d'Art Moderne et d'Art Contemporain, Nice; ARoS Kunstmuseum, Aarhus (2012); Early Works & The Angel, Michael Werner Gallery, London (2013); "James Lee Byars: 1/2 an Autobiography", Museo Jumex, Mexico City (2013 - 2014). In 2013. James Lee Byars was included in the 55th Venice Biennale, The Encyclopedic Palace. The estate of the artist is respresented by Michael Werner Gallery, New York, London and Cologne.
Loton. Avec 5 sens. .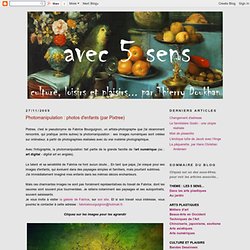 La taille-douce fait allusion à tous les procédés de gravure en creux : burin, pointe sèche, eau-forte, aquatinte, manière noire. Le principe de la taille douce consiste à creuser un dessin dans une plaque de métal.Pour imprimer le dessin, la plaque est enduite d'encre, puis essuyée pour qu'il ne reste de l'encre que dans les creux. Puis on place sur la plaque une feuille de papier humidifiée, avant de passer le tout sous le cylindre d'une presse à gravure.
L'encre, sous l'effet de la pression et par capillarité, va se transférer des entailles sur le papier. Pablo PICASSO - La patronne faiseuse d'anges avec trois filles, 1er état (1971) Géricault par Jean-Jacques Lebel – Louvre.ARTE.tv. Cynthia Phibel. KOECHLIN. Olivier KOECHLIN 15, rue Michelet, tél. 01 43 60 60 41 93170 Bagnolet port 06 09 50 43 54 email Olivier.Koechlin@wanadoo.fr.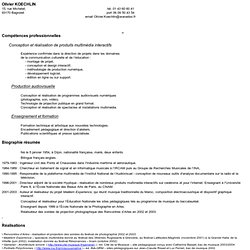 ---