Photography
9 Digital Camera Settings for Every Photographer to Discover | Photography Tips, Digital Photography 101 at Cheapshooter
Don't Forget to participate in a contest where you can win an amazing e-Commerce template from TemplateMonster. This post showcases a list of useful and unique photography related tutorials that will help you learning the skills of a trained photographer. The field of photography has extensively grown over the past few years to such a huge industry with millions of photographers emerging every day around the globe and mastering their skills in different areas of photography. The tutorials listed below let you learn how to capture a digital photograph in a better way and then direct you all the way throughout photo-editing process by means of using photo-editing software such as Photoshop.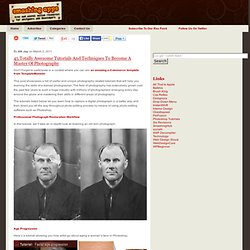 Rule of thirds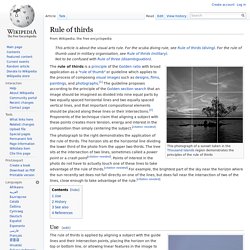 This photograph of a sunset taken in the Thousand Islands region demonstrates the principles of the rule of thirds The rule of thirds is a "rule of thumb" or guideline which applies to the process of composing visual images such as designs, films, paintings, and photographs.[1] The guideline proposes that an image should be imagined as divided into nine equal parts by two equally spaced horizontal lines and two equally spaced vertical lines, and that important compositional elements should be placed along these lines or their intersections.[2] Proponents of the technique claim that aligning a subject with these points creates more tension, energy and interest in the composition than simply centering the subject would.[citation needed] The photograph to the right demonstrates the application of the rule of thirds. The horizon sits at the horizontal line dividing the lower third of the photo from the upper two-thirds.
Photography deals with capturing light in a way that appeals to your artistic sensibilities, whether you prefer perfectly-lit, tack-sharp portraits worthy of presidential candidates or blurrier, artistic renderings of NASCAR competitors roaring by at 180 mph (290 kph). To consistently create the kinds of pictures that will make your creative spirit soar, you need a firm grasp of common camera settings such as shutter speed, ISO setting and f-stop (or focal stop). F-stops in particular have a tremendous effect on image characteristics, some of which may not be obvious to amateur shooters. For the bulk of this article, we'll discuss and improve your grasp of the mysterious f-stop.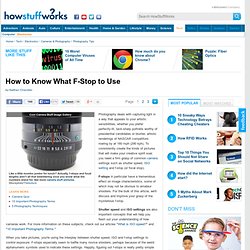 Learn the Basics of Photoshop: The Complete Guide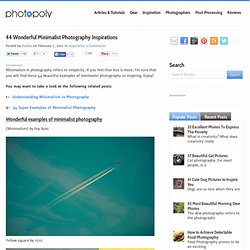 44 Wonderful Minimalist Photography Inspirations
Advertisement Minimalism in photography refers to simplicity. If you feel that less is more, I'm sure that you will find these 44 beautiful examples of minimalist photography so inspiring.
Behind The Glass In our modern world where most of us are generally surrounded by and marketed to with uninspiring things, this serves as my attempt to counter that with moments I've found to be interesting and special. I've taken and post-processed all the photos here since 2002. I currently call Austin home and have lived throughout the United States (to include Washington State, Florida, Indiana, Virginia & Texas) during my lifetime. I currently work as a front-end designer and developer during the day and enjoy travelling to new places and wandering around with my gear. Whilst snapping, nothing is ever pre-arranged.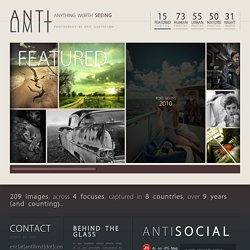 Apr 08 2010 Today we bring you an enticing article about long exposure photography. Long exposure photography is a technique in which a camera's shutter is left open to expose over a longer period of time (be it 8 seconds or 8 hours). It is quite famous, trendy and somewhat difficult form of photography that allows you to witness things from a different perspective and lets you experience time in a different fashion. It enlightens your imagination to see beyond the face of an image, and to see what it can become.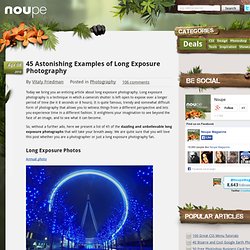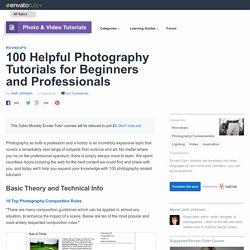 Photography as both a profession and a hobby is an incredibly expansive topic that covers a remarkably vast range of subjects from science and art. No matter where you lie on the professional spectrum, there is simply always more to learn. We spent countless hours scouring the web for the best content we could find and share with you, and today we'll help you expand your knowledge with 100 photography related tutorials! Basic Theory and Technical Info
Some awesome pictures from the National Geographic's Photography Contest 2010 - WATCH THE 2011 SELECTION : National Geographic's Photography Contest 2011 - Here is some awesome pictures from the National Geographic's Photography Contest 2010, published by The Big Picture website. Some pictures are really amazing ! The deadline for submissions coming up on November 30th, and you can rate your favorite here : National Geographic Credits : Alex Tan, Sean Heavey, Hongsik Kim, Jesus Oranday, Ario Wibisono, Freddy Cerdeira, James Haskins, Fred Turck, Nikki Krecicki, Mats Almlöf, João Vianna, Patrick John O'Doherty, Amy Helene Johansson, Jay Fine, Glen Hush, Stan Bouman, Rolf Skrypzak, Aniko Molnar, Stephen Hocking, Olafur Ragnarsson, Karolis Milasevicius, Kostadin Luchansky, John Palmer Gregg, Michael Siward, Nam In Geun, Natalia Luzuriaga, Janet Chester, Ario Wibisono, Linh Dinh, Audun Wigen, Sukru Mehmet Omur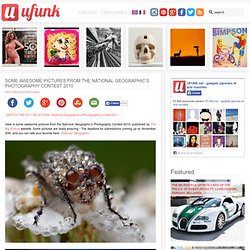 Nat Geo Pics
Wild Scenics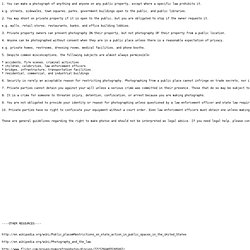 1. You can make a photograph of anything and anyone on any public property, except where a specific law prohibits it. e.g. streets, sidewalks, town squares, parks, government buildings open to the public, and public libraries. 2. You may shoot on private property if it is open to the public, but you are obligated to stop if the owner requests it. e.g. malls, retail stores, restaurants, banks, and office building lobbies. 3. Private property owners can prevent photography ON their property, but not photography OF their property from a public location. 4. Anyone can be photographed without consent when they are in a public place unless there is a reasonable expectation of privacy. e.g. private homes, restrooms, dressing rooms, medical facilities, and phone booths. 5.
The tremendous popularity of this article with more than half a million (!) clicks in one month inspired me to contact the artist Michael Wesely himself. I felt there were questions by readers which I couldn't answer correctly without talking to Michael. And I also wanted to tell him how much his worked was loved and how many people saw it as an inspiration for their own works and lives. From the many comments I learned, that many of you were astonished by the beauty of the images but also by the technical aspects of their making.