Home Theatre & Media Centers
Plex - A Complete Media Solution. Which Media Center Is Right for You: Boxee, XBMC, and Windows Media Center Compared. @Nitesh Singh: I'd kind of like to know as well.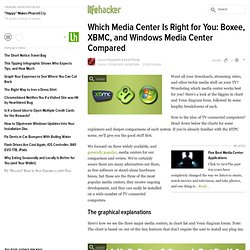 I could easily see it being an issue with ATI being stingy with access to its drivers as they have in the past, but at the same time, I wouldn't put it past Nvidia to put down a little financial pressure to keep things one-sided. @acceptablerisk: What's up with the conspiracy theories? XMBC is open source, that pretty much excludes any financial gain from supporting only Nvidia... @minivolt: Oh, I suspect it's much more along the lines of Nvidia being more open about access to their drivers and APIs than about anything underhanded. On projects like this it's probably not even worth their time (or in the case of XBMC, it's completely improbable) to cut out other players.
GeeXboX. MEDIAPORTAL - a HTPC Media Center for free! Boxee - Watch Movies, TV Shows and clips from the Internet on your TV. XBMC.
---