Dinner Time!
Get flash to fully experience Pearltrees
This morning I was looking at my home page and I realized that there is a lot of orange sweet potato and pumpkin going on.
Mozzarella sticks are a delicious treat, probably one of the most popular appetizers at restaurants, and a fun party food. They tend to be rather fattening, especially considering they are usually fried, but they are so irresistibly tasty.
The other day my friend sent me a text and asked, "I want to try making doughnuts and want to make churros but they look difficult.
When I was growing up, my Mom kind of took meatless Lenten meals to the extreme. Not only was it forbidden to eat meat, she was fairly adamant about making sure we ate something that we really didn't like.
There is no denying that a delicious bowl of pasta is satisfying and delicious...but did you know that you can still have "pasta" without the carb overload? Spaghetti squash is a delicious and healthy alternative that is high in fiber and low in calories.
Aimee Herring Tired of packing PB&J for your kids? Or are you bored with the usual weekend ham & cheese? Whether you're packing lunch for the family or just need to switch things up, we've got a hand-held recipe for you.
These Hasselback potatoes looks beautiful, don't' they?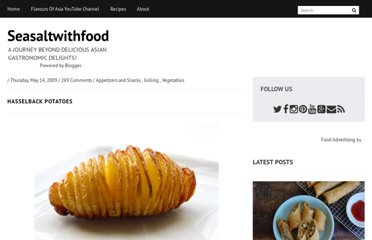 While restaurants drown their lo mein dishes in oil, we prefer them long on produce and rich with the delicious flavors of Asian cuisine Restaurant wok-fried noodle and rice dishes tend to be heavy on starch and oil, with a few token vegetables thrown in for color.
In the realm of Scalloped Potatoes, this recipe is the winner . . . at least in my book.
When this month's Kulinarya Cooking Club theme was announced, I was incredibly excited. The theme was gata , which is Filipino for coconut milk.