FUN
For real...
Coca-Cola Light Machos HD
So the day after the Beyonce live television event AKA The Super Bowl, Buzzfeed posted a gallery of Beyonce pics from the performance that was intended to be a total love letter to Queen Bey . Not so fast Buzzfeed! When the gallery came to the attention of Beyonce's PR firm, they did not find a handful of the photos to be that fierce and requested their removal. From the internet. HAHAHAHAHA! I need a PR firm to get all the unflattering photos of me off of Facebook.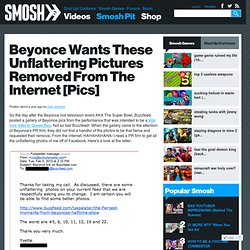 Beyonce Wants These Unflattering Pictures Removed From The Internet [Pics]
¿Que le pasa a esta mujer?
15 Examples of Hilarious Facepalms (15 Pics
Funny things / Colon vs. Cologne
How to look crazy in public » HUMOR BLOG
slatios: Well, it's more like
Noris Vargas: Holy burrito!!! Si uso ese
ALT+F4
_m31v1kFh4f1qcs4k3o1_1280
_lwf72rL4k51qjt22c
467
Gangnam Han Solo Style
468
Domando nazgûls
"The Seven Deadly Websites" by Rosie and Caldwell Tanner - CollegeHumor Article
Pokemon-gif-slap
Bright Light by Ray Ban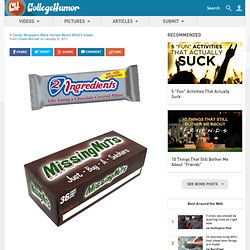 Article by Chase Mitchell on × Share with friend (Separate multiple addresses with commas) Illustrations by Jesse "Who laid a finger on my Butterfinger?"
How Not To Stand On An Escalator
Jaja, en esta casa debe vivir alguien inteligente, #DigoYo #t
_KarlaPao_ : @NetasMx Este es uno d ell
Smash_tv : Me han llamado muchas cosa
Puccaloki : Ok.. No conforme c reparti
Weird Porn Guy Getting Kicked Out of His House for Absolutely No Reason
Puccaloki : Torta de queso de puerco,