Politics
Beware the left-wing-funded "Main Street" Republicans by Michelle MalkinCreators Syndicate Copyright 2013 What do George Soros, labor unions and money-grubbing former GOP Rep. Steven LaTourette all have in common? They're control freaks.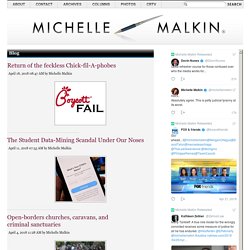 Jan 17, 2014 | Login | Signup Court: Bloggers have First Amendment protections Judge Declares NC Abortion Ultrasound Law Illegal Young Liberal: As Much As I Support Obamacare, I Just Can't Afford It Michelle Malkin: John Kerry, Jihad Coddler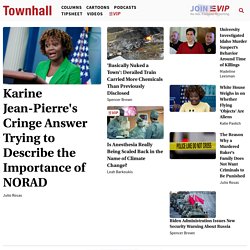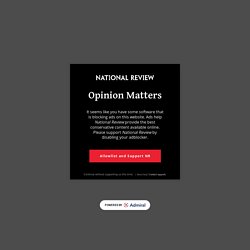 The Corner
Ayaan Hirsi Ali's fiery denunciations of Islam were supposedly too much for Brandeis University to tolerate. Explaining its abrupt decision to rescind the offer of an honorary degree, the University explained that while it admired her work on behalf of women, "we cannot overlook certain of her past statements that are inconsistent with Brandeis University's core values." It's nice to think that people are guided by their core values. But Brandeis's explanation is rubbish. Hirsi Ali, who has been on the receiving end of credible, not to say gruesome, death threats her entire adult life, understands exactly what happened. Brandeis was intimidated.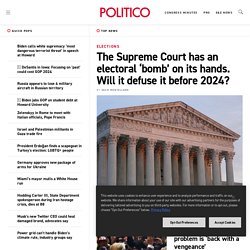 China ship detects 'pulse signal' By ASSOCIATED PRESS | 4/5/14 9:56 AM EDT The search for flight 370 enters its fifth week. Full coverage: Flight 370 Alexander challenger: 'We're friends' By MANU RAJU | 4/4/14 6:26 PM EDT Medicaid, CHIP enrollment up by 3M By JENNIFER HABERKORN | 4/4/14 2:30 PM EDT Both numbers could rise further once all states finish reporting their data, officials say. McKeon: No immigration in NDAA By SEUNG MIN KIM | 4/4/14 6:11 PM EDT The defense bill won't offer legal status to young undocumented immigrants in the military. Obama outpaces Bush on judges By EDWARD-ISAAC DOVERE | 4/4/14 10:06 PM EDT The president has gotten 237 confirmed, compared to 234 at the same time in Bush's presidency.
Real Clear Politics Thursday A Tale of Two Scandals: Bridgegate & the IRS - John Fund, National ReviewHow Dems Are Fighting Back on Obamacare - Greg Sargent, Wash Post2014 Warning to Democrats - Brent Budowsky, The HillHow Seriously Should We Take Ed Gillespie's Va. Bid? - Sean Trende, RCPThe Lost Art of Tough Liberalism - E.J. Dionne, Washington PostThe Christmas Tree: DC vs.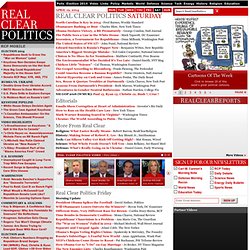 Feds form grand jury to probe Chris Christie's role in Bridgegate... Afghans line up for blocks to vote for new leader... $1.5 MILLION Hotel Bill for Obama's One-Day Visit to Brussels... Holder defends using DOJ airplane for 27 personal trips...