Food
DIY Ice Cube Glass. Better Than Takeout Orange Chicken. Yesterday as I stood in the kitchen trying to figure out what to make for dinner I wondered to myself, how do those people do it on those shows where they are given random ingredients and are suppose come up with something genius.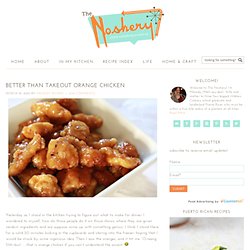 I think I stood there for a solid 20 minutes looking in the cupboards and staring into the freezer hoping that I would be struck by some ingenious idea. Then I saw the oranges, and it hit me "O-raang Shh-ikun"….that is orange chicken if you can't understand the accent. I love orange chicken, and I almost always order # 14 Orange Chicken when we order Chinese take out and I wondered to myself if I could make it better at home. Apple Pies. I know, I've made a few pies lately.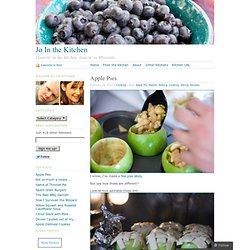 But see how these are different? Look at how adorable these are! I mean, come on. Could you resist? I sure couldn't. Better-Than-Crack-Brownies. I'm sorry for doing this to you.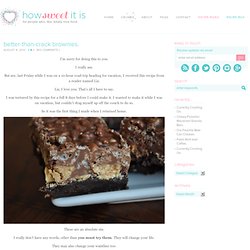 I really am. But see, last Friday while I was on a 10-hour road trip heading for vacation, I received this recipe from a reader named Liz. Liz, I love you. That's all I have to say. I was tortured by this recipe for a full 8 days before I could make it. Now you're cooking with comics. One-Pan Dark Chocolate Chunk Skillet Cookie. Watermelonade Recipe at Epicurious. Photo by Roland Bello yield Makes 1 gallon (serves 16) active time 30 min total time 30 min You would be hard-pressed to find something more refreshing than watermelon.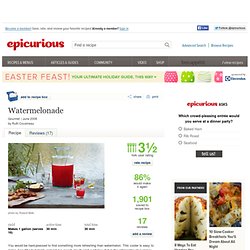 Official Food Network UK TV- British recipes, cooking videos & Tv shows. Penniesonaplatter. Chocolate Chip Cookie Dough Truffles. Chocolate Chip Cookie Dough Truffles I've never liked chocolate chip cookies.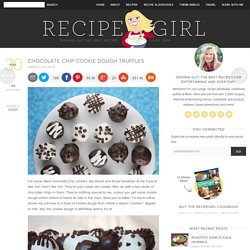 Go ahead and throw tomatoes at me if you'd like, but I don't like 'em. They're just a plain old cookie, after all, with a few studs of chocolate chips in them. They're nothing special to me, unless you get some cookie dough-action before it meets its fate in the oven. Turkey Salad Roll-Ups | Fresh Tastes Blog | PBS Food. I love the hustle and bustle of Thanksgiving.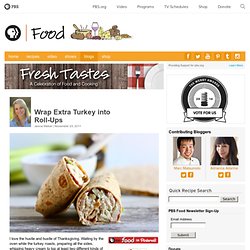 Waiting by the oven while the turkey roasts, preparing all the sides, whipping heavy cream to top at least two different kinds of pie. But what I might even love more than eating Thanksgiving dinner is eating Thanksgiving leftovers all weekend long. Since no one really wants to cook anything the day after Thanksgiving, why not give these simple cold wraps a try? Leftover roasted turkey is chopped and pulled and mixed with creamy mayonnaise and Dijon mustard then wrapped up in a whole-wheat wrap with a healthy smear of cranberry sauce.
---