Books
You Publish. - StumbleUpon. What Should I Read Next? Whichbook. The 75 Books Every Man Should Read. 53 Books Every College Student Should Read. With the exception of a few plays, book series and very long poems… –> View The Top 40 Books of This List @ Amazon.com The Adventures of Augie March by Saul Bellow A realistic and satirical novel that captures the life of the main character from his childhood to his manhood through the realistic touches that make it universally relevant.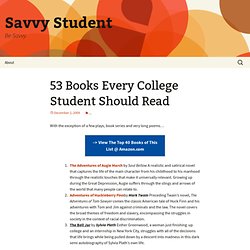 Growing up during the Great Depression, Augie suffers through the slings and arrows of the world that many people can relate to.Adventures of Huckleberry Finnby Mark Twain Preceding Twain's novel, The Adventures of Tom Sawyer comes the classic American tale of Huck Finn and his adventures with Tom and Jim against criminals and the law. Goodreads. BookMooch. 30 Books I'm Glad I Read Before 30. Post written by: Marc Chernoff Email In various ways, these 30 books convey some of the philosophy of how Angel and I live our lives.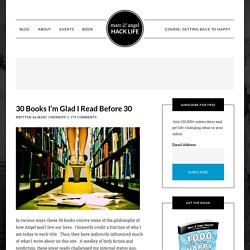 I honestly credit a fraction of who I am today to each title. Thus, they have indirectly influenced much of what I write about on this site. Books that will induce a mindfuck. Top 10 Novels of the 2000s. It's natural for a child to assume that his or her own childhood is unremarkable.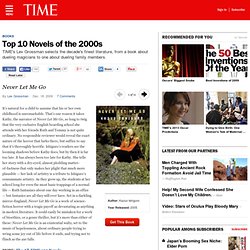 That's one reason it takes Kathy, the narrator of Never Let Me Go, so long to twig that the very exclusive English boarding school she attends with her friends Ruth and Tommy is not quite ordinary. No responsible reviewer would reveal the exact nature of the horror that lurks there, but suffice to say that it's thoroughly horrific. Ishiguro's readers see the looming shadows before Kathy does, but by then it is far too late. It has always been too late for Kathy. She tells her story with a dry-eyed, almost plodding matter-of-factness that only makes her plight that much more plausible — her lack of artistry is a tribute to Ishiguro's consummate artistry.
---