Websites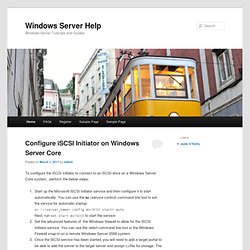 TCP/IP is the backbone for communication and transportation in Windows Server, prior to communicating between machines, TCP/IP will need to first be configured. TCP/IP is installed by default in Windows Server 2008 R2 and during the operating system installation you can also add or remove TCP/IP . If a TCP/IP connection should fails, you will need to identify the cause and point of failure. Windows Server ships with several useful tools which can troubleshoot connections and also verify connectivity. In this series of articles we will look at Ping, Tracert, Pathping, IPconfig, Arp, Netstat, Route, Nslookup and DCDiag.
Windows Server Help | Windows Server Tutorials and Community
VideoTutorialZone | Home- VideoTutorialZone.com
Windows Server Catalog
We are pleased to announce the latest version of Core Configurator built and designed for Windows Server 2008 R2 x64 Core edition! It is completely open source so it can be amended and change to fit your requirements, this version has been a year in the making and has been written in powershell with a reference to Winforms so that a GUI format is displayed. The primary focus of this project is to try and get feedback and contributions back from the community to make this a tool the best/ free tool everyone will want in there toolkit, so if you have some code or features that you might want included then please leave a comment and we will get in touch. Core Configuration tasks include:
Core Configurator 2.0 (Windows Server 2008 R2)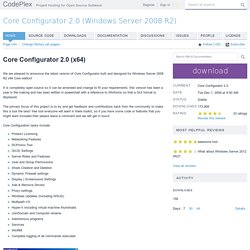 Windows Server 2008 Forum
The Heartbleed vulnerability in OpenSSL ( CVE-2014-0160 ) has received a significant amount of attention recently. While the discovered issue is specific to OpenSSL, many customers are wondering whether this affects Microsoft's offerings, specifically Windows and IIS. Microsoft Account and Microsoft Azure, along with most Microsoft Services, were not impacted by the OpenSSL vulnerability. Windo... Shortly after I published my FTP ETW Tracing and IIS 8 blog post, I was using the batch file from that blog to troubleshoot an issue that I was having with a custom FTP provider.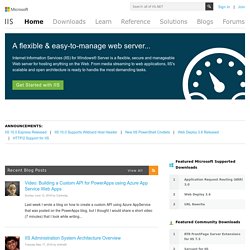 Windows Server 2008 - First Look
In this review of Windows Server 2008, we take a look at the features and benefits of Microsoft's newest and most advanced server Operating System. What is new, why should you try it out, and how can it help you? Today I downloaded the recently released Windows Server 2008 release candidate 0 (RC0) evaluation. This is about a 4GB free evaluation.
An often irreverent look at this week's other news, including the thudding sound of a Titanfall landing and not helping the Xbox One in the slightest, PS4 sales continue to outpace those of Xbox One, making Xbox One lemonade, Satya's one trick pony, non-universal app licensing changes, a Nokia tablet no one was buying anyway, Chrome Remote Desktop is not the best choice on Android, Microsoft loves Yahoo Mail, the scariest Michaels since Myers, and your chance to be a Glasshole....More
Windows Server 2008 Installation, Configuration, Administration & Training