Free Energy
Get flash to fully experience Pearltrees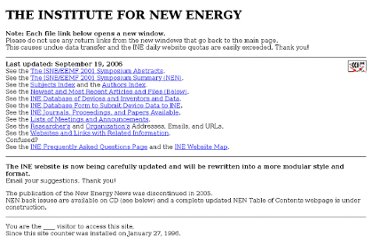 Note: Each file link below opens a new window. Please do not use any return links from the new windows that go back to the main page. This causes undue data transfer and the INE daily website quotas are easily exceeded.
This article really made me think. Too much of that said within I can relate to. Our world is desperately in need of fresh clean energy resources – so the thought that vested interests for short term financial gain are suppressing good ideas – to my mind is out rate treachery to the human race. This writing bothers me – I hope it prompts others to also think and take action. Martin Frost 2006-06-23
A Feed-in Tariff (FIT) is a fixed rate (tariff) that is paid to renewable energy producers for each unit of electricity sent to the grid. In North America, such tariffs are also known as Advanced Renewable Tariffs (ARTs) or Renewable Energy Payments (REPs). Most developed countries have a FIT scheme, and many developing countries have either implemented a system or plan to do so in the near future. The REN21's 2009 Global Status Report stated that at the beginning of 2009, 63 countries/states/provinces had a FIT policy in action. The UK Government plans to adopt the scheme in the UK from the 1st April 2010 .