Brownies
Oreo and Peanut Butter Brownie Cakes. So, after being gone all last week, this has been catch up on the house week.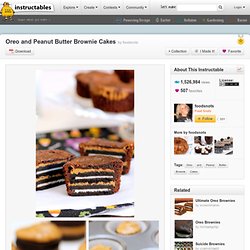 Mostly laundry actually. Man, who knew that a weeks worth of laundry from 5 people could be so daunting. Yikes!! White Chocolate Mousse and Brownie Eggs Recipe at WomansDay.com- Easter Dessert Recipes. Brownies, as they should be. The Best Fudge Brownies Ever. The folks at King Arthur Flour call these their "Best Fudge Brownies Ever".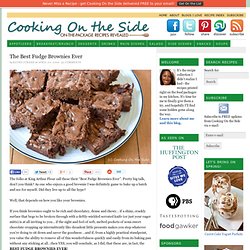 Pretty big talk, don't you think? As one who enjoys a good brownie I was definitely game to bake up a batch and see for myself. Did they live up to all the hype? Recipe: Gooey Chocolate Brownie & Strawberry Sandwich cake. Inspired by the moistness of the Middle Eastern Blood Orange cake that eschewed flour in favour of almond meal, I combined a recipe of Nigella's for Flourless Chocolate Brownies and an idea from Tessa Kiros's Apples from Jam.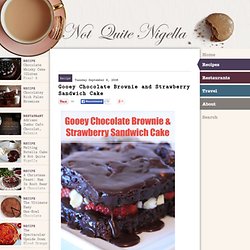 With strawberries being plentiful now, I had two punnets of gorgeously huge and sweet berries. I love strawberries and whipped cream, in fact it's my favourite way of eating them, but this can really only be improved with the addition of chocolate in its gooeyest form. Brownies are never going to qualify as a health food, the number of eggs and weight of sugar and butter would effectively muzzle any such claims but there is nothing quite like that gorgeous moistness and quivering inner.
And this brownie recipe is the Queen of Quiver. That is to mean that it is also a little more delicate than a sturdier less quiver-prone brownie but the reward is in the texture. Ultimate Chocolate Chip Cookie n' Oreo Fudge Brownie Bar. On Wednesday, I wondered what would happen if you combined Oreo Stuffed Chocolate Chip Cookies with Oreo Stuffed Brownies.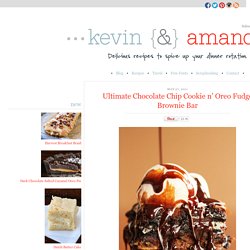 On Thursday I found out. And on Friday… Cookies 'n' Cream Oreo Fudge Brownies. Happy Valentine's Day, chocolate lovers!!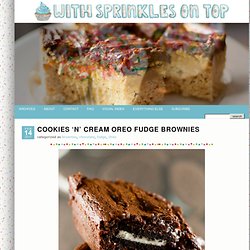 You can do one of two things with this recipe: a) Make these brownies for your sweetie, as a lovely dessert to top off your romantic Valentine's day dinner. b) Make these brownies for yourself, as a way to celebrate the fact that Valentine's day sucks. I'll be going with option B. I'll try to show some restraint and not eat the entire pan…(y'all know how Oreos are my biggest guilty pleasure). A brownie by any other name… Love brownies.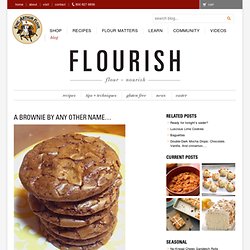 Love their shiny, flaky top that shatters into micro-thin shards that shower onto your fingers as you eat. Love their dark, gooey center. Their "chocolate nirvana" flavor. Sometimes can't deal with the bake, wait to cool, cutting into squares messiness and fuss of brownies. Want something I can enjoy within 5 minutes of its exit from the oven. How To Make Perfect Brownies. I've tried lots of brownie recipes: Boxes, scratch, frosted, plain, nuts, chips, fudge … Each of them has something to like, but depending on my mood I might want a change of pace.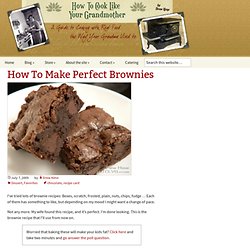 Not any more. My wife found this recipe, and it's perfect.
---