tools
Get flash to fully experience Pearltrees
I've seen QR Voice mentioned by a few other bloggers recently so I had to check it out for myself. QR Voice is a free tool that allows you to create QR codes that when scanned will play a short audio message. To create your message and QR code you can record a voice message by clicking the microphone icon on QR Voice or you can type in your message. Either way you're limited to 100 characters.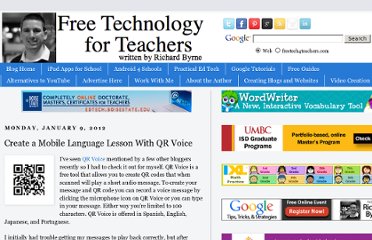 PopSafari is an interesting new photo community site with a twist. Signing up for a free account, or logging in with your Facebook account, allows you to create collections of photos based on any theme of your choice. The site, like Pinterest , allows you to create themed collections made of photographs, but the focus is placed entirely on the collections rather than on your profile. Other users can access your collections or Safaris, and can even contribute images of their own to the collection. Unlike Pinterest, however, you don't get a personal profile page, which is a much-needed feature for any community site. As the collections grow, they become a virtual safari of any given topic, with current collections already on the site including tattoos and corvettes.
In my email this morning I received the news that Animoto has released a new free app for creating videos on your iPad, iPhone, or iPod Touch . The app will allow you to do all of the things that you can do on the Animoto website to create a video. Plus you can take pictures and videos on your iOS device and import them directly to your Animoto project.
Description ***The First Group Photo Sharing App on iPhone and iPad*** A fun way to Track experiences and interests with friends! Open the app to discover 'Tracks' auto-magically made just for you. Photos are intelligently organized based on your activities and relationships.
Starting at $3.99 YayMath.org and Study By App have partnered to create a comprehensive Algebra 1 app. The Yay Math movement and this project are built on an understanding of Algebra's importance, not just for this class, but also for advancing to next levels.
I ran across a new site the other day called Remind101 . This free site is created for teachers and students to seamlessly create text and/or email reminders for assignments, projects, quizzes, tests, labs, class activities and homework. Teachers create accounts, upload syllabi, insert all class projects, activities, homework and assignments. Then students can log in to Remind101, search for their class, subscribe to the class, and automatically start receiving all reminders for the class activities. Students can add new reminders, or personalize the text alerts to be for only certain types of activities.
* This app is dedicated to my Dad, whose great memory highlighted to me the power of remembering names What is Namerick? Namerick is an iPhone app that improves your memory of people's names using repetition and mnemonics modeled from memory 'athletes' and studies of the human memory.