authoring content
Get flash to fully experience Pearltrees
i 3 Votes While traditionally best of the best are announced in December, I decided why wait.
The iPhone's built-in camera app is pretty good, but if you want to add a few more features you have to head to the app store. Out of the handful of options available we think the most solid upgrade is Video Camera+ for it's flexibility and useful feature set. All the features of the standard camera app (auto focus, touch focus, auto exposure, etc.) Set the video quality to whatever you want, ranging from 1080p (if supported on your phone) to 192x144 Videos are automatically tagged with their location (pending your initial approval) Use the flash to add continuous light to your videos Select a maximum recording length from 1 to 60 minutes (useful for timed recordings, weird otherwise) Timed recordings Many composition guides, including the standard grid Automatically start recording on launch (if you choose) Video stabilization (iPhone 4S only) iPhone/iPad hybrid app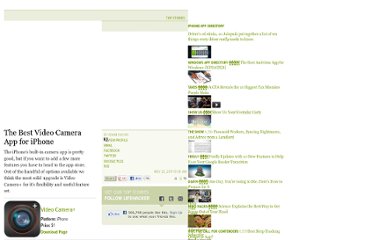 Soyez mobile ! La fonction Blogspot mobile optimise l'affichage de votre blog sur les périphériques mobiles. Pour découvrir l'aspect de votre blog sur ce type de périphériques, utilisez la fonctionnalité d'aperçu en cliquant sur Tableau de bord et en sélectionnant Paramètres et l'onglet E-mail et mobile. L' envoi de messages par SMS/MMS vous permet de publier des textes, des photos et même des vidéos sur votre blog pendant vos déplacements. Il vous suffit d'envoyer un message à go@blogger.com depuis votre téléphone.