Makeup
Get Yo' Nails Did. Okay, so we're only three weeks in to this whole thing and I'm already showing you a tame look after I totally promised some of you that I'd do a newsprint nail tutorial this week.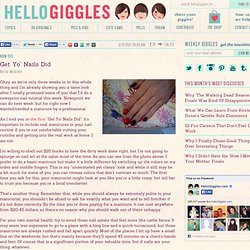 Newsprint we can do next week, but for right now I wanted/needed a manicure by a professional. As I told you in the first "Get Yo' Nails Did", it's important to include real manicures in your nail routine if you're not comfortable cutting your cuticles and getting into the real work at home. I am not. I'm willing to shell out $20 bucks to have the dirty work done right, but I'm not going to splurge on nail art at the salon most of the time. As you can see from the photo above, I prefer to do a basic manicure but make it a little different by switching up the colors on my index and middle fingers.
Breaking Down Beauty: Fixing Broken Powder Cosmetics « Painted Ladies. By Sheila Arkee So, you have a favorite eyeshadow, pressed powder, or blush you absolutely cannot live without.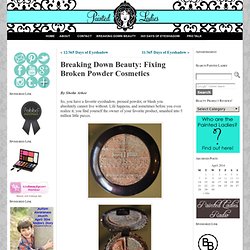 Life happens, and sometimes before you even realize it, you find yourself the owner of your favorite product, smashed into 5 million little pieces. When your powder cosmetics are broken into 5 million pieces, you can always put them in a small container and use as a loose shadow, but you DO have the option of fixing the products so it's almost as good as new. It's easy! How To Style Mod Eyeliner. Twiggy is one of my favorite style icons from the 1960s.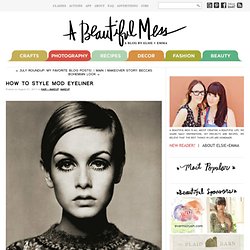 I've tried for years to style my eyeliner like hers. It's so much fun! Here are a few tips.... How to: Custom Mix Your Foundation. Finding the perfect match to your foundation can sometimes be a real hassle.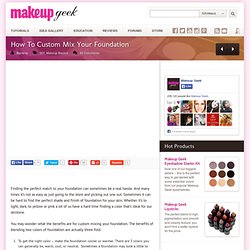 And many times it's not as easy as just going to the store and picking out one out. Sometimes it can be hard to find the perfect shade and finish of foundation for your skin. Whether it's to light, dark, to yellow or pink a lot of us have a hard time finding a color that's ideal for our skintone. You may wonder what the benefits are for custom mixing your foundation. The benefits of blending two colors of foundation are actually three-fold: How to Apply Bronzer. Summer is right around the corner, so it's time to pull out those bronzers!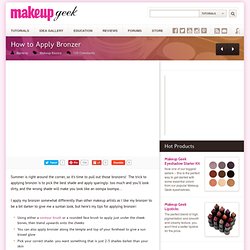 The trick to applying bronzer is to pick the best shade and apply sparingly- too much and you'll look dirty, and the wrong shade will make you look like an oompa loompa… I apply my bronzer somewhat differently than other makeup artists as I like my bronzer to be a bit darker to give me a suntan look, but here's my tips for applying bronzer: Using either a contour brush or a rounded face brush to apply just under the cheek bones, then blend upwards onto the cheeksYou can also apply bronzer along the temple and top of your forehead to give a sun kissed glowPick your correct shade- you want something that is just 2-3 shades darker than your skinIt is up to you if you want a shimmery bronzer or a matte finish one- shimmery ones will give a nice glow, but it can also emphasize pores.
---