Tutorials
EvoluteTools for Rhino technology preview
Here are some examples i am currently preparing for a set of lectures on Architectural Geometry to be held at TU Vienna starting in about two weeks. Since the main focus will lie on ruled surfaces, which are especially interesting for architectural applications when it comes to actually building a freeform design, these definitions will generate models based on these special surfaces. First, we have a rather simple, but nevertheless very nice application. 'D-Forms' consist of two non-elastic surfaces-patches (e.g. paper) sharing the same perimeter. You can produce such objects by cutting out these patches from e.g. paper, starting to glue them together at arbitrarily chosen points along the two perimeters. The rest will follow automatically such that the shape will be closed.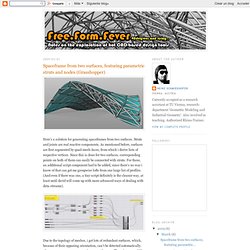 FreeFormFever
. a collection of codes & grammars for Grasshopper, a generative modeling tool for Rhinoceros. Mesh faces by deviation angle This definition selects adjacent mesh faces depending on the angle of deviation. It requires Hoopsnake & Starling plugins Mesh faces by deviation angle_Co-de-iT_0.9.0066.zip < package ( for GH v.0.9.0066)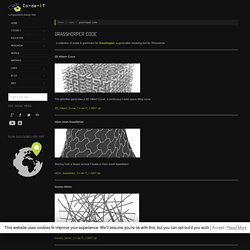 Louver orientation grasshopper rhino - architectural rendering and illustration blog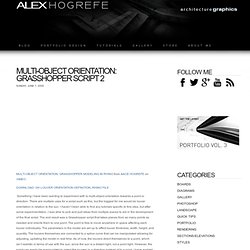 Multi-object orientation: Grasshopper modeling in Rhino from aace hogrefe on Vimeo. DOWNLOAD: GH Louver Orientation Definition, Rhino File Something I have been wanting to experiment with is multi-object orientation towards a point or direction. There are multiple uses for a script such as this, but the biggest for me would be louver orientation in relation to the sun.
Polyline Attractor Grasshopper Rhino - architectural rendering and illustration blog
Download: GH Definition I have been seeing a lot online with point attractors. The idea is that geometry will change its size or form based on its distance from a point. The further the object is from the point, the larger or smaller it will get.