Yammer
Yammer renforce ses outils professionnels
Blog | The Yammer Blog
Jobs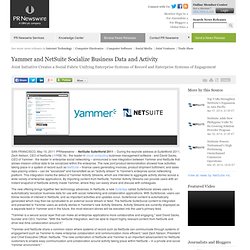 Yammer and NetSuite Socialize Business Data and Activity -- SAN FRANCISCO, May 10
SAN FRANCISCO, May 10, 2011 /PRNewswire/ -- NetSuite SuiteWorld 2011 -- During the keynote address at SuiteWorld 2011, Zach Nelson, CEO of NetSuite ( NYSE: N) - the leader in cloud computing business management software - and David Sacks, CEO of Yammer - the leader in enterprise social networking – announced a new integration between Yammer and NetSuite that allows mission-critical data to be socialized within the enterprise. The new joint product demonstration showed how activities taking place in a system of record such as NetSuite – finance users generating invoices, product shipment fulfillment, and sales reps placing orders – can be "socialized" and transmitted as an "activity stream" to Yammer's enterprise social networking platform. This integration marks the debut of Yammer Activity Streams, which are intended to aggregate activity stories across a wide variety of enterprise applications.
Yammer lance la version 2.0 de son réseau social pour l'entreprise
Yammer in 5 minutes
Yammer
Les produits Microsoft sont largement répandus dans les entreprises et historiquement Sharepoint est une solution de gestion documentaire dominant le marché. La stratégie de l'éditeur est d'amener ses clients vers Office 365, qui bénéficie de Yammer pour amener une brique sociale transverse à l'offre Microsoft. Stratégie ambitieuse qui a commencé à se mettre en place en 2013 et nécessitera probablement plusieurs années pour se concrétiser. Yammer est une solution de réseau social initialement positionnée comme un facebook d'entreprise, qui s'est enrichie fonctionnellement au fil des ans en fonctions collaboratives. L'outil a su conserver une ergonomie parfaite, issue d'un cycle de développement court réalisé à l'écoute de ses clients.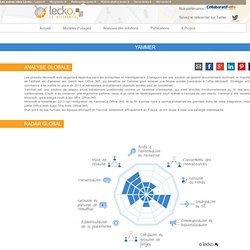 Social Business : comment sortir de l'impasse Chronique. Par Anthony Poncier. 80% d'échecs selon Gartner pour les projets collaboratifs, 70% de désengagement de la part des collaborateurs.
Yammer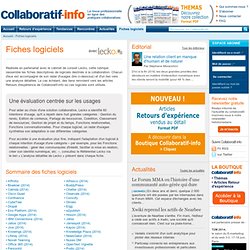 yammer
Concurrencé par les réseaux sociaux d'entreprises, le pionnier des sites professionnels de micro-blogging riposte : il vient de dévoiler une nouvelle version de sa plate-forme, incluant de nombreux outils sociaux. Exit le clone de Twitter. Bienvenue au « Facebook de l'entreprise »... Né en 2006 aux Etats-Unis, le site de micro-blogging Twitter compte aujourd'hui 145 millions d'utilisateurs enregistrés, dont une bonne part de professionnels qui publient en temps réel des « tweets » de 140 caractères pour informer leur communauté de leurs dernières trouvailles et activités. En entreprise, le site fait des émules : après la naissance de Yammer, un clone professionnel de Twitter revendiquant quelque 80 000 utilisateurs (parmi lesquels Deloitte, Pitney Bowes, Thomson Reuters...), de nombreux éditeurs de réseaux sociaux ont ajouté de nouvelles briques de « micro-blogging » à leurs plates-formes.
Clone professionnel de Twitter, Yammer se mue en réseau social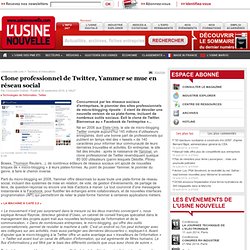 Avec Twitter vous dites ce que vous êtes en train de faire. Tandis qu'avec Yammer vous dites ce que vous êtes en train de faire. Vous ne voyez pas de différence ? Et pourtant il y en a une, de taille : Yammer s'adresse exclusivement aux entreprises en ne permettant de poster les mises à Avec Twitter vous dites ce que vous êtes en train de faire. Tandis qu'avec Yammer vous dites ce que vous êtes en train de faire.
Yammer, le Twitter version corporate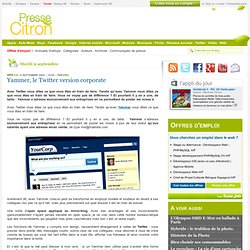 Un article de Wikipédia, l'encyclopédie libre. Yammer, Inc. Logo de Yammer