Biomimicry
Programme
Adaptive Architecture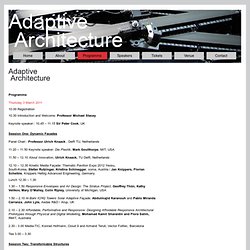 © Ohio State University We love biomimicry news. There is something satisfying about the natural world telling us how to make our technology better, rather than the often-assumed other way around. This year seems to have given us a bumper crop of news stories about biomimicry innovations and we have selected some of the most interesting robots, materials, structures and strategies to highlight here. 1. Super-Slippery Material for Bottles and Pipes Mimicked After Carnivorous Plant Leaves Biomimicry is everywhere, but let's start in the plant world where recently scientists used the slick leaves of a carnivorous Nepenthes pitcher plant as the inspiration behind a new material that can coat items to keep the contents from sticking to them.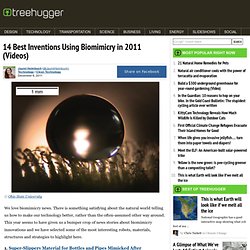 14 Best Inventions Using Biomimicry in 2011 (Videos)
Zero waste is a philosophy that encourages the redesign of resource life cycles so that all products are reused . Any trash sent to landfills and incinerators is minimal. The process recommended is one similar to the way that resources are reused in nature. A working definition of zero waste, often cited by experts in the field originated from a working group of the Zero Waste International Alliance in 2004: [ 1 ] Zero Waste is a goal that is ethical, economical, efficient and visionary, to guide people in changing their lifestyles and practices to emulate sustainable natural cycles, where all discarded materials are designed to become resources for others to use. Zero Waste means designing and managing products and processes to systematically avoid and eliminate the volume and toxicity of waste and materials, conserve and recover all resources, and not burn or bury them.
Zero waste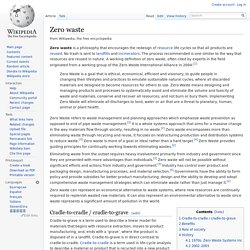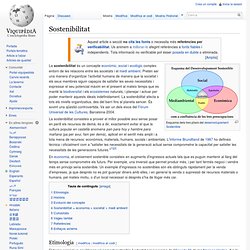 La sostenibilitat és un concepte econòmic , social i ecològic complex entorn de les relacions entre les societats i el medi ambient . Pretén ser una manera d'organitzar l'activitat humana de manera que la societat i els seus membres siguin capaços de satisfer les seves necessitats i expressar el seu potencial màxim en el present al mateix temps que es manté la biodiversitat i els ecosistemes naturals, i planejar i actuar per poder mantenir aquests ideals indefinidament. La sostenibilitat afecta a tots els nivells organitzatius, des del barri fins al planeta sencer.
Sostenibilitat
In broad terms, user-centered design (UCD) is a type of user interface design and a process in which the needs, wants, and limitations of end users of a product are given extensive attention at each stage of the design process . User-centered design can be characterized as a multi-stage problem solving process that not only requires designers to analyse and foresee how users are likely to use a product, but also to test the validity of their assumptions with regards to user behaviour in real world tests with actual users. Such testing is necessary as it is often very difficult for the designers of a product to understand intuitively what a first-time user of their design experiences, and what each user's learning curve may look like. The chief difference from other product design philosophies is that user-centered design tries to optimize the product around how users can, want, or need to use the product, rather than forcing the users to change their behavior to accommodate the product.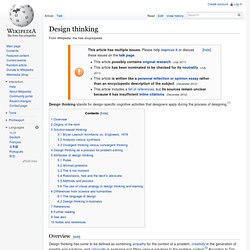 Design thinking refers to the methods and processes for investigating ill-defined problems, acquiring information, analyzing knowledge, and positing solutions in the design and planning fields. [ citation needed ] [ edit ] Overview As a style of thinking, design thinking is generally considered the ability to combine empathy for the context of a problem, creativity in the generation of insights and solutions, and rationality to analyze and fit solutions to the context. While design thinking has become part of the popular lexicon in contemporary design and engineering practice, as well as business and management, its broader use in describing a particular style of creative thinking-in-action is having an increasing influence on twenty-first century education across disciplines. [ citation needed ] In this respect, it is similar to systems thinking in naming a particular approach to understanding and solving problems. Currently, [ when?
Decrecimiento
El decrecimiento es una corriente de pensamiento político , económico y social favorable a la disminución regular controlada de la producción económica con el objetivo de establecer una nueva relación de equilibrio entre el ser humano y la naturaleza, pero también entre los propios seres humanos. Rechaza el objetivo de crecimiento económico en sí del liberalismo y el productivismo ; [ 1 ] en palabras de Serge Latouche : la consigna del decrecimiento tiene como meta, sobre todo, insistir fuertemente en abandonar el objetivo del crecimiento por el crecimiento, [...] En todo rigor, convendría más hablar de "acrecimiento", tal como hablamos de "ateísmo" . [ 2 ] Por ello también se suelen denominar "objetores de crecimiento". La investigación se inscribe pues en un movimiento más amplio de reflexión sobre la bioeconomía y el postdesarrollo , que implicaría un cambio radical de sistema.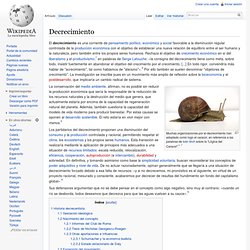 Biomimicry or biomimetics is the examination of nature , its models, systems, processes, and elements to emulate or take inspiration from in order to solve human problems. [ 1 ] The term biomimicry and biomimetics come from the Greek words bios, meaning life, and mimesis , meaning to imitate. Similar terms include bionics . [ 2 ] Over the last 3.6 billion years, [ 3 ] nature has gone through a process of trial and error to refine the living organisms, processes, and materials on planet Earth.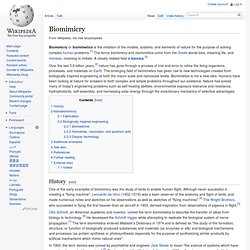 Biomimicry
De la cuna a la cuna
Ciclo de la cuna a la cuna. De la cuna a la cuna (en inglés: Cradle to Cradle ), subtitulado Rediseñando la forma en que hacemos las cosas es un libro innovador y revolucionario escrito por Michael Braungart y William McDonough en el que se propone una nueva forma de interpretar el ecologismo, la Próxima Revolución Industrial . Tradicionalmente la consigna principal del ecologismo ha sido "Reducir, reutilizar, reciclar" . Los autores proponen mediante este libro un cambio de enfoque. Reducir el impacto sobre el medio ambiente provocaría una ralentización del mismo, pero más rápido o más despacio estaríamos llegando a un mismo final.