Haselyn
Ben Stapleton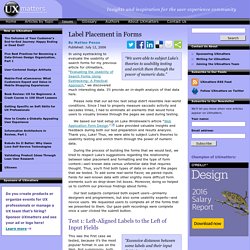 By Matteo Penzo Published: July 12, 2006 "We were able to subject Luke's theories to usability testing and enrich them through the power of numeric data." In using eyetracking to evaluate the usability of search forms for my previous article for UXmatters, "Evaluating the Usability of Search Forms Using Eyetracking: A Practical Approach," we discovered much interesting data. I'll provide an in-depth analysis of that data here.
In recent months I have been setting myself up as a Freelance Web designer/Developer, if I told you it was a rocky road I wouldn't be exaggerating . If I had followed the check-list I have compiled below it would have made my life that little bit easier and stress free. But, like most things, entering into a new chapter can make you feel blindfolded and you stumble about trying to find the answers. Hopefully this list will help you. But the truth of the matter is I have completed my transition, I am a Freelance Web Designer and couldn't be happier. Please note that this post is fairly old and some of the points and resources may no longer be relevant.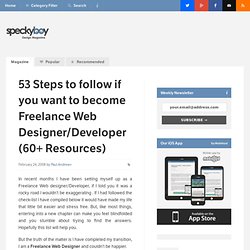 Web design (checklist) | OUT-LAW.COM by Pinsent Masons LLP
Advertisement When it comes to icons, web designers and graphic artists have an excellent opportunity to showcase their craft, prove their experience and explore their creativity. A sweet, nice icon set is a perfect showcase of designer's work and a powerful instrument to build up your reputation online. In fact, designers make use of it, creating absolutely amazing icon sets and offering them for free download.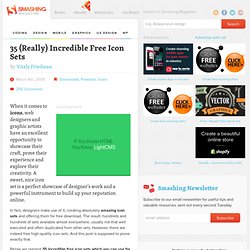 Please note that this post is fairly old, for the latest free icons you should browse the Free Icons category. 1. Fam Fam Fam (www.famfamfam.com/lab/icons/)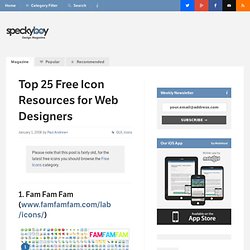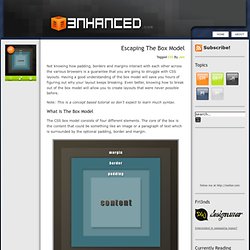 Escaping the Box Model -- 3nhanced.com - Imagine, Design, Develop, Create the Web
tagged CSS by Jon Not knowing how padding, borders and margins interact with each other across the various browsers is a guarantee that you are going to struggle with CSS layouts. Having a good understanding of the box model will save you hours of figuring out why your layout keeps breaking. Even better, knowing how to break out of the box model will allow you to create layouts that were never possible before.
September 25th, 2007 1. Use Firefox This is the most important platform you have at your fingertips. Firefox is essential for developing websites. I'm not saying you need to use it as your browser -- you can use whatever browser you want for surfing.
10 Tips for Budding Web Programmers and Designers - Chrys Bader - Tales of an Entrepreneur
RSS Creation - How to create RSS Feeds
PHP Help Forum - Index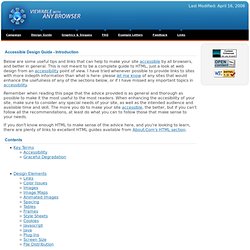 Below are some useful tips and links that can help to make your site accessible by all browsers, and better in general. This is not meant to be a complete guide to HTML, just a look at web design from an accessibility point of view. I have tried whenever possible to provide links to sites with more indepth information than what is here- please let me know of any sites that would enhance the usefulness of any of the sections below, or if I have missed any important topics in accessibility. Remember when reading this page that the advice provided is as general and thorough as possible to make it the most useful to the most readers.