Blog 2
it's june. and we're back here where we began. the four of us, along with special guests, will be posting small art works here this summer on mondays and wednesdays considering the theme – summer is… the echoes flickr group is open and we hope you'll join us on this summertime journey, by posting your explorations to the pool. beginning next week, we'll also choose a few of your works from the pool to share in this space each friday. guidelines for submission to the pool can be found here.
summer is … « echoes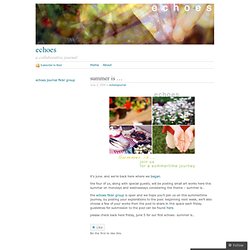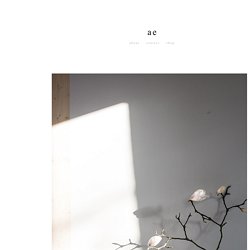 Un petit peu de ci Un petit peu de ça. Et il reste toujours à imaginer la suite, bercée par l'incertitude, et aussi la Certitude que l'on aime trop ces petites choses là. Si je te parle c'est pour mieux t'entendre Si je t'entends je suis sûr de te comprendre
Ginkgo Dreams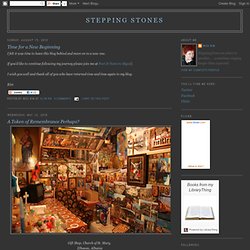 "In the morning of his days, he is in the afternoon of his life." ~Mary Oliver~ We often stop and pick up hitchhikers in the country, enjoying brief but lovely little episodes of friendship with real people. Our bits of Albanian get us through, but oh how we long to be able to communicate completely.
Stepping Stones
a split-level fixer-upper
Noticing that all these "before" pictures (below) were taken on the very same calendar day, I am asking myself, what were we thinking? The house was taken apart downstairs, upstairs and of course in between (we were re-wiring and getting gas to the new kitchen) at the very same time. One project needed another project done, and that one needed yet another...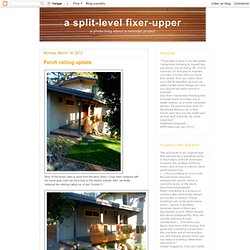 tamar mogendorff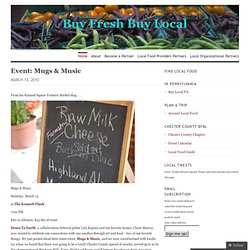 Buy Fresh Buy Local
From the Kennett Square Farmers Market blog. . . Mugs & Music Saturday, March 13 at The Kennett Flash $20 in advance, $23 day of event Down To Earth, a collaboration between potter Lyla Kaplan and our favorite farmer, Claire Murray, was created to celebrate our connections with one another through art and food – two of our favorite things.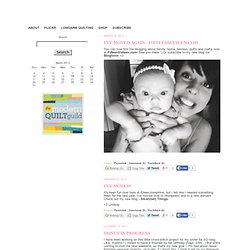 Eileen Josephine
I have been working on this little cross-stitch project for my sister for SO long. Like, months? I meant to have it finished by her birthday (Sept. 23rd...) But she's coming to visit me next weekend, so that's my new goal :) I'm bad about never finishing personal projects. (Actually, if I finish this, I think it will be my first-ever 100% completed cross-stitch project!)
Roseland Greene
Wilkie Birdsall Branding & Design, Orlando
Zee Studio : Thoughtful Web Design for Small Businesses
A suspected diagnosis of IUGR. High blood pressure and swelling that leads to being on pre-eclampsia watch. A severe case of postpartum depression. All these issues have appeared for clients, students, and friends in the past several months and it's heavy, scary, and fear inducing (also creating fear OF inducing!). For many of us, pregnancy is the first time we might encounter a health crisis of any kind.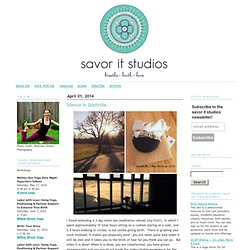 Savor It
Decor Demon
Posted by decordemon in Spaces on 02 4th, 2011 | 12 Comments From talent and ambition to culture and kindness, the Flurry family practices what they preach Produced, directed, written and styled by Brian Patrick Flynn with photography by Sarah Dorio Watch THIS.
IDH :: Interior Decorators Handbook
destined to design
Have you treated yourself to last week's Eco-Tip yet? Well, we certainly hope you have. But in case you missed it, last week's tip highlighted the many benefits of cleaning out your car. Check it out below for more information. But if you're ready for Eco-Tip #2 of 2010, you're reading the right post.
Living Green Furniture
first of all, thanks for checking in. you reading means a lot!! i'm taking a break from posting as blogger has done nothing to fix the problems created when they changed the format for creating posts. the labels not working is killing me. i'm moving the site to not only make it functional (wouldn't that be nice!) but am re-structuring it to cover more topics and make it easier to find the info you want. so please sit tight and i'll announce the new site soon....
T H E O R D E R O B S E S S E D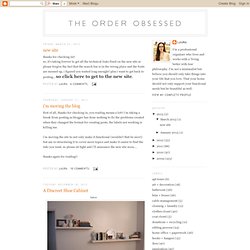 Altitude Summit is your definitive resource for the very serious business of beautiful, brilliant blogging and cutting-edge creativity. Alt Summit is a community of exciting, creative thinkers and entrepreneurs. Altitude Summit holds a variety of workshops around the country and on the web. Collaborate, explore, investigate and learn with all your closest friends, and friends-to-be! Our flagship event is held in SLC on January 22-25, 2014.
Altitude Design Summit - Home
If you like cars, balancing the environment with the performance of your automobile can be a tough road to drive. It seems all you read about anymore are articles about greenhouse gases and global warming. Personally, I am more worried about the pollution in our air and water. At the same time, I love to drive my car fast on windy roads. With this in mind, I started my research on my next car. I read about natural gas vehicles, bi-fuel vehicles, electric cars, and hybrid automobiles.
Home - Craving Balance
Unloading a bit from my camera roll. Not as much blogging going on this past month, because my normal day is super full of the basics: making food for my family, washing clothes, teaching manners and just about everything else, and wiping little bottoms. But each week I find a pocket of time that wasn't there before to take a shower, read a bit, write a bit, bake, or something else that recharges me. And good news! Very, very soon the shop will be full of 50 Promises again!!
summer harms
Did you miss me? I missed me. It's good to be back!
Verdigris Vie
Three Men and a Lady
IKEA | IKEA Community for IKEA Enthusiasts to discuss IKEA Furniture, Stores and Products with other IKEA Fans
GirlWhimsy
Urban Grace Interiors {the blog} » :: everyday life as a designer
little papercuts
Busy bee's blog
Studio TOTA / Blog
little e
Cait's Love Story
Store & Style - August 2009 Edition
Happy in the in Between
Smile and Wave
http://wholelottalovely.wordpress.com/
Publique Living
b o t t o m l a n d
services
The City Sage
My Little Happy Place
Me and Wee
36 Shea
The Stamford Wife
tikolish
pantry permitting
Little Hen Designs
Janelle Utheim