Adlof Hitler
v Primary Sources v Adolf Hitler was born on 20th April, 1889, in the small Austrian town of Braunau near the German border. Both Hitler's parents had come from poor peasant families.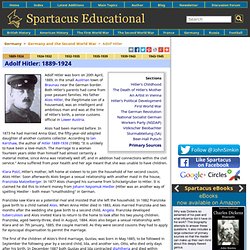 Adolf Hitler and The Holocaust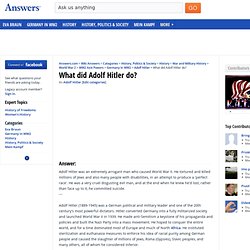 Idk, but he could rock the pedo stach adolf hitler during ww1 was a fighter he faught for his country and though they did not win he still carrid on and through the time between ww1 and ww2 he came form being a no one to become on the best chancellers.though what he did was rong he never backed down. Actually, he was an extremely arrogant man who caused World war 2.
What did Adolf Hitler do
The Holocaust (from the Greek ὁλόκαυστος holókaustos : hólos , "whole" and kaustós , "burnt") also known as the Shoah ( Hebrew : השואה , HaShoah , "catastrophe"; Yiddish : חורבן , Churben or Hurban , from the Hebrew for "destruction"), was the mass murder or genocide of approximately six million Jews during World War II , a programme of systematic state-sponsored murder by Nazi Germany , led by Adolf Hitler and the Nazi Party , throughout German-occupied territory. [ 4 ] Of the nine million Jews who had resided in Europe before the Holocaust, approximately two-thirds were killed. Over one million Jewish children were killed in the Holocaust, as were approximately two million Jewish women and three million Jewish men.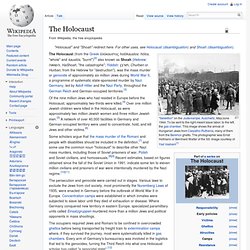 "Propaganda tries to force a doctrine on the whole people... Propaganda works on the general public from the standpoint of an idea and makes them ripe for the victory of this idea." Adolf Hitler wrote these words in his book Mein Kampf (1926), in which he first advocated the use of propaganda to spread the ideals of National Socialism -- among them racism , antisemitism , and anti-Bolshevism.
Nazi Propaganda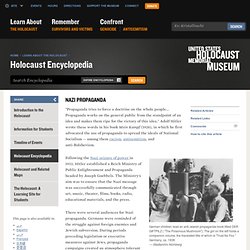 The planning of the Second World War started when Adolf Hitler joined a secret society called the Thule Society in 1919. It was in this group that he found the perverted beliefs that were later to lead him in his control of the German government. In the Thule Society: "... the sun played a prime role... as a sacred symbol of the Aryans, in contrast to... the moon, revered by the Semitic peoples.
WW2 - The Real Adolf Hitler and The Thule Society
How Hitler Became a Dictator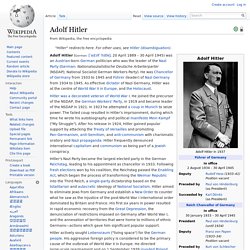 Adolf Hitler ( German: [ˈadɔlf ˈhɪtlɐ] ( listen ) ; 20 April 1889 – 30 April 1945) was an Austrian -born German politician and the leader of the Nazi Party ( German : Nationalsozialistische Deutsche Arbeiterpartei (NSDAP); National Socialist German Workers Party). He was chancellor of Germany from 1933 to 1945 and dictator of Nazi Germany (as Führer und Reichskanzler ) from 1934 to 1945. Hitler was at the centre of Nazi Germany, World War II in Europe , and the Holocaust .