Internet Nonsence
Watermelon Dragon. Chocolate Guinness Goodness Recipe at Epicurious. Editor's note: This recipe was developed by Shane Philip Coffey, the chef at Alias restaurant on New York City's Lower East Side.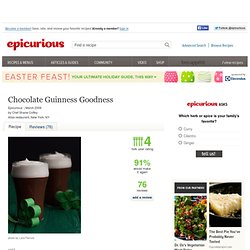 This rich and luscious dessert came about because I needed a special dessert for a St. Patrick's Day tasting menu. I was on a mission to use my favorite beer, Guinness, something I consider to be one of Ireland's gifts to the world. As the 17th of March drew closer, I looked for inspiration at my favorite Irish pub in Manhattan.
As I savored my pint, I saw a Guinness poster that said, "My Goodness, My Guinness! " Drama Button. Penguin Cam: Watch it Live at Discovery.com. Gamefreaks • thedrunkenmoogle: Phoenix Down (Final Fantasy... Thedrunkenmoogle: Phoenix Down (Final Fantasy Cocktail)Ingredients:1/2 shot Absinthe1/2 shot Zwack (Jagermeister will work too)2 tsp.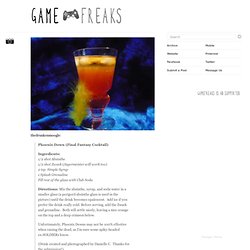 Simple Syrup1 Splash GrenadineFill rest of the glass with Club SodaDirections: Mix the absinthe, syrup, and soda water in a smaller glass (a perigord absinthe glass is used in the picture) until the drink becomes opalescent. Add ice if you prefer the drink really cold. Before serving, add the Zwack and grenadine. Both will settle nicely, leaving a nice orange on the top and a deep crimson below.Unfortunately, Phoenix Downs may not be 100% effective when raising the dead, as I'm sure some spiky-headed ex-SOLDIERs know. 1876 Victorian England Revisited - Intro (Victorian Lifestyle Study) U.S.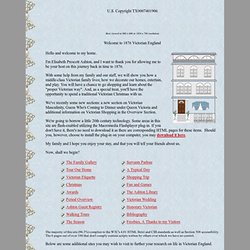 Copyright TX0007401906 Best viewed at 800 x 600 or 1024 x 768 resolution Welcome to 1876 Victorian England Hello and welcome to my home. I'm Elisabeth Prescott Ashton, and I want to thank you for allowing me to be your host on this journey back in time to 1876.
Basic Knowledge. 50 Things I Am Not Allowed To Do At Hogwarts. 1001 Free Fonts - Download Free Fonts for Windows and Macintosh. What Is My IP Address - Shows Your IP Address. Meaning of Names, Baby Name Meanings. Father's Day Story, June 2011. 20111004.gif (576×3053) Honest sign on the door of Subway #manchester #londonriots. 21 lb layer cake containing three pies. Chef David Lowery created this "Cherpumple" -- a "dessert version of the turducken," composed of "CHERry, PUMpkin and apPLE pie," baked into three separate cakes, then assembled into an enormous layer cake.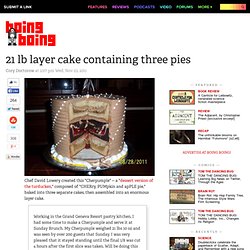 Working in the Grand Geneva Resort pastry kitchen, I had some time to make a Cherpumple and serve it at Sunday Brunch. My Cherpumple weighed 21 lbs 10 oz and was seen by over 200 guests that Sunday. I was very pleased that it stayed standing until the final 1/8 was cut 4 hours after the first slice was taken. Will be doing this again. Sunday Brunch Cherpumple (via Neatorama)
---