Videos
The Quickening on Vimeo
ASCENDANT Part One THE LAW OF ONE‬‏
FTF Films: The Natural Dynamics of Everything
FTF Films: Running in the Hallway
A Thousand Suns tells the story of the Gamo Highlands of the African Rift Valley and the unique worldview held by the people of the region. This isolated area has remained remarkably intact both biologically and culturally. It is one of the most densely populated rural regions of Africa yet its people have been farming sustainably for 10,000 years. Shot in Ethiopia, New York and Kenya, the film explores the modern world's untenable sense of separation from and superiority over nature and how the interconnected worldview of the Gamo people is fundamental in achieving long-term sustainability, both in the region and beyond.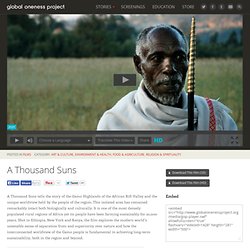 A Thousand Suns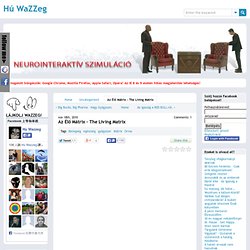 Az Élő Mátrix – The Living Matrix – HÚ WaZZeg
Ez a nagy nemzetközi visszhangot kiváltó film az egészségről és betegségről alkotott eddigi elképzeléseink újragondolására késztet! Tudósokat szólaltat meg a világ minden tájáról, akik az információs mezőkkel kapcsolatos bizonyítékok egész sorával kérdőjelezik meg a biokémia és genetika kizárólagos szerepét a biológiai rendszerek működésében és irányításában. Az Élő Mátrix a gyógyítás új tudománya, a filmben megismerhetjük azt a finoman átszőtt hálót, melyben az egészségünket befolyásoló tényezők rejteznek. Felfedezhetjük az egészségről alkotott legújabb elméleteket, az emberi test-mező kvantum fizikájától indulva a szív koherencián át az információs gyógyításig.
Szellemi Valóság - 6/1
Maxwell Igan - Az Ébredés (The Awakening) 1/7 HUN SUB magyar felirat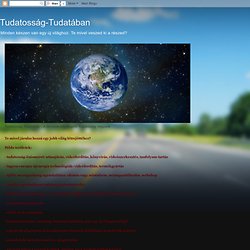 Eckhart Tolle - The Art of Presence 1/6 magyar felirattal, 6 részben Csernus, Popper és más Pszichológia videók Empatikus civilizáció, teljes film egyben magyarul Kymatica - egy film a tudatosságról, teljes film egyben magyarul Wake Up Call - Ébresztőfilm, teljes film egyben magyarul
Tudatosság-Tudatában (Új Linkekkel)
The Day Before Disclosure -- Part 1/8