Enhancement
The purpose of this website is to help you grow as a conscious human being. This includes guiding you to discover and accept your life purpose; inspiring you to feel more motivated, energized, and passionate; helping you shed disempowering relationships and build a network of loving support; teaching you how to achieve stable financial abundance doing what you love; and encouraging you to make a genuine contribution to humanity -- so you can finally experience the kind of life that deep down, you always knew you were meant to live. You aren't here to struggle and suffer. You're here to express and share your creative gifts, to give and receive love, and to be happy.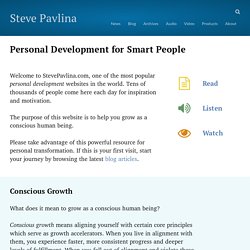 It is well to be up before daybreak, for such habits contribute to health, wealth, and wisdom. - Aristotle Are morning people born or made? In my case it was definitely made. In my early 20s, I rarely went to bed before midnight, and I'd almost always sleep in late. I usually didn't start hitting my stride each day until late afternoon. But after a while I couldn't ignore the high correlation between success and rising early, even in my own life.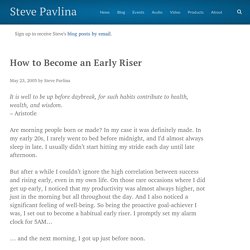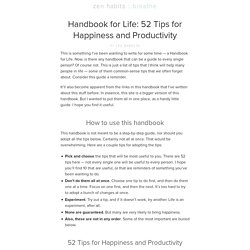 By Leo Babauta This is something I've been wanting to write for some time — a Handbook for Life. Now, is there any handbook that can be a guide to every single person? Of course not. This is just a list of tips that I think will help many people in life — some of them common-sense tips that we often forget about. Consider this guide a reminder.