GUI testing tools
Squish GUI Testing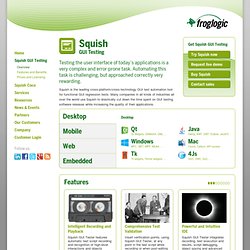 Testing the user interface of today's applications is a very complex and error-prone task. Automating this task is challenging, but approached correctly very rewarding. Squish is the leading cross-platform/cross-technology GUI test automation tool for functional GUI regression tests. Many companies in all kinds of industries all over the world use Squish to drastically cut down the time spent on GUI testing software releases while increasing the quality of their applications.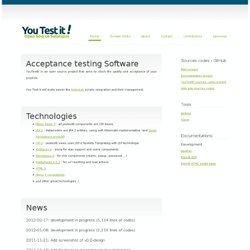 YouTestIt is an open source project that aims to check the quality and acceptance of your projects. You Test it will make easier the Selenium scripts integration and their management. JBoss Seam 3 : all youtestit components are CDI beans JPA 2 : datamodels are JPA 2 entities, using with Hibernate implementation (and Seam Persistence module ) JSF-2 : youtestit views uses JSF-2 facelets Templating with JSF technologie Richfaces 4 : using for Ajax support and some components Primefaces 3 : for rich components (charts, popup, password ...)
You Test It !

SquashTest.org : open source project on software qualification
Squash is an open source project aiming to structure and industrialize functional testing activities. As part of this project, several partners contribute to : develop mature and innovative open source tools, offer an open source methodology documenting every functional qualification process. define standards and models allowing a better functional testing activity measure. These deliverables cover all functional qualification processes : manual testing (test repository management), functional test automation, management of test datasets, control and administration of qualification organizations (such as Software Quality and Third Party Application Service Desk). The project started on March 1st 2011 for an initial period of two years.
SaloméTMF Wiki - Main
Testlink