Favicon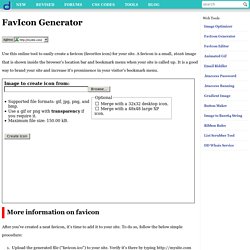 Use this online tool to easily create a favicon (favorites icon) for your site.
This morning, I decided to create a proper favicon, namely a multi-resolution favicon with transparency. For those who don't know what Favicons are, they're little graphical icons which represent specific websites, that are particularly useful for distinguishing between tabs in modern tabbed web browsers (like Opera , Firefox , Konqueror , and Safari ... and much more recently, Microsoft's laggard Internet Explorer 7.0) and other tabbed document interfaces . They have a further application: recent developments on the web like Mozilla's (open source) Prism project and Adobe's (proprietary) Air allow you to turn web applications into something that behaves more like a desktop application.
Creating a multi-resolution favicon including transparency with the GIMP | Egressive - superior free and open source software solutions built on Linux and Drupal
20 Icon & Graphics Generators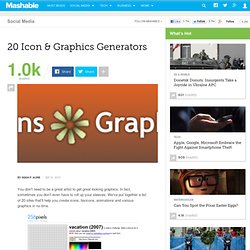 You don't need to be a great artist to get great looking graphics. In fact, sometimes you don't even have to roll up your sleeves. We've put together a list of 20 sites that'll help you create icons, favicons, animations and various graphics in no time. 256Pixels.com - Presents a daily favicon contest. Create a new favicon with their built in palette, and put it up for others to vote on. Ajaxload.info - Create an animated icon to display during AJAX load times.
Menu
@icon sushi - image to icon converter supports xp/vista icon, png and more.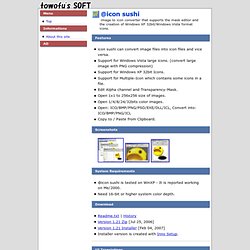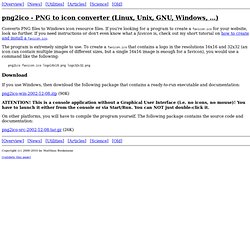 [Overview] [News] [Utilities] [Articles] [Science] [Old]
png2ico - PNG to icon converter (Linux,GNU,Windows,Unix)