Photography
Ward Roberts. Hello - Nick Haymes. Dash Snow. 1981 - 2009 Born in New York, USA Lived and worked in New York 2007God Spoiled a Perfect Asshole When He Put Teeth In Yer Mouth, Peres Projects, Los Angeles, USA The End Of Living.....The Beginning of Survival, Contemporary Fine Arts, Berlin, Germany 2006Silence Is The Only True Friend That Shall Never Betray You, Rivington Arms, New York, USA 2005Moments Like This Never Last, Rivington Arms, New York, USA 2011Don't Do It Etc, Galerie Bruno Bischofberger AG, Zurich, Switzerland Parallel Perceptions, New York City Opera, New York, USA.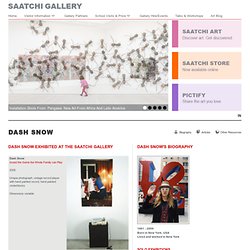 Nan Goldin. As a teenager in Boston in the 1960s, then in New York starting in the 1970s, Nan Goldin has taken intensely personal, spontaneous, sexual, and transgressive photographs of her family, friends, and lovers.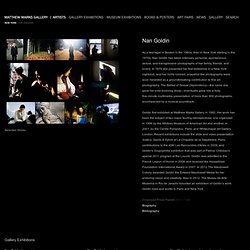 In 1979 she presented her first slideshow in a New York nightclub, and her richly colored, snapshot like photographs were soon heralded as a groundbreaking contribution to fine art photography. The Ballad of Sexual Dependency—the name she gave her ever-evolving show—eventually grew into a forty-five-minute multimedia presentation of more than 900 photographs, accompanied by a musical soundtrack. Goldin first exhibited at Matthew Marks Gallery in 1992. Johnnys Bird.
---