Self Defense
Owly Sign in with Twitter Comments (0) Tweet Share Rate (+1) Original Size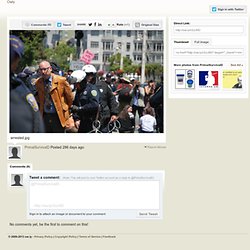 PrimalSurvivalD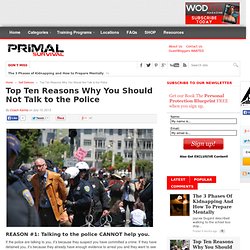 Top Ten Reasons Why You Should Not Talk to the Police
REASON #1: Talking to the police CANNOT help you. If the police are talking to you, it's because they suspect you have committed a crime. If they have detained you, it's because they already have enough evidence to arrest you and they want to see if you will admit it and thus, give them an even stronger case against you.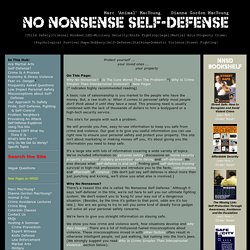 Protect yourself ... your loved ones ... your property On This Page: Why No Nonsense? | Is The Cure Worse Than The Problem? *| Why Is Crime Simpler Than Interpersonal Violence? | New Pages (* indicates highly recommended reading)
Cut-Tex® PRO | Cut Resistant Textile and Clothing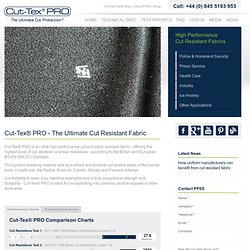 Cut-Tex® PRO is an ultra-high performance cut and slash resistant fabric - offering the highest level of cut, abrasion and tear resistance - according to the British and European BS EN 388:203 Standard. This ground-breaking material acts as a shield and protects vulnerable areas of the human body, in particular: the Radial, Brachial, Carotid, Axillary and Femoral Arteries. Comfortable to wear, fully machine washable and of truly exceptional strength and durability - Cut-Tex® PRO is ideal for incorporating into uniforms, tactical apparel or other work wear. Cut-Tex® PRO - Frequently Asked Questions:
Hock Hochheim Main Page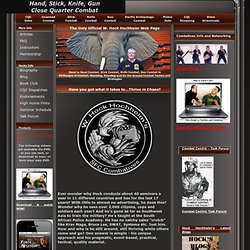 Ever wonder why Hock conducts about 40 seminars a year in 11 different countries and has for the last 17 years? With little to almost no advertising, he does this? Wonder why he sees over 2,000 citizens, cops and soldiers each year? And he's gone as far as Southwest Asia to train the military? He's taught at the South African Police Academy. He has no catchy sales "crutch" like Krav Maga, Bruce Lee, SWAT, Systema etc.
Personal Defense How-To Videos, Articles | PDN
Blauer Tactical Systems (BTS) is one of the world's leading consulting companies specializing in the research and development of close quarter tactics & scenario-based training for law enforcement, military and professional self-defense instructors. During the 1980's, BTS pioneered reality-based self-defense with their ground-breaking 'Panic Attack' drill, the design of the world's first functional scenario-based training suit and the first self-defense program based on psychology, physiology and kinesiology. The S.P.E.A.R. SYSTEM™ (Spontaneous Protection Enabling Accelerated Response) is a scientifically researched & medically reviewed personal defense measure that exploits the body's natural responses to violence and danger. This survival mechanism, dubbed: Startle-Flinch Response has been scientifically integrated into a series of neuro-muscular drills that teaches individuals how to convert their instinctive reactions into protective and combative tactics.
Tony Blauer Tactical Systems
Exploring Violence.com
BranaOnline.com - Online Self Defense Training