Slöjd
Fet Hälsa | Ät LCHF-kost. Kolhydrater kan inflammera kroppen. Fett och protein är bra mat för kroppen. Bli frisk av mat!
Hanna Leker
,
Crochet & Knitting
Mönsterarkivet
handarbetaren
4 the love of wood
This time of year is so special to me because I get to show my gratitude for all of the hard work that goes into teaching my daughters. I love to make handmade gifts and this year is no exception. Since money does not grow on trees around here, I looked at my stash (I keep my scraps in hat boxes ) and tried to see what I had a lot of; small zippers, trims, Peltex strips ( from making iPad cases ), fabric scraps and some hardware for key fobs.
Coin Purse Tutorial for Teacher Gifts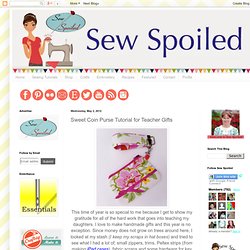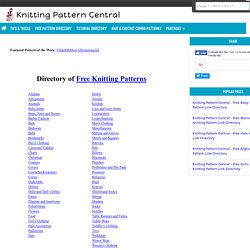 See the new links recently added to Knitting Pattern Central. Cascade Yarns has a wide variety of free patterns designed with the yarns they offer. Drops Design offers a multitude of free patterns that have now been translated into English.
365 saker du kan sticka
Bloomize -:- blooming ideas for living
michele made me
Easter is only a week away, and I'm on an applique kick ! Today I'm sharing a tutorial for a cute, simple, and quick Easter bunny embroidery hoop... This project uses fabric scraps and can be put together so quickly that you definitely can find time to get this done before this weekend. This hoop was inspired by some cookies I found on Etsy . You never know where inspiration will come from :) Ready to put one together? Here's the how-to...
Gwenny Penny: embroidery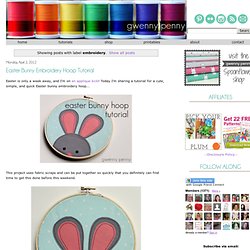 Hantverkstan
broderi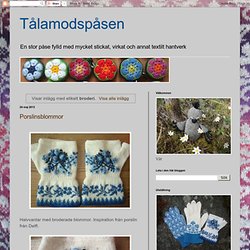 Nu har jag åkt färdigt i sommar. Efter en månad på flera olika ställen runt om i landet ska det bli skönt att slippa bo i väskor och kassar. I helgen träffade jag två trevliga stickande vänner från nätet. Vi fikade på Love&Peace i Borlänge, trevligt café med ekologisk inriktning. Tack för en stunds avkoppling i regnet. Broderiet ovan är inköpt i Blekinge och ska bli en liten påse.
Det är ju så här med nyårslöften att antingen kan man mumla dem lite för sig själv i smyg eller också kan man basunera ut dem för alla som vill höra. Fördelen med privata löften är att man inte behöver leva upp till dem. Det är ingen som märker och man slipper stå där med skammen när man inte lyckas. Fördelen med att berätta för alla man känner om sitt nyårslöfte är att det nu blir mycket viktigare att leverera och då kommer man antagligen att lägga mer energi på att leva upp till sitt löfte. Efter ett par veckors velande har jag nu bestämt mig för att modigt redogöra för mitt nyårslöfte 2012: Jag ska avsluta fem broderier som jag har liggande i gömmorna. Jag har genom åren påbörjat flera lite större broderiprojekt.
Broderibloggen | Livet är kort. Börja brodera.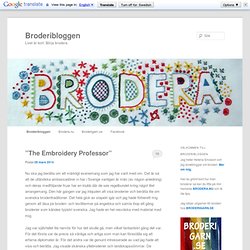 Mina stygn
GlasellDesign
1. Citra-Solv. They have an incredible website with product info, art stuff, oder info, go here . If you live in the States you can find it at just about any Whole Foods.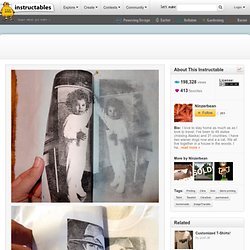 Fabric Printing with Citra-Solv
The Cheese Thief
Dog Under My Desk
Tyg och otyg.
Japan Online Shop. Japanese Products Shipped from Japan. - JSHOPPERS.com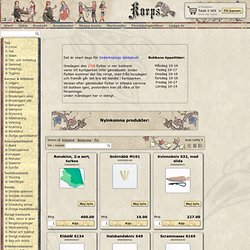 Korps / Ravencraft AB
Välkommen till vår nya e-handel! Den har fått ett nytt fräscht utseende och många tekniska buggar har fixats. Kortbetalning är inaktiverad för tillfället men kommer att dyka upp så snart DIBS har godkänt vårt nya avtal, antagligen inom någon dag eller två. I samband med att e-handeln behövde uppdateras så har vi tyvärr råkat ut för några tekniska problem; Ordrar lagda mellan den 22/3 - 26/3 kan eventuellt ha försvunnit. Vi har kontaktat teknisk support om detta, men har ännu inte löst problemet. Om du vet med dig att du har lagt en order under denna period och inte fått något ordererkännande, kontakta oss gärna så ska vi försöka lösa problemet.
Slow craft
snigelmamman - Min blogg om det jag gör och tänker till vardags.
Shabby Chic Inspired
Vintage with Laces