Jquery
jQuery Knob demo. Baseline - a designer framework by ProjetUrbain.com. Spritely.net. Path-Tech.fr. Introduction à la bibliothèque JavaScript jQuery. Comme presque tout ce que nous faisons avec jQuery, ce dernier lit ou manipule le modèle objet du document (DOM).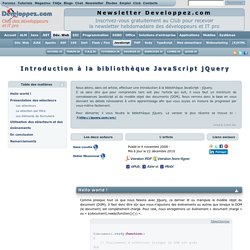 Il faut donc être sûr que nous n'ajoutons des événements ou autres que lorsque le DOM (le document) est complètement chargé. Pour cela, nous enregistrons un événement « document chargé » ou « $(document).ready(function(){}) ». Article : 50 Snippets jQuery qui peuvent vous aider dans vos projets JavaScript. Introduction Voici la traduction de l'article d'Addy OSMANI, décrivant 50 Snippets jQuery qui peuvent vous aider dans vos projets JavaScript.source : 50 jQuery Snippets That Will Help You Become A Better JavaScript Developer Présentation.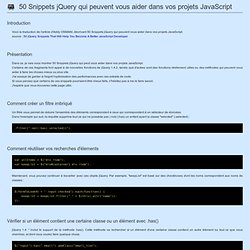 JQuery CSS Emoticons Plugin - Alfa Jango Blog. The CSS Emoticons plugin is a simple jQuery plugin (and stylesheet) that allows you to turn any text emoticons on the page into cute little smiling faces with pure CSS3 styling (no images whatsoever).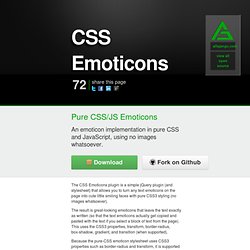 The result is great-looking emoticons that leave the text exactly as written (so that the text emoticons actually get copied and pasted with the text if you select a block of text from the page). This uses the CSS3 properties, transform, border-radius, box-shadow, gradient, and transition (when supported). Simple Page Peel Effect with jQuery & CSS | jQuery Tutorials. Path-Tech.fr. - 1 commentaire Bonjour à tous !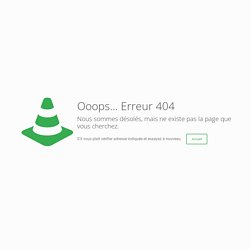 Que vous soyez 100% geek ou un hardcore gamer, il est évident que chacun d'entre nous souhaite avoir la meilleure connexion internet possible ! Si les débits fournis pas votre FAI sont en grande partie responsable des performances de votre connexion internet, il faut aussi prendre en compte d'autres paramètres …… Fancy lightbox alternative. Slimbox 2, the ultimate lightweight Lightbox clone for jQuery · digitalia.be. Version: 2.05 Category: jQuery Javascripts Introduction Slimbox 2 is a 4 KB visual clone of the popular Lightbox 2 script by Lokesh Dhakar, written using the jQuery javascript library.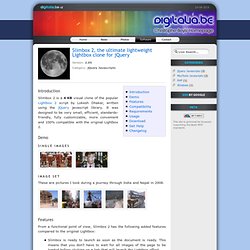 It was designed to be very small, efficient, standards-friendly, fully customizable, more convenient and 100% compatible with the original Lightbox 2. Shadowbox.js. LA PLUS SIMPLE DES GALERIES PHOTO EN JQUERY !, Tutoriel N°1118, LA PLUS SIMPLE DES GALERIES PHOTO jQUERY CONSIGNES Votre page doit être liée à la dernière version de jQuery (jquery-1.4.2.js) Si ce n'est pas le cas, vous pouvez télécharger ce fichier sur Ensuite, placez le code suivant entre les balises <head></head> : <script type="text/javascript" src="jquery-1.4.2.js"></script> HTML, jQuery, CSS Collez ce code dans l'éditeur de votre choix et enregistrez le avec une extension de type .html ou .php à la racine de votre site.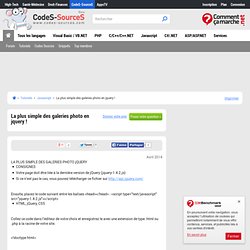 JqueryLab. jQuery HTML Table Toolbox - Noupe Design Blog. Apr 13 2010 By Paul Andrew In the 15 years since the HTML table element was first incorporated into HTML 2.0, it has been on a constant roller coaster ride.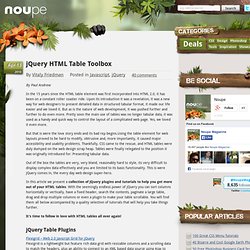 Upon its introduction it was a revelation, it was a new way for web designers to present detailed data in structured tabular format, it made our life easier and we loved it. jQSlickWrap - Slick text wrapping for jQuery. Why would I need this?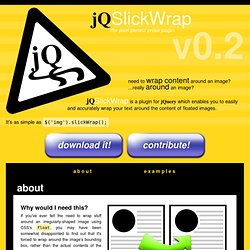 If you've ever felt the need to wrap stuff around an irregularly-shaped image using CSS's float, you may have been somewhat disappointed to find out that it's forced to wrap around the image's bounding box, rather than the actual contents of the image. What's the best part? It's really easy to use! Check out some of the examples for ideas... Tell me about what it can do... Spencertipping's js-in-ten-minutes at master - GitHub. Collapser. What is jQuery?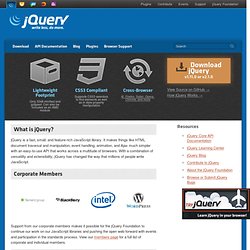 jQuery is a fast, small, and feature-rich JavaScript library. It makes things like HTML document traversal and manipulation, event handling, animation, and Ajax much simpler with an easy-to-use API that works across a multitude of browsers. With a combination of versatility and extensibility, jQuery has changed the way that millions of people write JavaScript.
Détecter si javascript désactivé. jQuery Masonry · David DeSandro. jQuery Masonry › Filtering. Tutorial: Using jQuery Masonry with WordPress | WPLover. This is a short tutorial on integrating Masonry, the jQuery layout plugin, with your WordPress site.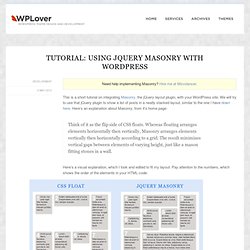 We will try to use that jQuery plugin to show a list of posts in a neatly stacked layout, similar to the one I have down here. Here's an explanation about Masonry, from it's home page: Lettering.js - A jQuery plugin for radical web typography. Kern.js - Make web kerning suck less. CSS Browser Selector. Clever technique to help you on CSS hacks. Last updated: November 02, 2010 (v0.4.0) CSS Browser Selector is a very small javascript with just one line which empower CSS selectors.
It gives you the ability to write specific CSS code for each operating system and each browser. The JavaScript support is disabled on your browser.
---